SOA design standards in action
This excerpt from "SOA: Principles of Service Design" defines the term "design standard" and explains how these conventions customize predetermined design solutions for specific enterprises.
For an organization to successfully apply a design paradigm, it will require more than an adherence to the associated design principles and a knowledge of supporting SOA design patterns. Every organization will have unique strategic goals and unique enterprise environments. These form a distinct set of requirements and constraints that need to be accommodated within solution designs.
SOA design standards are (usually mandatory) design conventions customized to consistently pre-determine solution design characteristics in support of organizational goals and optimized for specific enterprise environments. It is through the use of internal design standards that organizations can consistently deliver solutions tailored to their environments, resources, goals, and priorities (Figure 3.6).
Figure 3.6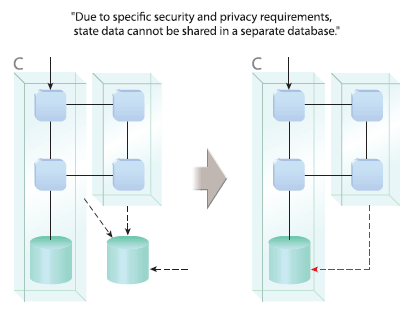 In this case, a SOA design standard requires that C's original design be altered to remove access to a shared, external state database.
As with design principles, the application of design standards results in the creation of specific design characteristics. As with design patterns, SOA design standards foster and refine these characteristics to avoid potential problems and to strengthen the overall solution design. In fact, it is recommended for design standards to be based upon or even derived from industry design principles and patterns.
Can you have SOA design standards without design principles? Yes, it is actually common to have many design standards. Only some may need to relate back to principles in order to see through the application of the overall design paradigm. Different design standards may also be created to simply support other goals or compensate for constraints imposed by specific environmental, cultural, or technology-related factors. Although some standards may have no direct association with accepted design principles, there should always be an effort to keep all standards in relative alignment.
Can you have design principles without SOA design standards? It usually depends on how committed an organization is to the governing design paradigm. If it sees potential in only using a subset of the paradigm's principles, then some principles may not be supported by corresponding design standards. However, this approach is not common.
Essentially, as with design principles, through standardization we want to build consistency into specific design characteristics -- consistency in the quality of the characteristics and in how frequently they are implemented.
Sometimes organizations assume that if they use industry standards, they will end up with a standardized IT enterprise. While those XML and Web services specifications that have become ratified and accepted industry standards do establish a level of technology standardization, it is still up to an organization to consistently position and apply these technologies. Without design standards, industry standards can easily fail in achieving their potential.
Use the following table of contents to navigate to chapter excerpts.


SOA: Principles of Service Design


Home: Service-oriented computing and SOA: Introduction


1: Design fundamentals: Design characteristics


2: Design fundamentals: Design principles


3: Design fundamentals: Design pattern and design pattern language


4: Design fundamentals: Design standard


5: Design fundamentals: Best practices


6: Introduction to service-oriented computing


7: Service oriented architecture


8: Service compositions


9: Understanding service oriented computing elements


10: Entity services


11: Web services and service oriented computing


12: Service inventory blueprints


13: Service-oriented analysis and service modeling


14: Service-oriented design


15: Goals and benefits of service-oriented computing


16: Increased intrinsic interoperability


17: Increased federation


18: Increased vendor diversification options


19: Increased business and technology domain alignment


20: Increased ROI


21: Increased organizational agility


22: Reduced IT burden

ABOUT THE BOOK:
SOA: Principles of Service Design is dedicated to service engineering and establishing service-orientation as a design paradigm. This hands-on manual for service design establishes concrete links between specific service-orientation design principles and the strategic goals and benefits associated with SOA. Purchase the book from Amazon.com.
ABOUT THE AUTHOR:
Thomas Erl is the world's top-selling SOA author, Series Editor of the "Prentice Hall Service-Oriented Computing Series and editor of The SOA Magazine. His books have become international bestsellers and have been formally endorsed by senior members of major software organizations such as IBM, Microsoft and Oracle. He is the founder of SOA Systems Inc., a company specializing in SOA training, certification and strategic consulting services with a vendor-agnostic focus.