SOA and service inventory approaches in action
This excerpt from "SOA: Principles of Service Design" defines the terms "service composition" and "service inventory," explains what they do and why they are important.
A service composition is a coordinated aggregate of services. As explained in the Effects of Service-Orientation on the Enterprise section in Chapter 4, a composition of services (Figure 3.13) is comparable to a traditional application in that its functional scope is usually associated with the automation of a parent business process.
Figure 3.13 The symbol comprised of three connected spheres represents a service composition. Other, more detailed representations are based on the use of chorded circle symbols to illustrate which service capabilities are actually being composed.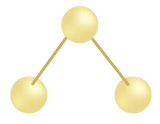 The consistent application of service-orientation design principles leads to the creation of services with functional contexts that are agnostic to any one business process. These agnostic services are therefore capable of participating in multiple service compositions. As further discussed in Chapters 13 and 16, the ability for a service to be naturally and repeatedly composable is fundamental to attaining several of the key strategic goals of service-oriented computing. Therefore, many of the design characteristics that distinguish a service enable it to effectively participate in service compositions.
Service Inventory
A service inventory is an independently standardized and governed collection of complementary services within a boundary that represents an enterprise or a meaningful segment of an enterprise. Figure 3.14 establishes the symbol used to represent a service inventory in this book.
Figure 3.14 The service inventory symbol is comprised of yellow spheres within a blue container.

An IT enterprise may include a service inventory that represents the extent to which SOA has been adopted. Larger initiatives may even result in the enterprise in its entirety being comprised of an enterprise-wide service inventory. Alternatively, an enterprise environment can contain multiple service inventories, each of which can be individually standardized, governed, and supported by its own service-oriented technology architecture.
Service inventories are typically created through top-down delivery processes that result in the definition of service inventory blueprints. The subsequent application of service-orientation design principles and custom design standards throughout a service inventory is of paramount importance so as to establish a high degree of native inter-service interoperability. This supports the repeated, agile creation of effective service compositions. (Note that service inventory blueprints are explained later in this chapter.)
Use the following table of contents to navigate to chapter excerpts.


SOA: Principles of Service Design


Home: Service-oriented computing and SOA: Introduction


1: Design fundamentals: Design characteristics


2: Design fundamentals: Design principles


3: Design fundamentals: Design pattern and design pattern language


4: Design fundamentals: Design standard


5: Design fundamentals: Best practices


6: Introduction to service-oriented computing


7: Service oriented architecture


8: Service compositions


9: Understanding service oriented computing elements


10: Entity services


11: Web services and service oriented computing


12: Service inventory blueprints


13: Service-oriented analysis and service modeling


14: Service-oriented design


15: Goals and benefits of service-oriented computing


16: Increased intrinsic interoperability


17: Increased federation


18: Increased vendor diversification options


19: Increased business and technology domain alignment


20: Increased ROI


21: Increased organizational agility


22: Reduced IT burden

ABOUT THE BOOK:
SOA: Principles of Service Design is dedicated to service engineering and establishing service-orientation as a design paradigm. This hands-on manual for service design establishes concrete links between specific service-orientation design principles and the strategic goals and benefits associated with SOA. Purchase the book from Amazon.com.
ABOUT THE AUTHOR:
Thomas Erl is the world's top-selling SOA author, Series Editor of the "Prentice Hall Service-Oriented Computing Series and editor of The SOA Magazine. His books have become international bestsellers and have been formally endorsed by senior members of major software organizations such as IBM, Microsoft and Oracle. He is the founder of SOA Systems Inc., a company specializing in SOA training, certification and strategic consulting services with a vendor-agnostic focus.