SLAs are still necessary, unfortunately
Find out what problems service level agreements can cause for both clients and service providers if not properly handled.
IT channel takeaway: Don't establish SLAs that set unreasonable expectations. This Q&A outlines problems and oversights that occur on both the client 's and the provider's side.

Download this free guide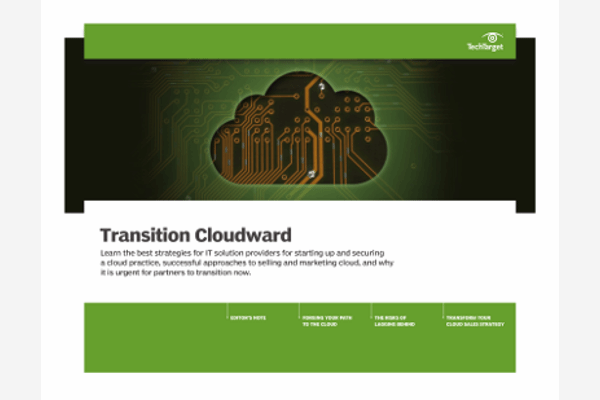 Could Securing Your Channel Business Be Easier? We Can Help.
Download our latest guide to the top strategies solution providers can leverage for starting up and securing a cloud practice, successful approaches to selling and marketing cloud, and why it is urgent for partners to transition now.
With John Engates, CTO of Rackspace, a managed hosting provider whose customers include Hershey's, Miller Brewing, Hawaiian Airlines and EMI Music.
Question: The role of service level agreements (SLAs) in an outsourcing relationship seems to be in question lately, with some experts believing that an SLA is a requirement for success, while others are saying that SLAs are overrated and often unnecessary. What do you think?
Engates: I believe SLAs are still necessary, but they really shouldn't be. If the relationship with your outsourcing provider is solid, you will rarely, if ever, need to refer to the SLA. When trust is built and maintained in an outsourcing relationship, the customer will just expect that the vendor will take care of the problems and the vendor WILL take care of the problems.
In my experience at Rackspace, the SLA is usually discussed during the initial contract negotiations, but rarely thereafter. Some of our customers have been burned before at another provider and make it a point to negotiate the SLA to protect them against anything that might go wrong. The SLA is a lot like a pre-nuptial agreement; you only use it if something goes terribly wrong and emotions begin to cloud everyone's judgment. Unfortunately, not all vendors deliver and the SLA can be used as a stick to get them to perform or at least give the customer a way to separate from their relationship for non-performance.
Question: What problems can SLAs cause for a clients and suppliers if they aren't handled appropriately?
Engates: The SLA can be a double-edged sword and can occasionally cause problems for both parties. Sometimes the SLA becomes a problem for the client if the targets are not set correctly. If the SLA doesn't set the bar high enough and the SLA gradually becomes the standard for performance, then the client isn't really getting the service they've paid for or expected.
Conversely, if the SLA is negotiated and sets an unrealistic bar, then the service provider will constantly be battling to live up to the agreement. If the bar is truly set too high, then the provider is set up for failure from the outset. The key is setting the service level targets exactly right, and that can be tough before the two parties have any experience with one another.
Question: Can you offer some details of how Rackspace handles SLAs?
Engates: One of the things that we did early on is simply set our service level targets to realistic, achievable targets. We also use plain English in our SLA rather than legal-speak. The techies, not the lawyers, wrote our SLAs. The language is easy to understand, and the targets make sense. Another thing we do is put teeth in our SLAs. For failure to meet our SLA, we offer VERY aggressive penalties and we offer those penalties proactively when we fail. If we've breached the SLA, we call the customer and let them know. When you explain this to a prospective customer, this immediately instills trust and sets the tone for the relationship. Conversely, when there is a lot of legal jargon in the SLA and an arduous process for requesting credits, the customer can become frustrated, further deteriorating the service experience.
This 3 Questions originally appeared in a weekly report from IT Business Edge.
Dig Deeper on Moving to cloud provider services