Fotolia
New tech, old virtues keep server virtualization platforms going
Server virtualization is well past the peak of the technology adoption curve, but SMB customers, open source technology and hybrid clouds keep demand going.
Server virtualization platforms have been around for ages and would seem to be old news from a user adoption perspective.
Yet there appears to be life left in the technology. And while cloud computing and container technologies grab headlines, server virtualization continues to chug along. Server virtualization topped the list of planned data center infrastructure projects for 2017, according TechTarget's IT Priorities Survey. Forty percent of the 971 North American survey respondents identified server virtualization as the No. 1 project on their agendas, with systems management (39%) and hybrid cloud (32%) projects rounding out the top three.
Mark Campbell, vice president of research at Trace3, an IT solution provider in Irvine, Calif., said he found the high ranking for server virtualization surprising.
"Not only is server virtualization very mainstream nowadays, but is on the decline [on] the technology adoption lifecycle," he noted. "The days of P2V are giving way to V2C, he added, noting the transition from physical-to-virtual migrations to virtual-to-cloud migrations.
Campbell said a number of technologies are replacing virtual machines (VMs). Those include cloud environments, which he noted may be comprised of virtual servers although the customers don't do the virtualization. Containers, he said, are also replacing VMs and "will gain more widespread adoption this year."
In addition, Campbell cited bare metal, which he said seems to be making a comeback, particularly in pure, non-VM container architectures. And to a very limited degree, unikernels also replace VMs, he said.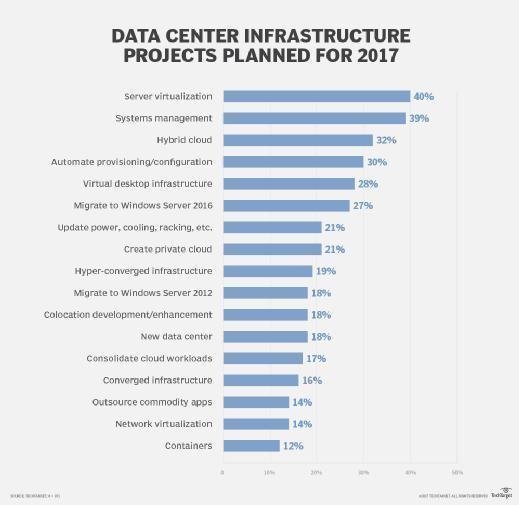 Where the action is
That said there are areas of server virtualization activity that add up to opportunity for channel companies.
While large enterprises have presumably virtualized most of the servers that need virtualizing, the same can't be said for small and medium-sized businesses (SMBs).
Jim Thomas, director of technical services at Paragon Software Group Corp., a software developer in Irvine, Calif., that specializes in hard disk management, said high costs and unproven reliability have delayed most SMBs from embracing the technology, "while enterprise users have benefitted from the robust features and support of more costly solutions."
You have to have some sort of stable platform to run things that you don't deem appropriate for the public cloud.

Greg Piercechief cloud officer, Concerto Cloud Services
Today, the lower cost and greater reliability of hypervisors, the key underpinning of server virtualization platforms, have sparked interest among IT buyers previously on the server virtualization sidelines.
"Hypervisors such as Microsoft Hyper-V and Oracle VirtualBox have matured and are now seen as viable cost-effective alternatives to market leaders VMware and Citrix," Thomas said. "Open source hypervisors are also gaining traction and can be found in a number of appliance and cloud-based solutions."
Campbell also pointed to open source as one area where his company is seeing a lot of activity. He said organizations are migrating from commercial VM platforms such as VMware, Citrix and Microsoft to open source VM platforms such as KVM.
Frank Gladden, data center system engineer at Force 3, a network securing and virtualization solutions provider in Crofton, Md., cited two factors facilitating virtualization among more organizations: the advent of faster, more efficient processors and arrival of new products using the open source Linux kernel. Examples of those products include Dell EMC's Unity platform and NetApp's SolidFire, both of which are based on Linux, Gladden noted.
"It is now easier for companies to move to virtualization," he said.
Server virtualization platforms and the cloud
Server virtualization platforms have also set up shop in and around the edges of the cloud. Gladden said virtualization's status as a foundational piece of cloud computing has kept server virtualization "trending in the right direction."
Server virtualization platforms also play a role in the private cloud side of the hybrid cloud model, suggested Greg Pierce, chief cloud officer at Concerto Cloud Services, a managed cloud provider in Tampa, Fla.
"The future seems to be decidedly hybrid," he said. "What that means is you have to have some sort of stable platform to run things that you don't deem appropriate for the public cloud."
As a consequence, some companies are building private clouds using virtualization platforms along with monitoring, management and automation tools, Pierce said. Other companies, however, lack the in-house skills, time or budget to build a private cloud and, instead, turn to vendor that can provide a virtual private cloud. Concerto provides such clouds for its customers, using VMware and Hyper-V at the virtualization layer.
Thomas, meanwhile, said server virtualization will be a focus of data center projects for a number of reasons. Those include green computing initiatives in which server virtualization reduces energy consumption. The traditional virtualization virtue of shrinking space requirements is another factor.
Thomas also cited technological advances such as hyper-converged infrastructure. He said hyper-convergence brings the virtualization of network infrastructure components to the forefront.
"Network-in-a-box solutions are becoming abundant and server virtualization helps take full advantage of their capabilities," he said.
Dig Deeper on Server virtualization technology and services