Guido Vrola - Fotolia
Natural disaster emergency preparedness lets MSP endure Irma
Data Integrity Services, a managed services provider in central Florida, helped its clients through the Hurricane Irma aftermath, as well as prestorm preparation.
Hurricane preparation isn't a typical managed service provider offering, but companies in storm-prone regions will sometimes find themselves in that line of business.
That was the case for Data Integrity Services, an MSP in Lakeland, Fla. As Hurricane Irma approached central Florida last month, the company stepped its clients through natural disaster emergency preparedness from an IT perspective. And, once the storm passed, it helped business get up and running again.
Lakeland is located between Tampa and Orlando in Polk County. At the height of the hurricane, which struck Lakeland on Sunday, Sept. 10, the city "experienced sustained winds in excess of 85 mph," according to the municipal government. On Monday, local news outlets reported about 80% of Polk County was without power in the Hurricane Irma aftermath.
Data Integrity Services has a hurricane preparedness document in place to deal with such events, noted Sam Heard, the MSP's president. The company provides that document to all of its customers, which include companies on managed services contracts and companies that tap Data Integrity Services for periodic break/fix work.
Natural disaster: Emergency preparedness plans for clients
Building on that document, the company aims to create a plan that is more personalized for individual clients, he noted. In addition, the MSP speaks to its managed services customers personally as they prepare to deal with a hurricane.
In my opinion, when a natural disaster like this occurs there is no one size fits all.

Sam Heardpresident, Data Integrity Services
One step Data Integrity Services encourages clients to take is to photograph their IT gear before they move it to prepare for the hurricane. For example, a business might disconnect equipment and put it on tables or desks in case of flooding. Having a record of how things were hooked up before the storm can make recovery a faster process.
"To expedite the reinstallation ... take a picture of how it was all connected," Heard advised.
The MSP also talks to clients about having the company shut down their networks remotely prior to the hurricane. Heard said Data Integrity Services worked with dozens of clients in central Florida to take their networks offline.
"We did as much preparation as we could for the client base," he said.
A natural disaster emergency preparedness plan can help businesses blunt the effects of a severe storm. But it's still tough to deal with widespread loss of electricity.
"The biggest issue you get is a lack of power," Heard said.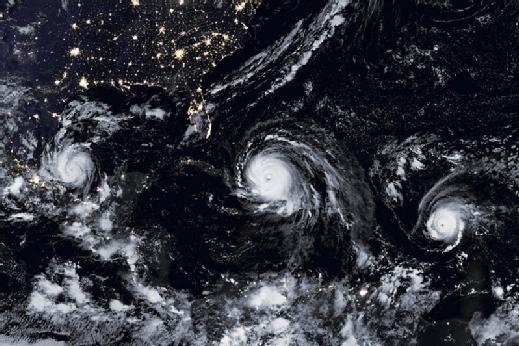 Power issues
Data Integrity Services' office is three blocks from a regional medical center and a large clinic, but Heard said the company was without power for a week: The storm hit Sunday night and electricity was restored on Friday morning. The company has a generator, but it was still a scramble to assist customers in the first days after the hurricane hit. At first, only a few staffers made it to the office, but more arrived on Wednesday as road conditions improved.
By the end of the week, a third of the MSP's clients had not reported into the company. Those companies were back online the following week, Heard said.
Getting back online can prove challenging. Data Integrity Services provides recommendations for restarting networks after a power outage. But not everyone follows them. Clients that don't follow the company's advice "impact both our ability to quickly restore their network and slow down the process to address our other clients."
When working to restore services to customers, the MSP also had to work around scheduling issues. To deal with the volume of help requests, Data Integrity Services gave first priority to customers holding contracts. Customers, however, "were very sensitive and very forgiving with the conflict of schedules," Heard explained.
Vendors, meanwhile, also pitched in to smooth the recovery. Autotask, the MSP's professional services automation vendor, and Datto, which provides a backup and disaster recovery offering, "both helped a lot and were on standby," Heard said.
In addition, Sophos, a developer of next-generation endpoint security products, worked with a Data Integrity Services' customer to help get a medical center's MPLS system back online. Data Integrity Services is a Sophos platinum-level dealer.
Hurricane Irma aftermath: Fine-tuning
Heard said the prestorm planning and recovery effort went according to plan.
"It could have been much worse; we were very fortunate," he said.
Data Integrity Service will now reevaluate its natural disaster emergency preparedness plan and actions taken to find areas for improvement. One measure the company expects to pursue is moving its email service from an in-house Microsoft Exchange server to cloud-based Office 365. The MSP maintained the on-premises Exchange software to help the company cultivate expertise in Exchange. But now that most of the company's customers are moving to Office 365, the ability to run an Exchange server has become less important.
The MSP's on-premises email server went down during the hurricane and had to be powered via generator. Post Irma, Heard concluded the MSP needed to move email to the cloud, which would enable employees to work from home in the event of another storm.
"In my opinion, when a natural disaster like this occurs there is no one size fits all," Heard said. "It is just a matter of continuing to learn and fine-tune as you go along."
Next Steps
Learn about disaster recovery certification programs
Read about the demand for data-driven insights in storm prediction
Gain insight into the role of commercial UAVs in hurricane response
Dig Deeper on Storage Backup and Disaster Recovery Services