Mathias Rosenthal - Fotolia
Multi-cloud architecture: Partners hone skills, build tools
With multi-cloud deployment poised to become more widespread among enterprises, channel partners are expanding their expertise across cloud platforms and pursuing management tools.
IT service providers implementing and managing a multi-cloud architecture face multiple challenges that require new approaches, specific tools and new alliances with third-party IT companies.
Corporations are beginning to embrace multi-cloud computing as a vehicle to achieve the best price and performance for different workloads. But building a multi-cloud strategy that uses a variety of cloud platforms from multiple cloud vendors can be a technically complex endeavor. This model requires cloud solution providers (CSPs), managed service providers (MSPs) and other channel companies to possess a variety of technology skills. A multi-cloud deployment also demands a thorough understanding of customers' businesses, since channel partners must correctly assess what customers want, which vendors to pick and what technology is needed to support the initiative.
A multi-cloud architecture may consist of coexisting cloud platform combinations such as private and public clouds and conventional in-house IT resources or a combination of public clouds. Such architectures also include data exchange of some form -- from high-level API connections to low-level storage transfer, for instance -- between the different environments.
In addition to those components, a multi-cloud deployment introduces two more concepts to the mix, which CSPs and MSPs should consider, said Margaret Adam, IDC's program director for European channels & alliances.
What you don't want is a bunch of siloed management tools that manage each environment.

Peter Schmiedvice president of Concerto operations, Concerto Cloud Services
First, the buyer of IT services and products must have two or more concurrent services of the same class (typically IaaS or PaaS), internal or external, available to the end user, Adam explained. This means the IT buyer has the option to select one or the other, and while that doesn't mean they will necessarily shift workloads it does mean they can. Second, customers need comprehensive integration and service-level management capabilities to allow governance, monitoring, and selection of compliance policies across external -- and internal – clouds, she added.
The multi-cloud market's potential, however, could attract plenty of channel partners despite the complexities. A report from RightScale Inc., a cloud management provider based in Santa Barbara, Calif., found that 85% of enterprises have a multi-cloud strategy.
Multi-cloud architecture tools
Technical skills are critical for service providers pursuing multi-cloud opportunities, and the knowledge required is multiplied across the numerous cloud products available in the market.
"In a multi-cloud environment you have to have the time to learn multiple products across multiple clouds," said Jeff Aden, executive vice president of strategic business development and marketing and co-founder of 2nd Watch Inc., a cloud service provider and an AWS Premier Partner based in Seattle, Wash.
"Product functionality, pricing and terminology are all different across service providers. It can take years and lots of investments for any organization or any individual to learn a single cloud let alone multiple clouds," Aden noted. "In a multi-cloud world, IT organizations often opt [for] focusing on higher-value strategic projects and services and work with experienced MSPs that have already invested and learned the necessary skills for migration and management in the public cloud."
To advance their multi-cloud deployment projects many channel partners are developing tools to better manage multiple vendor cloud offerings, sometimes entering alliances or acquiring companies to tap into multi-cloud expertise.
"What you don't want is a bunch of siloed management tools that manage each environment," said Peter Schmied, vice president of Concerto operations at Concerto Cloud Services. "That is not efficient nor is it aligned with the concept of economies of scale, which is one of the big benefits of cloud."
Concerto, Schmied said, provides a management tool that consolidates the management of various clouds under a single interface. Customers can use Concerto's portal to gain visibility into all of their cloud services, rather than use three or four management interfaces.
Similarly, NetEnrich Inc., a cloud and IT service company headquartered in San Jose, Calif., for example, has built a software-defined managed cloud product that manages different multi-cloud platforms from a single dashboard.
"We have a platform that monitors and manages various clouds whether it's AWS, Google or Azure from a single pane of glass," said Javed Sikander, CTO and vice president at NetEnrich. "You can see all your resources from one single dashboard linking all your data from on-premises to hosted servers, and you can see all your resources across multiple clouds. You can perform operations, such as sending software patches to all the virtual machines across the data center in hybrid and multi-cloud environments."
Alliances provide another avenue for obtaining multi-cloud architecture tools. SADA Systems, a North Hollywood, Calif., cloud service provider that is a Microsoft Azure and Google Cloud premier partner, recently announced a partnership with Orbitera, a multi-cloud commerce platform that provides visibility into a customer's cloud usage and spend by platform.
"For customers with multi-cloud environments, they need one source of truth when it comes to their cloud usage and spend," said Jason Cutler, director of channel sales at SADA Systems.
Cutler said SADA Systems uses Orbitera to set up self-service portals that lets its customers monitor and simplify the management of multi-cloud and hybrid-cloud environments. Customers have near real-time visibility into their cloud spend and can set budgets to control costs, he added.
Ensono, a hybrid IT services company based in Downers Grove, Ill., has followed the merger-and-acquisition path toward expanding its multi-cloud skills. In June, the company acquired Inframon, a cloud solutions company that is a Microsoft Azure partner.
According to Brett Moss, Ensono's senior vice president and general manager of hyperscale cloud, the acquisition was driven by the desire to capture more clients, build a better multi-cloud offering for its customers and keep in step with the general trend toward investing in multi-cloud architecture among companies with revenues of $200 million to $5 billion.
"Multi-cloud solutions are alive and well," Moss said. "The one thing we are seeing is that a majority of our clients are either a deep Microsoft shop that will adopt Azure's cloud services or they are committed to AWS. The rest, which are deemed undecided, allow Ensono to come in as a neutral party with our client advisory services team and work with our client to select the right platform based on what the workload is."
Educating customers on multi-cloud deployment
To gain greater trust among their clients, channel partners will have to educate their customers on what a multi-cloud architecture is, what it does, and whether it will multiply a customer's IT headaches, said Ashish Nadkarni, program director of computing platforms at IDC.
"As a partner, the first thing you need to do is to educate the customer on identifying reasons why they would like to go to a multi-cloud, whether it is for better service levels or matching the application to the infrastructure or something else. So they have to really alert the customer to make sure that they know about the pros and cons of the single cloud and the multi-cloud strategy."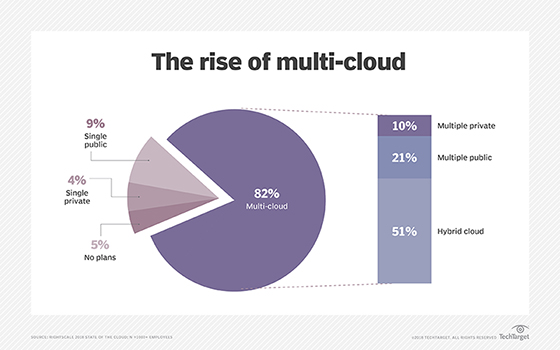 Nadkarni said the first thing customers need to understand about a multi-cloud deployment is that there is very little standardization. Each cloud has its own way of provisioning, its own set of management tools and other potentially non-compatible features.
"If you were working with Amazon, there's a whole set of APIs and software stacks that you use for AWS and the same thing with Google and Microsoft," Nadkarni said. "If you are managing a hybrid cloud model that covers multiple public clouds, for example, you'll need to have a user interface that manages the underlying public cloud infrastructure."
He added the issue for channel partners is that when they sell the services of more than one cloud provider they need to also make sure that the client infrastructure management domain extends to that new cloud.
"CSPs and MSPs can't just sell a cloud service and walk away," Nadkarni said. "They have to also be responsible for a level of integration between the customer's existing infrastructure whether it's a private cloud, public cloud or non-cloud and this new multi-cloud architecture that they just acquired. Integration means making sure things like security, data management and storage are taken care of and the right types of service levels get attached to the new service offering that's just being brought in."
Much of what needs to be done will depend on the relationship MSPs and CSPs have with their cloud vendors. Richard Dolan, senior vice president of marketing at Datapipe Inc., a managed cloud provider based in Jersey City, N.J., said the vendors his company works with all realize the necessity of partners to grow their markets. Datapipe provides public, private and hybrid cloud platforms and partners with Azure, AWS, Alibaba and Google.
"From a managed service provider's standpoint, one big challenge, especially in a multi-cloud world, is staying present and staying top of mind with multiple cloud providers," Dolan said. "Each one of these organizations has a massive sales force. Channel partners have to constantly remind sales teams about what opportunities would be good to bring partners in on service deals," Dolan said.
However, whether channel partners are doing enough to help customers achieve their multi-cloud architecture goals isn't clear.
"It's a mixed bag," Nadkarni said. "If partners did a fantastic job, then Amazon and Google would not hire any employees to go out and do this. We are seeing Google and Amazon ramping up their own efforts to educate their customers and prospects on multi-cloud versus single cloud, which to me means one of two things: It means the partners are not doing a good job or partners are doing a good job, but they are not meeting the bar that is set by the cloud vendors."
To succeed, Nadkarni said channel partners have to develop closer relationships with their customers and think about what is best for them.
"My single most important advice to channel partners is they need to understand the customer environment and, more importantly, their requirements for cloud," he said. "The more you know the customers' environment and their requirements, the better you'll be [able] to help them make the right decision," Nadkarni said.
Additional reporting by John Moore.
Next Steps
Learn how to get the most out of a multi-cloud architecture
Read about Agosto's cloud project with Unilog
Find out about how a multi-cloud deployment applies to storage