Microsoft System Center Configuration Manager 2007 installation steps
Installing Microsoft System Center Configuration Manager 2007 is a complex procedure, and this chapter excerpt covers every step of the process, including how to check prerequisites.
Site Installation
About the book:
This chapter excerpt on Installing Configuration Manager 2007 (download PDF) is taken from the book System Center Configuration Manager 2007 Unleashed. This book is an all-inclusive guide to System Center Configuration Manager (SCCM) 2007. You will learn best practices for such tasks as designing, deploying, configuring and securing SCCM 2007 and backing up its components. This book will guide you through all of the different aspects of SCCM 2007, including patch and compliance management, site maintenance, how to set up the Data Center Manager and configuring asset intelligence.
After verifying the prerequisites and deciding whether to extend the Active Directory schema, you are ready to begin ConfigMgr site installation.
TIP: Use SMS Trace to Monitor ConfigMgr Installation
SMS Trace (also called Trace32 and introduced in Chapter 3) is a utility in the ConfigMgr Toolkit used to view log files in real time. Download the ConfigMgr Toolkit from Microsoft at https://www.microsoft.com/en-us/download (search for ConfigMgr Toolkit), and install it on your soon-to-be primary site. After you begin the ConfigMgr installation, launch Trace32 and open the ConfigMgr installation logs (%SystemRoot%\ConfigMgrPrereq.log and %SystemRoot%\ConfigMgrSetup.log). You will see the logs dynamically update as the installation proceeds.
Installing ConfigMgr
Perform the following steps to install the primary site:
Browse to your installation media and launch Splash.hta, found in the root of the installation media. As shown in Figure 8.1, you have several options in the splash screen, including running the prerequisite checker, reviewing the release notes, and installing ConfigMgr.

FIGURE 8.1 System Center Configuration Manager Installation splash screen

Review the release notes for late-breaking information about known issues, bug fixes, and other important information. When you are ready, select the option Install Configuration Manager 2007 to view the Welcome screen.
Verify you are ready to move forward and then click Next to choose a setup option, as shown in Figure 8.2.

Real World: Previous Installations of ConfigMgr or SMS
If you arrive at the Available Setup Options screen (shown in Figure 8.2) and see that you are unable to install a ConfigMgr site server, first confirm you are installing the site on a supported operating system. In addition, if the server previously had SMS or ConfigMgr installed, you may encounter this situation if the uninstall was not completely successful. If the Registry key HKEY_LOCAL_MACHINE\Software\Microsoft\SMS\Setup exists, delete it and retry the installation.

If the installation continues to fail, check the ConfigMgr installation logs (%SystemRoot%\ConfigMgrPrereq.log and %SystemRoot%\ConfigMgrSetup.log) for more information. You may be able to perform a little additional "clean-up." If all else fails, you may need to resort to reinstalling the operating system on the server for a clean opportunity to install ConfigMgr.

FIGURE 8.2 Available setup options for Configuration Manager installation

Provided you are attempting to install on a supported server operating system (OS), select the option Install a Configuration Manager site server. Then click Next to view the license terms. Read the license agreement, and if you agree to the terms, click Next to proceed.

TIP: Install the ConfigMgr Console on a Workstation for Everyday Use
Another option on the Available Setup Options screen is Install or upgrade an administrator console. A common misconception for new ConfigMgr administrators is that you must run the Configuration Manager console on the site server. You can actually install it separately on a workstation operating system (such as Windows Vista or XP). While installing the console, you will select a site to manage. After installation, you can also attach to additional ConfigMgr primary sites and manage them all from a single console, without needing explicit administrative rights to the server. Chapter 10 discusses using the ConfigMgr console.

On the Installation Settings page displayed in Figure 8.3, you finally can start selecting those decisions you reviewed in the "Pre-Installation" section of this chapter prior to starting the installation. Choose between custom settings and simple settings:

FIGURE 8.3 Choosing to install using custom or simple settings
Custom settings allow you to specify the installation path, configure individual component settings and client agents, port settings, and more.
Simple settings are most useful in a test environment, but the authors recommend using custom settings so you are more aware of the configuration options and the process required for production deployment.
Choose the Custom settings option and click Next to continue.
On the Site Type page shown in Figure 8.4, select Primary site. Because you are installing your first site, this will also be your central site.
After you specify the site type, the wizard asks you to participate in the Customer Experience Improvement Program. Review the documentation at http://technet. microsoft.com/en-us/library/bb693975.aspx and be familiar with your corporate policies. Then choose whether to participate.
Joining the Customer Experience Improvement Program can help the Configuration Manager development team understand your pain points in Configuration Manager. You can change this option after installation by using the Help menu in the ConfigMgr console.
Specify the product key for your Configuration Manager installation. Enter a valid product key and then click Next to continue.
On the Destination Folder page, select the installation directory to install the software.
On the Site Settings page shown in Figure 8.5, enter the three-character site code, along with a site name (or description). Use those three characters wisely, because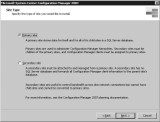 FIGURE 8.4 Specifying a site type
you will be unable to change the site code or the site name after installation completes. Figure 8.5 uses the code CEN and the name CENTRAL SITE.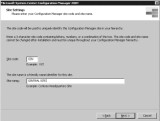 FIGURE 8.5 The Site Settings page
On the next page, the wizard asks you to specify the desired site mode. As discussed previously in Chapter 6, be sure to make your selection wisely. If you choose to "go native" right now, have your signed security certificate ready to import.

If you will be supporting SMS 2003 clients or Windows 2000 systems in this site, the site will need to use mixed mode. Mixed mode is also required if your site has a parent site configured for mixed mode.
It is recommended you install the first site in mixed mode (although you can always switch back and forth; see https://technet.microsoft.com/en-us/library/bb693556.aspx for details). After completing installation and confirming everything is working properly, migrate the site to native mode. For this sample installation, select mixed mode for now. The "Preparing for Native Mode" and "Enabling Native Mode" sections of this chapter give an example of configuring a site in native mode.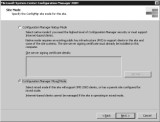 FIGURE 8.6 Specifying the site mode
You are now ready to enable client agents for your site. As shown in Figure 8.7, enabling client agents is as simple as checking a box. With the exception of Network Access Protection, all client agents are enabled by default.
On the Database Server page (shown in Figure 8.8), identify the SQL Server computer name and instance, and specify the ConfigMgr site database name. If the database name does not exist, the Configuration Manager setup program will create a new database if SQL Server is installed on the local system.

If you specified SQL on a remote server, you must first create the database manually and add the machine account of the primary site server to the local Administrators group of the remote SQL server. Also during installation, the user account that is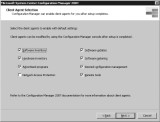 FIGURE 8.7 The Client Agent Selection page
running the ConfigMgr install must have administrative rights on the SQL server, or be assigned the sysadmin SQL Server role on the remote SQL server. Microsoft provides detailed documentation on installing ConfigMgr with a remote SQL Server at https://technet.microsoft.com/en-us/library/bb693554.aspx.
To specify a remote SQL database, simply enter the NetBIOS name of the remote SQL server and ensure that both you (as the installer) and the ConfigMgr site server have administrative rights to the SQL Server computer for installation and configuration.
Figure 8.8 shows the Database Server page with the name of the database server and the (default) site database name specified. The database will be installed on the default instance of the Bluebonnet central site server. If you want to use a named instance, simply enter it using the format specified in Figure 8.8.
About the authors:
Kerrie Meyler is an independent consultant and trainer with more than fifteen years of experience in the IT industry. While in Field Technical Sales at Microsoft, Meyler focused on infrastructure and management and presented at numerous product launches. She has also authored Microsoft Operations Manager 2005 Unleashed.

Greg Ramsey, a Microsoft Most Valuable Professional for Systems Management Server , has been working with SMS and desktop deployment since 1998. Ramsey has written numerous articles for myITforum.com, including Removing Drivers From the Driver Store in ConfigMgr Using PowerShell.

Byron Holt is an experienced IT professional and SMS and Configuration Manager engineer and has worked at Microsoft on the Active Directory and Enterprise Manageability support teams. Holt is presently on the security engineering team at McAfee Inc.
TIP: Multiple Primary Sites -- Use a Consistent Database Name
You may encounter a situation where it is necessary to modify your site database configuration. If you have multiple primary sites (which means you have multiple site databases, because each primary site has its own database), you may want to consider changing the database name to a consistent name (for example, "ConfigMgr"). Because using the default site database name results in a unique name for each database on each site, as shown in Figure 8.8, if you need to run a SQL script on each of your databases, you may have to change the script for each site. Using a consistent database name for all sites provides additional opportunities to automate configuration and maintenance changes.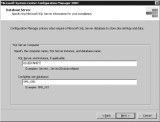 FIGURE 8.8 Specifying the database server and instance
The next page of the setup wizard is the SMS Provider Settings page. Specify the NetBIOS name of the server to install the SMS provider.

The SMS provider is your communication method between the ConfigMgr console and the ConfigMgr database. It is also the supported avenue to ConfigMgr data using Windows Management Instrumentation (WMI). The SMS provider is typically installed on the ConfigMgr primary site. You can also install the SMS provider on the SQL Server system or an entirely separate server. Do not install the provider on a clustered SQL Server instance or a SQL Server containing databases for multiple sites, because Microsoft does not support the provider in these scenarios. For larger sites, you may consider offloading the provider to increase performance. Microsoft provides documentation on choosing the SMS provider installation location at https://technet.microsoft.com/en-us/library/bb694290.aspx.
On the Management Point page, choose to install a management point (MP) if you will be assigning clients to this site. All ConfigMgr clients require access to the management point to communicate with the ConfigMgr site. You can install the management point on the site server or a separate supported server operating system. Check the management point system requirements in Table 8.1 for additional information. You can create a new management point, or move an existing management point once site installation completes.
On the Port Settings page, select the default port (80) or use a custom port for client communications, provided you configured the site to use mixed mode. (If you're configuring for native mode, HTTPS settings are also available for configuration.)
On the Updated Prerequisite Components page, you have the option to automatically connect to the Internet and download all prerequisite components, or you can specify an existing path to where you have previously downloaded the components. Setup will download several components, such as the Windows Update Agent, a WMI update, the Microsoft Remote Differential Compression Library, and a BITS update. Multiple supported languages are automatically downloaded as well.
TIP:How to Download Site Prerequisites Before Installation
Depending on your environment, you may not have access to the Internet from your ConfigMgr site, or you may have a slow Internet connection. Alternatively, you may be like us and prefer that everything you need is available before installing your site.
To download the prerequisites in advance, ensure you have Internet access, connect to your ConfigMgr installation media, and run the following command:
<Media Path>%\SMSSETUP>%\BIN>%\I386>%\Setup.exe /DOWNLOAD< <Destination>
Here, <Destination> is the location destination for your download -- ensure this folder exists prior to running the setup command.
You can run this command from any supported Windows OS (Windows Vista, Windows XP, and so on). The download takes approximately 5 minutes with a high-speed Internet connection.
The Updated Prerequisite Component Path page will do one of two things, depending on your selection on the Updated Prerequisite Components page:
If you selected Check for updates and download newer versions to an alternate path, specify the path to download the files.
If you selected The latest updates have already been downloaded to an alternate path, simply specify the path so the installation can use those files.
Review the Settings Summary page, displayed in Figure 8.9, to ensure you entered all configuration information accurately. You can reconfigure some of these settings later, but others (such as Site Code and Site Name) are permanent. Click Next, which automatically launches the prerequisite checker.
The Installation Prerequisite Check page verifies installation of all prerequisites, with results displayed in Figure 8.10. The complete list of setup prerequisite checks at https://technet.microsoft.com/en-us/library/bb680951.aspx provides detailed information of all ConfigMgr prerequisites. For any items that fail the check, double-click the individual result to see additional information. You should be able to remediate most problems while leaving the setup page open. If the server must be rebooted, you will need to restart the installation process from the beginning.
After correcting any items that failed prerequisite checks, click Run Check to rerun the prerequisite check. After all checks pass, click OK to begin the ConfigMgr site installation. During the installation process, review the installation log located at %SystemRoot%\ConfigMgrSetup.log. An installation progress page appears, as displayed in Figure 8.11.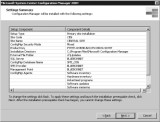 FIGURE 8.9 The Settings Summary page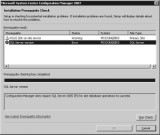 FIGURE 8.10 The Installation Prerequisite Check page, with failures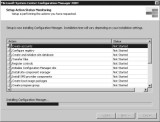 FIGURE 8.11 The Setup Action Status Monitoring page
The Completing the Microsoft System Center Configuration Manager 2007 Setup Wizard page appears at the end of the installation. If you haven't been watching the ConfigMgrSetup.log using SMS Trace (see the earlier note "Use SMS Trace to Monitor ConfigMgr Installation" regarding SMS Trace), click the View Log button to review the log, as shown in Figure 8.12.
TIP: Always Review ConfigMgrPrereq.log and ConfigMgrSetup.log
If you are like the authors of this book, you will be very excited when you see the message in Figure 8.12 that reads "Setup completed all operations successfully." Although there is a very good chance that this message is completely accurate, it is highly recommended you take the time to review the logs. Installations have occurred that appeared (and reported) to be successful, but were not completely successful due to problems such as improper SQL configuration or improper rights between servers. The message in Figure 8.12 gives a good indication of success, but the logs give the best indication. Browse %SystemRoot%\ConfigMgrPrereq.log and %SystemRoot%\ConfigMgrSetup.log to view additional installation information.
With the central site installed, you can use the same procedures to install other primary site servers. You would then join the sites together, as discussed in the "Attaching to Parent" section of this chapter. You will also want to upgrade your site servers to the current service pack level and ConfigMgr 2007 Release 2 (R2), as discussed in the following sections.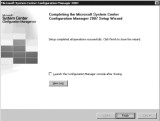 FIGURE 8.12 Completing the Microsoft System Center Configuration Manager 2007 Setup Wizard
NOTE: Performing a Silent Installation of ConfigMgr
You can perform a silent/unattended installation of ConfigMgr. The article at http:// technet.microsoft.com/en-us/library/bb693561.aspx provides information on unattended setups and includes additional links to sample script files and command-line parameters.


Installing Configuration Manager 2007

Microsoft System Center Configuration Manager 2007 pre-installation tips

Microsoft System Center Configuration Manager 2007 installation steps
Printed with permission from Sams Publishing. Copyright 2009.
System Center Configuration Manager (SCCM) 2007 Unleashed
by J Kerrie Meyler, Byron Holt and Greg Ramsey. For more information about this title and other similar books, please visit Sams Publishing.
Dig Deeper on Server management, sales and installation