Microsoft: Intelligent cloud, digital business remaking firm
Microsoft appears set to pursue a greater focus on vertical markets and technology partners as it takes on digital transformation and cloud computing at the enterprise edge.
Talk to Microsoft these days and you'll get an earful on the Microsoft intelligent cloud and digital transformation.
Indeed, Microsoft in recent years has shifted its strategy to rely on cloud computing as its conduit for delivering products to customers. From Windows 10 and Office 365 on the desktop to Dynamics 365 in the enterprise back office, Microsoft is pushing cloud companywide. And the company has some results to show for its efforts: In July 2017, the company said Office 365 Commercial subscriptions for the first time topped the revenue generated via traditional software licensing.
Microsoft has also made progress when it comes to cloud infrastructure as a service (IaaS). Microsoft Azure, the company's public cloud, is making headway and gaining ground on frontrunner Amazon Web Services (AWS). "Many organizations use multiple IaaS providers and Microsoft Azure is emerging as a formidable challenger, closing the market adoption gap with AWS," market watcher 451 Research declared in early 2017.
In addition, the company aims to expand into what it terms the Microsoft intelligent cloud and intelligent edge: the intersection of cloud computing with mobile and internet of things applications. Developments in this field include Azure IoT Edge, an offering that brings cloud services to edge devices.
The company aims to expand into what it terms the Microsoft intelligent cloud and intelligent edge.
Another key theme at Microsoft is digital transformation, which the company hails as a $4.5 trillion market. Microsoft defines digital transformation as projects that help organizations engage with customers, empower employees, optimize operations and transform products. In addition to mobilizing its partner base to collaborate on digital transformation initiatives, Microsoft, itself, is reassessing its operations to deliver offerings in this arena.
Here's a sampling of articles to help you catch up on all the changes at Microsoft:
Cloud expansion
Microsoft's cloud momentum is captured in this news story in MicroScope, which chronicles the expansion of the company's subscription-based business model and notes a near doubling of Microsoft Azure revenue. Azure, meanwhile, is looking to the future: The company is introducing support for the General Data Protection Regulation (GDPR), the European Union's data privacy regulation that goes into effect in May 2018.
Toward the intelligent edge
This Computer Weekly article takes a closer look at the company's shift in strategy from mobile-first and cloud-first initiatives to the Microsoft intelligent cloud approach. Other developments: The company also sees a trend toward serverless computing as the core of distributed computing and to the emerging of artificial intelligence applications that use computer vision to identify people and objects.
Internal transformation
As Microsoft targets the $4.5 trillion digital transformation market it plans to do some transformation of its own, according to SearchITChannel's coverage of the Microsoft Inspire conference. Among the changes: Microsoft will segment customers on an industry basis as opposed to business size. The new strategy emphasizes the customer's business domain -- and associated needs -- over the number of seats requiring software licenses.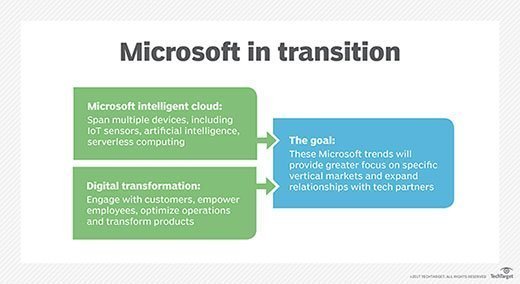 Help wanted
As it turns out, Microsoft isn't pursuing transformation entirely on its own. The company has enlisted several partners to serve as a digital transformation sounding board, as noted in this SearchITChannel column. Among other things, the panel aims to help Microsoft create approaches for working with chief marketing officers within enterprises.
What's in store for customers?
CIOs can expect Microsoft to focus more on vertical markets and engage with partners as it pursues digital transformation opportunities, according to this SearchCIO opinion piece. While Microsoft has plenty of its own technology to offer, addressing a multitude of vertical market needs will require the company to reach out to software and service providers. One possible sign of things to come: an AI-driven retail industry application that brings together Microsoft, Adobe and a digital consultancy.
Next Steps
Learn about Microsoft Azure Functions
Gain insight into Digital transformation from an MIT point of view
Find out how the Microsoft intelligent cloud is making AI more accessible