Sergey Nivens - Fotolia
IoT managed services: How channel partners can get started in 2017
Channel partners can capture a slice of the growing IoT managed services market if they can overcome the steep learning curve.
The growing adoption of smart devices in the workplace is prompting the need to not only ensure they run efficiently but also that they are monitored and managed. Enter channel firms, which have a big opportunity in the fast-emerging IoT market.
Internet of things (IoT) is comprised of devices, connectivity, security and applications. Market research firm Research and Markets predicted that billions of devices will be connecting to the internet from various industries, which will lead to high demand for managed services. The global IoT managed services market is expected to grow at a compound annual growth rate of 15.3% between 2016 and 2022, according to the firm's managed services market study last year.
"To run the IoT technologies successfully, a properly managed service in each layer of IoT ecosystem is required," the study stated.
With this new opportunity come several factors channel firms need to consider at the outset, including investments in staffing, recruitment and training.
At the base level, managed service providers (MSPs) can resell data-collecting hardware devices, noted Carolyn April, senior director of industry analysis, at nonprofit trade association CompTIA. The next step will be managing and monitoring devices, which she called "a sweet spot for MSPs." At the most sophisticated and high-profit end, MSPs will analyze the data collected by the devices in a way that drives informed business outcomes for customers, April said.
"For MSPs, the biggest opportunity lies in not only managing the IoT devices installed across a customer environment, but in working with the reams of data collected by these devices," she said. "By being data experts, MSPs will be able to analyze and provide prescriptive advice to customers that helps drive their business goals. That's true value-add and a differentiator for MSPs."
Offering IoT managed services also means a learning curve like with any new discipline or practice area, she noted, even for channel firms that already have managed services practices.
"The learning curve is going to be steep for any managed services provider wanting to dive into supporting IoT," added Lawrence Munro, director of SpiderLabs at Trustwave, which launched its Trustwave Managed IoT Security service a few years ago covering IoT developers and manufacturers, as well as IoT implementers. "For the most part, no two IoT devices are alike and they often utilize custom protocols, for which there is no support."
Channel firms that want to offer IoT managed services will need to bring new expertise into their business, Munro said. "Most IoT devices lack a lot of the handy plug-and-play features such as syslog, of modern desktop operating systems, and are far removed [from] the polished bezels of rack servers," he noted.
There will also be a learning curve for new services such as building management systems and industrial automation, said Jason Covitz, director of channel and segment strategy in the IT division of Schneider Electric.
"First and foremost, they will need to learn the new [offerings] and how to monetize them," Covitz said. "Additionally, they will need to always keep in mind that the decision-making process for most IoT applications is more complicated than for a traditional IT implementation."
There will also be a shift in the type and number of potential decision-makers and influencers that will have a stake in the process, including IoT consultants, electrical contractors, mechanical contractors, plant managers and data center managers, he said.
"Beyond just learning the new technology involved in IoT managed services, partners need to understand what the engagement process looks like and, ideally, expand their networks outside of their traditional IT networks" and into some of those areas to help with their engagements, Covitz said.
Investing in an IoT managed services practice
MSPs will be required to make substantial investments to support IoT devices, Munro said. In many cases, to support a device, part of the code may need to be rewritten or modified, he said. This could include an IoT device's embedded operating system (OS), the drivers that enable it to communicate with a network, or the device's remote management software, he said. "In some cases, it could be a basic modification in terms of a change to values in a configuration file," such as auto-starting a service on the OS, Munro said. "In others, they may want to modify the firmware itself and recompile it to add support for additional protocols. It totally depends and is on a case-by-case basis."
For MSPs, the biggest opportunity lies in not only managing the IoT devices installed across a customer environment, but in working with the reams of data collected by these devices.

Carolyn Aprilsenior director of industry analysis, CompTIA
This would mean that the vendor would no longer support the device and there would be no more patches to apply, he added.
"This would potentially create a wholly new market for modified IoT devices capable of being maintained within a corporate infrastructure," he said.
There are some remote monitoring and management (RMM) products that claim to support IoT devices, but Munro said it is difficult to assess these claims since one device is so different from the next. "It is a bold assertion to make that any device can be supported beyond some very basic checks," he said. "Moreover, some devices do not use TCP/IP to communicate, so basic connectivity checks such as ping would fail and a custom monitor would need to be instantiated. Repeat this 1,000 times for 1,000 different devices and protocols, and the costs spiral."
April believes channel firms will need to make significant investments in staff recruitment and retention.
"The greatest challenge will be recruiting staff with the appropriate data analytics skills" for partners looking to differentiate themselves at a high level, she said.
IoT managed services: Verticals to target
It will also be important to create dedicated teams with expertise around certain verticals to better tailor offerings to a customer's unique needs, Covitz added.
The industries that are "ripe vertical markets for IoT-oriented MSPs to focus on" would be healthcare, manufacturing and especially retail, April said.
In addition to these industries, Covitz said others that are ideal for IoT services include logistics, smart buildings and cities, automotive and agriculture.
Munro concurred that retail is an ideal market for IoT services, but added that "any organization with distributed physical locations ... may want to make use of cheap devices such as those considered IoT," thus opening up possibilities in most industries.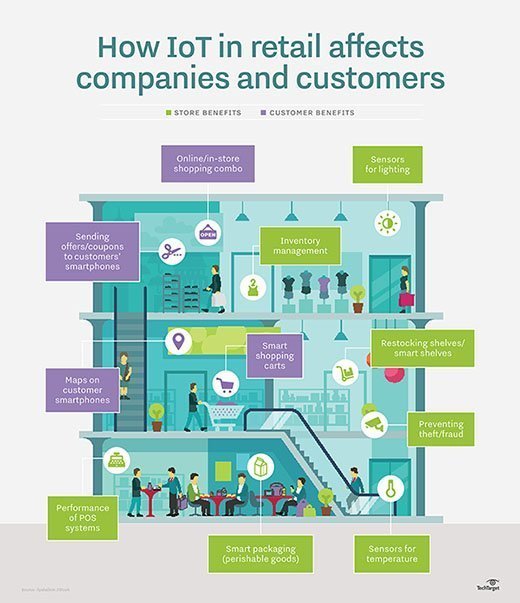 The future of IoT managed services
Security, of course, is always a big concern and area of focus for the channel. Trustwave has already established a practice using its SpiderLabs ethical hacking and research team to deliver IoT security assessments.
"These assessments can range from cursory testing of a device to assess its patch levels and configuration to an in-depth hacker-style engagement that includes reverse engineering the device and exposing unique flaws," Munro said. As organizations increasingly look at IoT as a business enabler, he said Trustwave may also add additional IoT security services.
Schneider Electric is "deeply ingrained" in the operational technology side of the business across a wide range of industries, Covitz said. With IoT comes a "massive expansion of localized edge environments," he noted. The increased sprawl can be attributed to a variety of factors, including the need for low latency, better bandwidth, enhanced cybersecurity, data homogenization intelligence and government compliance regulations, he said.
With this emerging edge computing approach, however, comes a growing need to comprehensively manage these environments using power managed services and data center infrastructure management (DCIM) software, he said. Schneider Electric offers products that provide proactive maintenance of IT systems.
Covitz said he sees continued potential in the growth of services on the operational technology side of IoT managed services.
"There is a huge opportunity for managed service partners to take on the heavy lifting for their customers and deliver those services more seamlessly,'' he said.