Increasing SOA ROI and maximizing automated solutions
This excerpt from "SOA: Principles of Service Design" explains how service-oriented computing can benefit a company's ROI over time.
Measuring the return on investment (ROI) of automated solutions is a critical factor in determining just how cost effective a given application or system actually is. The greater the return, the more an organization benefits from the solution. However, the lower the return, the more the cost of automated solutions eats away at an organization's budgets and profits.
Traditional, silo-based applications tend to get extended over time, resulting in potentially complex environments with effort-intensive maintenance requirements. Combined with the emergence of ever-growing, non-federated integration architectures that can be even more difficult to maintain and evolve, the average IT department can demand a significant amount of an organization's overall operational budget. For many organizations, the financial overhead required by IT is a primary concern because it often continues to rise without demonstrating any corresponding increase in business value.
Service-oriented computing advocates the creation of agnostic solution logic -- logic that is agnostic to any one purpose and therefore useful for multiple purposes. This multi-purpose or reusable logic fully leverages the intrinsically interoperable nature of services. Agnostic services have increased reuse potential that can be realized by allowing them to be repeatedly assembled into different compositions. Any one agnostic service can therefore find itself being repurposed numerous times to automate different business processes as part of different service-oriented solutions.
With this benefit in mind, additional up-front expense and effort is invested into every piece of solution logic so as to position it as an IT asset for the purpose of repeatable, long-term financial returns. As shown in Figure 3.31, the emphasis on increasing SOA ROI typically goes beyond the returns traditionally sought as part of past reuse initiatives. This has much to do with the fact that service-orientation aims to establish reuse as a common, secondary characteristic within most services.
Figure 3.31 An example of the types of formulas being used to "a href="https://searchapparchitecture.techtarget.com/tip/Finding-the-ROI-in-SOA">calculate ROI for SOA projects. More is invested in the initial delivery with the goal of benefiting from increased subsequent reuse.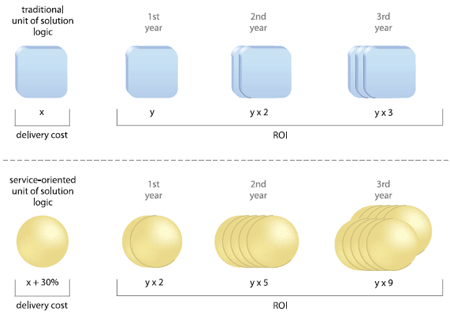 It is important to acknowledge that this goal is not simply tied to the benefits traditionally associated with software reuse. Proven commercial product design techniques are incorporated and blended with existing enterprise application delivery approaches to form the basis of a distinct set of service-oriented analysis and design processes (as described earlier in the Service-Oriented Analysis and Service Modeling and Service-Oriented Design sections).
Use the following table of contents to navigate to chapter excerpts.


SOA: Principles of Service Design


Home: Service-oriented computing and SOA: Introduction


1: Design fundamentals: Design characteristics


2: Design fundamentals: Design principles


3: Design fundamentals: Design pattern and design pattern language


4: Design fundamentals: Design standard


5: Design fundamentals: Best practices


6: Introduction to service-oriented computing


7: Service oriented architecture


8: Service compositions


9: Understanding service oriented computing elements


10: Entity services


11: Web services and service oriented computing


12: Service inventory blueprints


13: Service-oriented analysis and service modeling


14: Service-oriented design


15: Goals and benefits of service-oriented computing


16: Increased intrinsic interoperability


17: Increased federation


18: Increased vendor diversification options


19: Increased business and technology domain alignment


20: Increased ROI


21: Increased organizational agility


22: Reduced IT burden

ABOUT THE BOOK:
SOA: Principles of Service Design is dedicated to service engineering and establishing service-orientation as a design paradigm. This hands-on manual for service design establishes concrete links between specific service-orientation design principles and the strategic goals and benefits associated with SOA. Purchase the book from Amazon.com.
ABOUT THE AUTHOR:
Thomas Erl is the world's top-selling SOA author, Series Editor of the "Prentice Hall Service-Oriented Computing Series and editor of The SOA Magazine. His books have become international bestsellers and have been formally endorsed by senior members of major software organizations such as IBM, Microsoft and Oracle. He is the founder of SOA Systems Inc., a company specializing in SOA training, certification and strategic consulting services with a vendor-agnostic focus.