alphaspirit - Fotolia
IT service provider companies must build trust to thrive
Service providers can take a number of steps toward building trust with clients, including obtaining insurance to financially protect customers and earning technical certifications.
Trust between IT service provider companies and their customers is not only central to a sound business relationship,...
Continue Reading This Article
Enjoy this article as well as all of our content, including E-Guides, news, tips and more.
but pivotal to a channel company's ability to thrive in a competitive business environment where trust is often tested.
Consider the types of tasks channel companies perform: managing a data center, planning application rationalization projects for data migration to the cloud, or providing IT advice to customers who have yet to be convinced that new technologies can improve their business operations or keep their data safe from cyberattacks. IT service provider companies are taking on more responsibilities in a rapidly changing industry that demands not only technology skills, but the valuable attributes of honesty, credibility, integrity and trustworthiness.
As companies move toward a managed service model and away from selling customers a set of products, trust is becoming more important to the long-term future of channel companies, said Carolyn April, senior director of industry analysis at CompTIA. She noted that in the managed service model channel companies are now engaging in ongoing relationships and the responsibility factor is quite high because these companies are managing clients' infrastructure and data.
"Successful channel companies take trust seriously," April said. "It's always about the customer first, working with them on their own business outcomes as opposed to just talking to them about technology, and all of that is wrapped up in having a good trusting bond with that customer."
On the managed service front, the lack of trust was cited as a reason for companies having second thoughts about engaging third-party firms to manage their operations, according to data in a survey of 600 small and medium-sized businesses (SMBs) published by CompTIA. The survey showed that four in 10 SMBs said they use managed services to provide services in some capacity at their company. However, 38% of respondents said they have considered managed services, but had reservations with cost, trust or execution.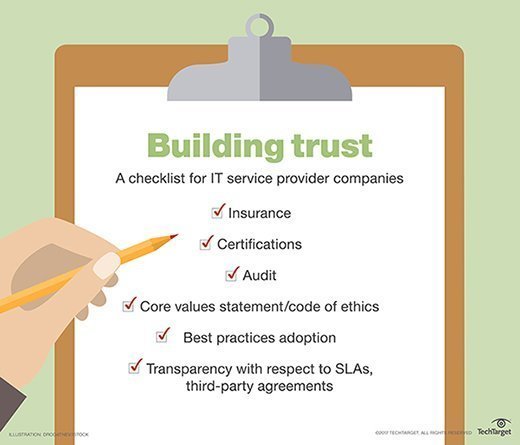 Room for improvement
Charles Weaver, CEO at MSPAlliance, outlined three areas where he believes trust can be improved. These are: insurance that financially protects customers if a disaster occurs, transparency that conveys to the customer that the MSP is doing what they say they'll do, and a code of ethics that transmits a belief system that underpins why the customer is going to hand over access or control of their sensitive IT to a third party.
Building trust is crucial to an MSP's work, particularly because service providers operate in a largely unregulated industry, unlike doctors, accountants or lawyers.
"We still have a lot of work to do in educating the customers about what it is that we do, what we stand for and more importantly how we self-govern," Weaver said. "Because we don't have regulations or licensure the same way other professions do, we have had to come up with alternatives in order to demonstrate trust."
He added that MSPs must do a better job of conveying trust and risk mitigation and what he calls the essentials of the other regulated professions who have very clearly articulated protections for customers.
Weaver also said certifications and audits can also build trust.
Successful channel companies take trust seriously.

Carolyn Aprildirector of industry analysis, CompTIA
"Absent an official licensing and training regimen for MSPs, one of the best ways for demonstrating trust in a quick period of time is certification," Weaver said. "These can include vendor certifications, but these alone are not sufficient. Nonvendor certifications provide validation -- depending on how they are performed -- and transparency to the customer, all necessary ingredients to building trust."
As IT service provider companies grapple with those issues, their trustworthiness is increasingly being evaluated on their ability to provide technology offerings that support and improve clients' internal business operations and customer service efforts.
Declining trust
What IT firms should keep in mind, however, is that trust is on the decline everywhere. In the recently released 2017 Edelman Trust Barometer, a global annual study that polled more than 33,000 respondents in 28 countries, researchers found that trust is in crisis. The survey showed that in four key institutions -- business, government, media and NGOs -- trust has declined at a level not seen since Edelman, a global communications marketing firm, began tracking trust among this segment in 2012.
Michael Stewart, global vice chairman at Edelman, assessed the technology findings in the report and noted trust in technology among the general population is 76%. However, people have doubts about the way the tech sector operates and don't think the industry is transparent and authentic enough. Furthermore, respondents said they don't know how technology contributes to the greater good and are worried about the effectiveness of the IT industry's ability to protect their data.
"These gaps between what stakeholders identify as important and the performance of the sector directly undermine the values of openness and inclusivity that the sector historically has embodied," Stewart said in a statement.
He also said innovations such as driverless cars and blockchain haven't as yet earned trust. Another worrying sign is that nearly half of the respondents believe technological innovations are happening too quickly and are leading to changes that are not beneficial to society.
"Trust is an asset that businesses must earn every day," Stewart said. "And given that the tech sector must earn trust every time an innovation is introduced, no industry needs this asset more. But without trust in the broader system, the tech sector cannot build trust in highly disruptive technologies such as blockchain, or job-changing innovations such as driverless trucks. Therefore, tech must act to ease broader societal and economic fears by collaborating with other sectors and institutions to restore trust in the system."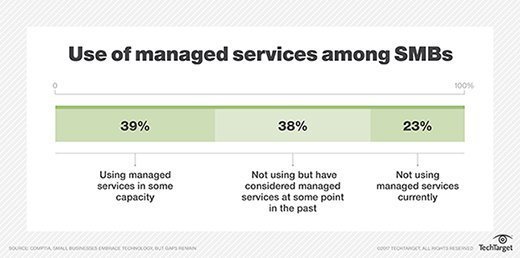 Building trust from the beginning
Michael Cummings, director of sales transformation programs at Taylor Business Group, said trust is paramount when IT providers seek to engage new customers. He also said it's important that sales people engender trust when they meet potential customers.
"Credibility and trust are at the center of the sales process," he explained. "The way people judge whether they can trust you or not has nothing to do with your company; it has everything to do with the quality of the salesperson or the business advisor in front of them."
Building trust in a relationship begins on day one, said Vince Tinnirello, CEO at Anchor Network Solutions, an IT service provider based in Lone Tree, Colo. To build trust at the outset of a relationship, Tinnirello said he sits down with business prospects and goes through his company's core values and mission statement.
"In my proposal that I send to potential customers it says the key to a good customer relationship is trust," Tinnirello said "You've got to build that in the sales visit with your potential clients. After that you build trust by living your core values and actually doing what you said you are going to do," he said.
The trust-building process at Anchor Network Solutions has included everything from recommending technology to explaining the company's agreements with third parties and outlining what his company's responsibilities are during system outages, Tinnirello noted.
A two-way street
Trust works both ways for IT service provider companies and their clients.
"Trust is a two-way street," Tinnirello said. "When I'm meeting with a prospective client during the sales visit, I'm evaluating them as well to determine if they will be a good fit for us and one that we can trust to have a good working relationship with. Most often it's an immediate gut feeling as to whether or not I can trust them to be a good client."
MSPAlliance's Weaver said it can take time to cultivate a relationship, establish a reputation and develop trust between two parties.
"There are no shortcuts. ... No gimmicks can replace that effort," he said. "Get insurance, adopt best practices, and get certified or audited. Turn your existing customers into referrals. And, never sell your reputation for short-term gain."