buchachon - Fotolia
2015 in review: Dell-EMC deal among top events impacting channel
The pending Dell-EMC deal and HP's split into HP Inc. and Hewlett Packard Enterprise topped the list of significant events for IT news in 2015 from a channel perspective.
Editor's Note: This is first of three articles in a series that will focus on the top IT news in 2015 from an industry and channel point of view and provide a look ahead at 2016 IT trends.
As 2015 winds down, SearchITChannel with the help of industry observers looked back on significant events that shaped the IT industry and the partner channel. Here are some reflections:
Hands down, the biggest IT news in 2015 was Dell's $67 billion bid for EMC just a few months ago. The proposed purchase raises a lot of uncertainty for channel partners of both companies -- not to mention EMC's federation of companies including EMC II, VMware, RSA Security, VCE, Pivotal, and more recently, Virtustream.
But that wasn't all the big vendor news. Although first announced in October 2014, the split of Hewlett-Packard Co. into Hewlett Packard Enterprise (HPE) and HP Inc. became official on November 1, 2015. That company separation coincided with similar news from Symantec, which also announced a plan to split into separate entities only for the channel to learn in August of the vendor's intended sale of Veritas to The Carlyle Group and additional co-investors for $8 billion. What does this mean for channel partners? Disruption -- which is always tough for channel partners that need to plan for their business.
"They plan their business investment much further out -- three to five years out because they're investing in people going to training, they're investing in building solutions and they're investing in talking to their customers about products and solutions," said Diane Krakora, CEO of PartnerPath.
Hands down, the biggest IT news of 2015 was Dell's $67 billion bid for EMC.

Lynn Haber
While it's difficult to say how the Dell acquisition of EMC will play out long term -- the deal is expected to close in mid-2016 and there's a lot of talk about Dell selling off some of the EMC assets -- HPE CEO Meg Whitman sees the unstable time ahead for Dell as an opportunity that HPE and partners can take advantage of.
Industry watchers agree that vendor acquisitions rank among the stories topping the IT news of 2015, but noted that channel partners were also active. "We saw more M&A activity on the partner side than we expected," Krakora said.
The five most-read news stories of 2015:
*Listed in chronological order
While mergers and acquisitions among partners don't grab headlines like Dell or HP -- and then there was also BlackBerry's acquisition of Good Technology Inc. --one particularly notable acquisition was Accenture's acquisition of Cloud Sherpas.
CompTIA's Carolyn April, senior director, industry analysis, also noted a lot of partner consolidation in 2015 with channel firms merging together or channel companies being purchased by vendors.
2015 in review: Telecom, print firms invade managed services
April also pointed out a convergence of markets in 2015: There used to be clear lines between what companies sold, but that's blurred now.
"So you have folks in the telecom space that strictly sold voice and now they're selling voice and data, and they're getting into managed services and are also using traditional distributors, which was the domain of traditional channel partners but no longer is," she said. Many different markets are now tied together, for example, traditional IT, telecom and companies that specialize in AV or physical security, she added.
Also on the managed services front, Charles Weaver, CEO of the MSPAlliance, said there was confirmation of the print invasion this year.
"Printer, office, copier companies -- both vendors and distributors of those types of office equipment – [that have] been around for decades are moving very aggressively into managed services. More aggressively than any other market segment out there and faster than accountants, legal, VARs and system integrators," he said.
April called change in the channel iterative and the move toward a recurring revenue type world in 2015, and with it managed services, slower going than expected, especially, given that the discussion of managed services has been ongoing for quite some time.
"In 2015, we really haven't gotten over the hump of seeing channel companies completely transform their business, but there are a lot of reasons for that -- the primary one being that most of these companies are smaller businesses and it's very difficult for them to one day completely change their business model," she said.
The majority of partner revenue still comes from legacy streams such as product transactions, project work and consulting.
Anurag Agrawal, CEO and analyst at market research firm Techaisle, looked at channel partners in the U.S. that focus their business on small and medium-sized business (SMB) customers and found that 34% of partners had no change of revenue in 2015 compared to 2014.
The most affected was the VAR community where about 45% had a flat growth rate, while managed service providers (MSPs) fared much better -- only 22% of MSPs had no change in revenue from 2014 to 2015. "Among MSPs, about three-fourths, or 74%, saw a revenue increase," he said, citing Techaisle's SMB Channel Partner Trends survey of 648 respondents.
Agrawal sees these figures as indicative of where the market is headed. "MSPs are starting to make money -- 74% of MSPs in 2015 compared to 58% in 2014 compared to 37% in 2013," he pointed out.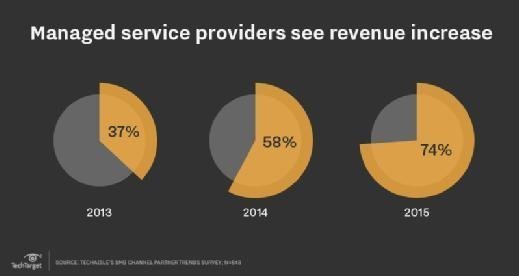 Focus on 2015: Cloud adoption, security
As expected, 2015 saw the adoption and success of cloud continue to accelerate -- the best indicator of that being the growth of Amazon Web Services (AWS) and Salesforce, according to Jeffrey Kaplan, managing director of ThinkStrategies. "Along with that was the admission by Oracle that cloud is the prevailing trend and that Oracle is all in on cloud," he added.
More surprising, however, was the turnaround of Microsoft and the success that the vendor has had given its commitment to cloud and mobility, Kaplan stated.
What that means for channel partners is that the greater acceptance of cloud increases the imperative for them to get on board. "They can no longer think of their business as being project-oriented, geared toward traditional product sales. They have to figure out how they're going to add value to an increasingly price-competitive and commoditized cloud business," he said.
Not only was there uptick in acceptance of cloud services but along with that was the shift in business buying behavior (i.e., customer self-service or self-procurement) as well as more non-IT buyers, commonly referred to as line of business buyers.
On the vendor side, there was action around cloud programs for partners in 2015. "We also saw more cloud programs move into the mainstream partner program versus being a separate entity," PartnerPath's Krakora said .
According to Darren Bibby, program vice president for channels and alliances research at IDC, predictions about the third platform -- cloud, analytics, big data, mobility and social -- transforming IT ecosystems is in fact happening and making up almost one half of the market.
Figures indicated about a 4% decline on the second platform year-on-year for the next five years and about 13% growth on the third platform, according to IDC.
"So partners have to be playing in that area," he said.
At the same time, however, he pointed to a bifurcation of new guard and old guard IT taking shape in 2015 -- AWS, Google, Salesforce, NetSuite, Facebook and Twitter, representing the new guard and companies such as IBM, SAP, Microsoft, Oracle and Symantec representing the old guard.
Top five channel-impacting IT news stories of 2015:
How does this impact partners? They'll be increasingly faced with working with established IT vendors who have the DNA of working with partners versus new guard vendors who don't.
Security rose to the top of the technology hot list in 2015; everything from state-sponsored cyberterrorism and activism, hacktivism to criminal online enterprise. With security rising to the top, the role of MSPs must be enhanced, according to MSPAlliance's Weaver.
"MSPs must pay more attention to security as an offering and they must pay attention to the security posture of their clients," he said.
And, finally, there was a lot of talk about the Internet of Things in 2015, but a lack of traction around it particularly for channel partners, industry watchers agree.
Dig Deeper on Traditional and emerging business partner models