igor - Fotolia
Get started
Bring yourself up to speed with our introductory content.
IT hardware sales endure as channel partner business
Industry executives say hardware remains a key part of a channel partner's business mix, even with the rise of monthly recurring revenue from service sales.
For years, conventional wisdom suggested that channel partners should avoid focusing on IT hardware sales because it's a low-margin, commoditized business.

Download this free guide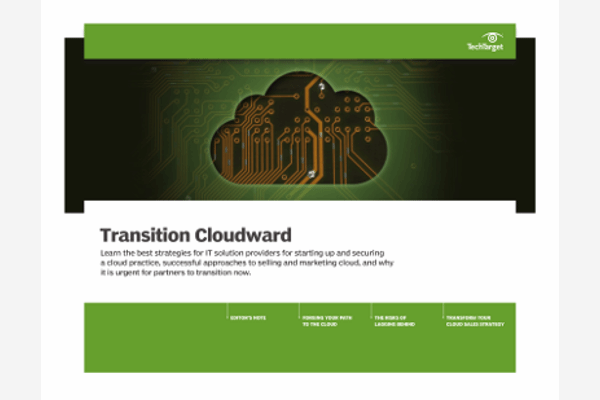 Could Securing Your Channel Business Be Easier? We Can Help.
Download our latest guide to the top strategies solution providers can leverage for starting up and securing a cloud practice, successful approaches to selling and marketing cloud, and why it is urgent for partners to transition now.
Many partners, accordingly, transitioned into consulting services, managed services and, most recently, cloud services. And while services offer the potential for higher margins and monthly recurring revenue versus one-time transactions, hardware remains an element in the typical channel partner's business model.
Research from CompTIA bears this out. The organization's annual State of the Channel study found that 55% of the channel partners surveyed identified hardware as very important to today's channel, while 37% cited hardware as at least somewhat important. Even cloud-oriented channel companies are interested. Two-thirds of those organizations view IT hardware sales as important, according to the CompTIA report, which was published in October 2015.
Hardware sales ... are more commoditized and there's not a lot of margin, but that doesn't mean [hardware] is not a piece of a lot of channel partners' portfolios.

Carolyn Aprilsenior director of industry analysis, CompTIA
"Despite the death knell sounded for hardware sales, it is not the case," said Carolyn April, senior director of industry analysis at CompTIA. "Hardware sales … are more commoditized and there's not a lot of margin, but that doesn't mean [hardware] is not a piece of a lot of channel partners' portfolios."
While hardware remains a viable business, its role has changed significantly among channel partners. For service-focused companies, IT equipment has become a source of add-on revenue, rather than the main attraction. In addition, channel partners that once promoted themselves as resellers of a particular hardware maker are now investing more in their own brand, industry executives noted.
IT hardware sales supplement monthly recurring revenue
Larry Cobrin, director and co-founder of MSPCFO, a financial analytics and consulting company that focuses on managed service providers (MSPs) and VARs, said he is not surprised by CompTIA's hardware findings.
"I think … the importance of monthly recurring revenue to MSPs should be high, but it isn't the only thing that drives profitability," Cobrin said.
He said service providers generally need transactional revenue to stay out of the red. He said most of the businesses he works with cover 70% to 90% of their costs through monthly recurring revenue.
"The rest will be project work and product sales," Cobrin said. "If [MSPs] didn't have transactional business … they would be losing money every month. If you talk to them, a good month is one with a lot of transactional business."
TechTarget's 2015 Channel Directions survey shows that most channel partners don't rely entirely on monthly recurring revenue. A bit more than half of the 120 U.S. respondents to the survey who said they offer managed services reported that 50% or less of their revenue comes from recurring revenue.
But there are other reasons to maintain project and product sales other than supplementing monthly recurring revenue. Cobrin noted that an MSP could end up pounding a square peg in a round hole if it were to move all transactional revenue to monthly recurring revenue for a client who isn't ready to make that shift.
Selling hardware to ease device management
April said many MSPs conduct due diligence at the customer's site before they commit to a service-level agreement (SLA).
"They see what is wrong with the current environment before they put themselves in a contract and guarantee an SLA," she said.
As a result of that IT assessment, an MSP might recommend the client upgrade some of its hardware. April said that's why a lot of MSPs involve themselves in hardware sales.
Ron Culler, CTO at Secure Designs Inc., a company in Greensboro, N.C., that provides security services to small and medium-sized businesses, said selling hardware gives MSPs an opportunity to standardize a customer's computing environment. MSPs can enjoy greater control and efficiency when they use systems they know, trust and spec out, instead of walking into an organization with mismatched gear, he noted.
A more uniform customer environment lets service providers deploy a smaller set of management tools. Training MSP personnel is thus simplified.
"It's a lot easier to train internally and manage on a smaller set, instead of doing something with a one-off manufacturer of a switch or a server," Culler said.
Stanley Louissaint, president of Fluid Designs Inc., an IT services provider based in Union, N.J., suggested that hardware sales can also come into play over the course of a services engagement. For example, an MSP may maintain a server for three or four years, but the system will eventually need replacement. When that time comes, it behooves an MSP to specify and sell hardware so "we're not installing something we didn't recommend and design," Louissaint said.
Channel partners as IT hardware procurement partners
Another reason to believe channel companies will continue to play a role as IT hardware resellers: Customers benefit when they purchase through the channel rather than deal directly with a hardware OEM.
Frank Venezia, senior vice president of client services and technology at Siwel Consulting Inc., an IT solution provider based in New York, said his company acquires hardware for a range of customers, from small companies with low-volume transactions all the way up to large enterprises. He cited Siwel Consulting's ability to evaluate hardware products from multiple vendors as one reason such customers work with the company. Siwel Consulting, he said, can assess technology and offer products that provide the best fit for a client's particular business problem.
"We can give them a non-biased opinion … and get them the best price for that OEM."
The multi-vendor scope also gives customers the advantage of working with a single point of contact. The IT hardware reseller can provide storage from IBM and servers from Hewlett Packard Enterprise, for example, and package them together. Otherwise, the customer would need to order products from both vendors and subject itself to finger-pointing between the OEMs should something go wrong.
Jason Parry, vice president of client solutions at Force 3, a security and network integration company based in Crofton, Md., also cited the partners' ability to pull disparate technologies together as a reason customers seek them out for IT procurement. If a customer's IT staff knows exactly what it wants to procure, it may be easier for it to go direct, he noted. But if customers are looking for products that need to be integrated with other systems in their environment, they may opt to buy through a partner.
IT hardware partners can also bundle services into product sales. This approach lets customers obtain the people and skills required to deploy a given technology, but doesn't affect their budget cycle for resources, Venezia explained.
Customers may also tap IT hardware resellers for engineering and logistics services. Parry cited the example of a customer that purchased a large number of chassis-based switches that required a lot of space, power and cooling. The customer didn't have a place to prepare the switches, so it leveraged Force 3's lab to get the job done. Force 3 brought the systems to its facility, which had the rack capacity to house the switches. Company personnel configured the systems to the customer's requirements, installed the line cards in the appropriate slots and also offered shipping services.
Such projects call for "a combination of engineering, supply chain management, logistics and shipping," Perry said. "We take on some of those tasks that are more challenging for the customer do to deal with."
Venezia also said partners can help with the logistics of a hardware deployment, noting that Siwel provides project management resources to handle the rollout of equipment to multiple sites and coordinate installation with data centers' maintenance windows.
And while some customers may prefer to source products though IT hardware resellers, the OEMs don't necessarily mind. Indeed, the vendors, themselves, encourage sales though IT hardware partners. Channel firms can market to a wider swath of customers and prospects than an individual manufacturer could typically manage on its own. Venezia said it's much easier for a vendor to support 10 business partners calling on 1,000 accounts than to cover those accounts by itself.
The changing role of IT hardware
While selling hardware remains at least somewhat important for channel partners, the practice can be quite peripheral to their operations.
"My goal is always to sell services," Louissaint said. "Selling hardware has always been a means to get the services."
Hardware and bundled applications were central to a traditional VAR's business model. But today, IT equipment sales have become opportunistic, according to April. For example, a cloud-oriented partner may find that most of their customers maintain a certain amount of infrastructure on premises, which creates an opening for IT hardware sales.
"A lot of small VARs today still make good money for themselves on hardware," April said. "That is going to be a niche for certain companies."
And with hardware serving as a supplemental sale or a niche business, channel partners, April said, should lead with their own branding, rather than attaching themselves to a product maker's image.
"It is no longer all about which brand of server you sell or which brand of switch or router," Culler said. "It is more about that [channel partner's] knowledge and expertise and business acumen than it has been in the past. They are starting to work toward their own branding."
But while hardware may not rank as the highest priority, channel partners shouldn't sell it short as a part of the overall business mix.
For example, an MSP that places too much emphasis on the margin impact of recurring revenue may miss out on the total-profitability picture. While cloud business offers gross profit in the 30% to 50% range, physical product sales can still contribute 15% to 20% margin, Cobrin said.
"What we are really trying to encourage our customers to look at is contribution per client, gross profit per client," Cobrin explained. "You can get good gross profit from servicing an agreement efficiently, selling a product with nice margin, and … from monthly recurring revenue from cloud sales. You shouldn't necessarily care which one of those three channels it comes from. At the end of the day, it all flows through as profit and that is money you can take out of the business."
Dig Deeper on Server management, sales and installation