markrubens - Fotolia
Hybrid cloud technology: A channel partner overview
The hybrid cloud model offers a flexible way to meet clients' IT needs. But there are several factors channel partners should consider when building a hybrid cloud environment.
Hybrid cloud technology is starting to play a significant role in organizations that want to supplement their traditional on-site environment with the option of turning to standardized instances as needed, while maintaining the ability to link back to data sources IT still controls on premises.
Hybrid cloud technology provides "a much more flexible way to meet IT resource capacity [when IT] may not have the capacity to spin up instances rapidly enough to meet the needs of an application," observed Eric Hanselman, chief analyst at 451 Research.
But building them is not without its challenges, and organizations have to give consideration to a myriad of issues including data integration, data portability, management and security. As a result, many organizations are turning to cloud providers for assistance.
Hybrid cloud technology: Assessing client needs
When a cloud consultancy gets involved, typically the first step in the process of building a hybrid cloud is figuring out what the organization's needs are. "We realized very quickly there is not a one-size-fits-all approach to our clients' needs," said Tony Bushell, executive vice president of engineering at Trace3.
In the traditional value-added reseller model, Trace3 would "walk in and demonstrate technologies," Bushell recalled, noting that approach missed out on what the customer needed. Trace3 changed its approach for cloud consulting.
"We discovered going in that it's more important to listen than talk," Bushell said.
Trace3 uses what it calls an e3 methodology, which is broken down into a three-step "envision, engage, evolve" process that focuses on what business goals are both important and essential to a client.
The process includes a half-day to a day-long workshop and then going into the client company over a period of a few days with "a variety of people," including data scientists and cloud architects, to meet with different stakeholders from the business to go through and analyze what they are trying to achieve and what business processes they already have, he said. When Trace3 officials survey a client's IT environment, "often we discover investments they didn't even know were there."
We discovered going in that it's more important to listen than talk.

Tony Bushellexecutive vice president of engineering, Trace3
That gives Trace3 "an understanding of what they're trying to achieve, so the envisioning engagement is an assessment; a high-level design, [with] roadmaps, justifications, so on," Bushell said. At the end of that we really help the client help us understand their business so we can suggest the right solution for them."
Trace3 will then deliver a plan to the client that spells out use cases, technology recommendations, where there are skills gaps, "and how we'll execute a road map that takes into account time, resources, cost and how the company does business," Bushell said. IT projects fail, he added, not because of a lack of technology understanding, but because there is no context when it comes to the business objectives.
"The first thing we try to do is figure out what the customer means by hybrid cloud," said Mike Kavis, vice president and principal architect at Cloud Technology Partners (CTP). Sometimes it means a blend of private and public clouds, but a client might also mean a single app will be running on multiple cloud providers. Or, one division of a company might be using Amazon Web Services (AWS) and another is using an internal private cloud and in that hybrid model, they're trying to create a version of Linux on all these clouds, versus running apps on a private cloud with the ability to burst those apps onto AWS when traffic exceeds capacity, he noted.
"So the first thing I try to understand is … are you trying to support multiple vendors or support a single app on different cloud platforms? … In the old days we provisioned a server and installed everything on it," Kavis said. "In the cloud, we're provisioning … a script that will fire up a virtual machine and get Linux or Windows and the right tools on it," he said. "The big thing about a hybrid cloud is you want one process to do that across multiple clouds."
A lot of clients come to CTP because they've been using cloud computing for two or three years and aren't happy with the results, Kavis noted. "They say, 'We're just not seeing the value and agility we thought we'd get and we aren't candidates do this ourselves so we need help.' It's not all newbies coming to us."
Curt Mark, vice president of channel at cloud provider Intermedia, said many of its customers are already using a channel partner for other services within the organization, so it makes it easier for one of its partners to investigate what the customer requirements are and what products they would benefit from. Like Bushell, he said they do an assessment of "what they need today and what's viable to move to, based on today's products." If it is a new customer, the partner will do a more comprehensive assessment to determine what those needs are, what the client is already using "and what would lend itself to a hybrid cloud environment."
Typically, depending on the type of vertical industry the customer is in, that might mean keeping certain apps on premises, such as Microsoft's Active Directory or a financial app, but the customer can move other services like email and collaboration offsite and link them with Intermedia's cloud for hosted file sharing in a hybrid cloud, he said.
Technology selection usually comes down to industry-leading service providers, looking at attributes such as business longevity, their stature in cloud and the size of their customer base, Mark said. "SLAs [service level agreements] are a key component when looking for a cloud provider," he added, as well as the type of support that will get delivered, having the right certifications for what they're selling and the right levels of security and data center audits they might need.
Assessing hybrid cloud technology, provider options
In order to determine what the appropriate technologies and cloud provider are for the client, Kavis said they do an assessment of "cloud readiness" to see what the client's capabilities are and where it falls on the spectrum of cloud maturity, what its current state is and where its want to go. The next step in that process is figuring out where gaps exist. Then CTP puts together a road map that might include what the client needs to do with priorities for order of migration to a hybrid cloud.
One of Trace3's clients is a credit card authorization company based in Phoenix, Ariz. that wanted to outsource some of its workloads in a hybrid cloud model. Since a lot of what it does involves interfacing with different financial institutions, it required a conversation beyond technology and looking at workflows and the third parties it was working with, Bushell said.
"In that instance we took stock of what they had and looked around for different technologies in the marketplace; the different tools we had available to us," he said. "Because there were internal restrictions we had to take a very focused approach -- could it be off-the-shelf or something they could buy from us? The very security-conscious nature of this project made it very challenging to find the right technologies for the [hybrid cloud] solution while being limited by the approach we could take." For example, he said the company couldn't look at open source technologies because of compliance regulations it was bound by.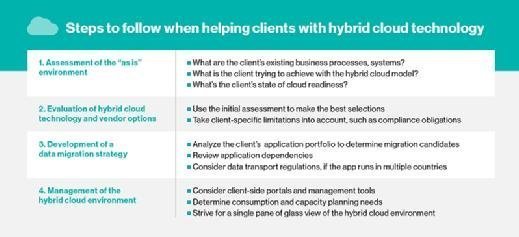 Data migration considerations in a hybrid cloud model
CTP uses tools that analyze a customer's application portfolio since not all apps are candidates for cloud. Some, like a legacy ERP system "make no sense to move," so in that case, they look to see if that vendor has a cloud or software as a service version, Kavis said. CTP will also help the client decide which type of cloud to migrate to if an app has certain regulatory or infrastructure considerations.
For example, "if [the app is] highly dependent on the physical infrastructure and you don't have the appetite to re-architect it, leave it. Keep it running in your data center," he said, a process known as application rationalization.
Companies also need to think about which countries the application will be running in since different countries have different regulations regarding data transport.
Managing hybrid cloud technology
Many cloud providers offer clients the ability to manage their hybrid cloud environment through a self-service portal that allows them to control and integrate services. Depending on the workload, sometimes they will provide assistance, Mark said. "For instance, if they have a file server with all documents on premises but want to make it mobile so users can access [them] via their iPad, we have secure syncing available," he said.
Kavis advised companies to take stock of what they're spending on an OpenStack cloud versus AWS, for example, and look at consumption and capacity planning needs. "I may have requirements that say I can only spend X on one cloud and Y on another," he said.
They should also consider using a cloud agnostic single pane of glass tool instead of having each vendor's reporting and monitoring solutions, Kavis suggested. "You want one view of your cloud infrastructure" to make managing issues such as uptime, SLAs and logging of events more efficient, he added.
That's because a lot of times cloud projects begin as a grassroots effort with teams building on different clouds in silos, and there are different methods used to view them, which is not optimal, he said.
The hybrid strategy should be, "'How do we get to one operating model [so I can] look at all my apps on different clouds and have the same reporting and event management when something's wrong -- How can I have the same processes?'" Kavis explained. "It's all about economies of scale."
In the final analysis, choosing a hybrid cloud boils down to assessing business need and available resources. Some workloads don't belong in the public cloud because cloud providers may not give you full transparency since capacity is shared, 451 Group's Hanselman said. But for organizations that don't want to continue investing in building out an on-premises network infrastructure, and can standardize on IT services and spin up instances from a portfolio of already agreed-upon capabilities, he said, this is where hybrid cloud technology provides value.
Next Steps
Find out how to build upon the hybrid cloud model
Read about VMware's hybrid cloud technology strategy
Learn about the top headaches in creating a hybrid cloud environment
Gain insight in how to assess a customer's cloud readiness
Dig Deeper on Managed hybrid cloud computing providers