sommai - Fotolia
Evaluate
Weigh the pros and cons of technologies, products and projects you are considering.
How to manage mobility strategies for your customers
Cut through the many acronyms in the mobility solutions market to identify and implement strategies that suit each of your customers.
It's something of an understatement to say that IT is fond of acronyms, and, as with many technologies, when it comes to mobility, there is no shortage of them. But it can get overwhelming for solution providers trying to navigate the differences between MDM (mobile device management), MAM (mobile application management), EMM (enterprise mobility management) and the new kid on the block -- MCM (mobile content management) -- and figure out what's best for their customers.
Customers' mobility strategy needs to address the various components of mobility usage, which will depend on the nature of the business, according to CompTIA's Quick Start Guide to Crafting a Mobility Strategy, which was published in 2012. Solution providers must communicate the influence of consumerization and the BYOD (bring your own device) trend, the report noted, in terms of employee productivity and collaboration, business expenses and profitability, and corporate agility and competitiveness.
"Succinctly articulating to customers the disruptive nature of mobility -- fueled by cloud technology innovations -- is imperative when discussing a requisite mobility strategy," according to the report. "From there, the value proposition for solution providers revolves around the construction of a thorough, well-considered plan for managing, securing and effectively utilizing those devices."
Vikrant Gandhi, principal analyst at Frost & Sullivan, said the firm considers MDM, MAM and MCM to be "the three important pillars of comprehensive enterprise mobility management, or EMM."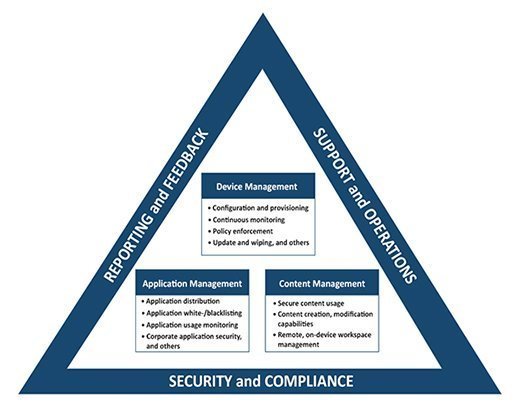 MAM allows enterprises to manage mobility application experience on the devices, while MDM is about management of the devices themselves. MAM "includes distribution of apps through an enterprise app catalog, controlling which apps can be downloaded from public app stores, and application usage monitoring," said Gandhi. He said that enterprise content management (ECM) -- which is a broader concept than MCM but concerns similar functionality -- ensures that the enterprise content is secure and protected from unauthorized usage. It includes the ability to interface with internal and external document management systems, and to ensure that secure content creation and modification is enabled on mobile, he said.
Mobility in the enterprise should be approached gradually, starting with device management and some components of EMM and ECM, advised Gandhi. "For example, while a broad set of capabilities at the device level [can] be made available to pretty much the entire staff -- especially when BYOD is allowed -- specific access to corporate applications can be given to a set of authorized users only."
As for whether to deploy mobile products on premises or in the cloud, he said the cloud model is increasingly preferred. Yet, on-premises deployments tend to be larger, Gandhi added.
Navigating the market
Eric Klein, senior analyst for mobile software at VDC Research, said the lines tend to blur between the categories and he would add mobile security as another bucket for point solutions.
"As the notion of a secure perimeter continues to erode, security is becoming an area where companies realize new tools and techniques are needed," CompTIA said in its 3rd Annual Trends in Enterprise Mobility report, which was published in June. "Fifty‐two percent of companies making investments have dealt with security."
Klein said the market of mobility products has also shifted somewhat. MDM was a hot market when BYOD first became an enterprise trend and employees were given access to some corporate data and applications on their personal devices. Companies wanted to provide capabilities such as remote locking or wiping of devices. MDM is not dead, he emphasized. "Certainly, it has commoditized."
As the mobile market has matured, Klein said, several best-of-breed MDM vendors have evolved into EMM vendors with products that are very comprehensive and typically incorporate MDM, MAM and MCM, as well as security features and, in some cases, mobile app development tools. "So they've become the mobile platform play almost -- or they are trying to."
You should tell your customers that they should at least experiment with several of these [mobility] products before committing to one.

Eric Kleinsenior analyst for mobile software at VDC Research
Many of the best-of-breed vendors have also been acquired, Klein noted, such as Bitzer Mobile, a security point technology vendor that was acquired by Oracle, which typically hasn't played in the mobility management space, he said. EMM suite vendor Fiberlink was acquired by IBM, which is also looking to compete in enterprise mobility space, he said.
He said the EMM vendors have "done well" from a channel perspective in terms of visibility and sales. The top three in the category are AirWatch, MobileIron and Good Technology. Other vendors competing in the space include SOTI and some smaller, newer vendors like Globo, according to Klein.
"What's changed is the notion of managing the device versus securing applications," he said. A debate has emerged with best-of-breed vendors like Apperian taking the stance that if you manage your apps securely you don't have to worry about managing the device, but Klein said it "certainly doesn't hurt to do both."
The EMM vendors have dominated the messaging in the mobility market, Klein noted, so partners are probably more inclined to work with vendors whose names they know and whose products are used by their peers. He said they should pay attention to some of the smaller best-of-breed vendors, though, since some, like Apperian, have "superior technology around application management … not by leaps and bounds, but without question as good as or slightly better."
A major challenge for best-of-breed vendors is that many of their prospective customers have already engaged with an EMM vendor, said Klein. "To compete, these vendors must demonstrate that their solutions offer advanced functionality, a superior user experience and that their solution can coexist and even complement a deployment environment that features a competing solution," he said. "But it all boils down to a customer's specific needs."
"You should tell your customers that they should at least experiment with several of these products before committing to one," he advised. It has becoming a fairly regular practice for vendors to offer free trials so users can judge for themselves how well a product will integrate across various platforms. "The key feature is the management console for all these products," Klein added. "Some customers are very focused on a management console that's intuitive." In addition, partners should ask vendors whether their products will scale, in case, for instance, a customer's mobile workforce grows.
Other considerations
Other issues include how quickly mobile products are updated, Klein said, and IT needs to ensure client devices are updated as well.
If your customer wants to give mobile employees access to a corporate database or network drives, "that will make you go down a different path toward potentially a more comprehensive holistic platform like an EMM vendor can provide," he said. "If you just want to do that network drive scenario, you could [use] a mobile content vendor like bigtincan or ownCloud. Those are mobile content management best-of-breed vendors."
Some customers will also have more robust security needs if they're in a regulated industry and will need a complementary security product that sits alongside MDM or MCM, he said. And Good Technology, for example, has historically done well in all government markets, according to Klein, "because it was a little ahead on security early on."
Many solution providers have chosen to partner across the board with multiple big vendors in the mobility space because they don't want to limit their customers to a specific product. After all, he said, "the more relationships they establish, the better off they are."
Dig Deeper on Managing mobile devices in the enterprise