How SOA contributes to a more agile IT department
This excerpt from "SOA: Principles of Service Design" explains how service-oriented computing reduces operational costs and overhead.
Consistently applying service-orientation results in an IT enterprise with reduced waste and redundancy, reduced size and operational cost (Figure 3.33), and reduced overhead associated with its governance and evolution. Such an enterprise can benefit an organization through dramatic increases in efficiency and cost-effectiveness.
In essence, the attainment of the previously described goals can create a leaner, more agile IT department; one that is less of a burden on the organization and more of an enabling contributor to its strategic goals.
Figure 3.33 If you were to take a typical automated enterprise and redevelop it entirely with custom, normalized services, its overall size would shrink considerably, resulting in a reduced operational scope.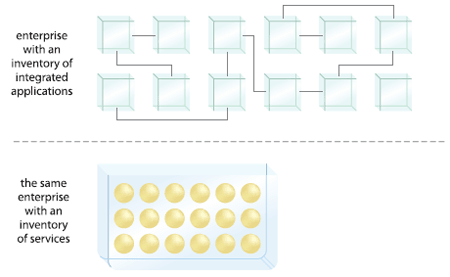 SUMMARY OF KEY POINTS
Key benefits of service-oriented computing are associated with the standardization, consistency, reliability, and scalability established within services through the application of service-orientation design principles.
The service-oriented computing platform provides the potential to elevate the responsiveness and cost-effectiveness of IT through a design paradigm that emphasizes the realization of strategic goals and benefits.
Use the following table of contents to navigate to chapter excerpts.


SOA: Principles of Service Design


Home: Service-oriented computing and SOA: Introduction


1: Design fundamentals: Design characteristics


2: Design fundamentals: Design principles


3: Design fundamentals: Design pattern and design pattern language


4: Design fundamentals: Design standard


5: Design fundamentals: Best practices


6: Introduction to service-oriented computing


7: Service oriented architecture


8: Service compositions


9: Understanding service oriented computing elements


10: Entity services


11: Web services and service oriented computing


12: Service inventory blueprints


13: Service-oriented analysis and service modeling


14: Service-oriented design


15: Goals and benefits of service-oriented computing


16: Increased intrinsic interoperability


17: Increased federation


18: Increased vendor diversification options


19: Increased business and technology domain alignment


20: Increased ROI


21: Increased organizational agility


22: Case study background

ABOUT THE BOOK:
SOA: Principles of Service Design is dedicated to service engineering and establishing service-orientation as a design paradigm. This hands-on manual for service design establishes concrete links between specific service-orientation design principles and the strategic goals and benefits associated with SOA. Purchase the book from Amazon.com.
ABOUT THE AUTHOR:
Thomas Erl is the world's top-selling SOA author, Series Editor of the "Prentice Hall Service-Oriented Computing Series and editor of The SOA Magazine. His books have become international bestsellers and have been formally endorsed by senior members of major software organizations such as IBM, Microsoft and Oracle. He is the founder of SOA Systems Inc., a company specializing in SOA training, certification and strategic consulting services with a vendor-agnostic focus.