How SOA can improve business-technology management and alignment
This excerpt from "SOA: Principles of Service Design" explains how service-oriented computing works to align business needs in the face of a constantly changing business environment.
The extent to which IT business requirements are fulfilled is often associated with the accuracy with which business logic is expressed and automated by solution logic. Although initial applications have traditionally been designed to address immediate and tactical requirements, it has historically been challenging to keep applications in alignment with business needs when the nature and direction of the business changes.
Service-oriented computing introduces a design paradigm that promotes abstraction on many levels. One of the most effective means by which functional abstraction is applied is the establishment of service layers that accurately encapsulate and represent business models. By doing so, common, pre-existing representations of business logic (business entities, business processes) can exist in implemented form as physical services.
This is accomplished by incorporating a structured analysis and modeling process that requires the hands-on involvement of business subject matter experts in the actual definition of the conceptual service candidates (as explained in the Service-¬Oriented Analysis and Service Modeling section). The resulting service designs are capable of aligning automation technology with business intelligence on an unprecedented level (Figure 3.30).
Figure 3.30 Services with business-centric functional contexts are carefully modeled to express and encapsulate corresponding business models and logic.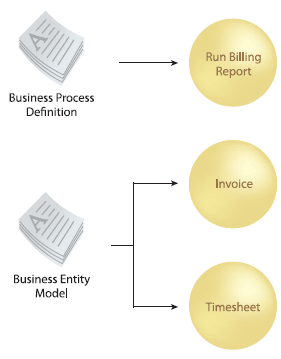 Furthermore, the fact that services are designed to be intrinsically interoperable directly facilitates business change. As business processes are augmented in response to various factors (business climate changes, new competitors, new policies, new priorities, etc.) services can be reconfigured into new compositions that reflect the changed business logic. This allows a service-oriented technology architecture to evolve in tandem with the business itself.
Use the following table of contents to navigate to chapter excerpts.


SOA: Principles of Service Design


Home: Service-oriented computing and SOA: Introduction


1: Design fundamentals: Design characteristics


2: Design fundamentals: Design principles


3: Design fundamentals: Design pattern and design pattern language


4: Design fundamentals: Design standard


5: Design fundamentals: Best practices


6: Introduction to service-oriented computing


7: Service oriented architecture


8: Service compositions


9: Understanding service oriented computing elements


10: Entity services


11: Web services and service oriented computing


12: Service inventory blueprints


13: Service-oriented analysis and service modeling


14: Service-oriented design


15: Goals and benefits of service-oriented computing


16: Increased intrinsic interoperability


17: Increased federation


18: Increased vendor diversification options


19: Increased business and technology domain alignment


20: Increased ROI


21: Increased organizational agility


22: Reduced IT burden

ABOUT THE BOOK:
SOA: Principles of Service Design is dedicated to service engineering and establishing service-orientation as a design paradigm. This hands-on manual for service design establishes concrete links between specific service-orientation design principles and the strategic goals and benefits associated with SOA. Purchase the book from Amazon.com.
ABOUT THE AUTHOR:
Thomas Erl is the world's top-selling SOA author, Series Editor of the "Prentice Hall Service-Oriented Computing Series and editor of The SOA Magazine. His books have become international bestsellers and have been formally endorsed by senior members of major software organizations such as IBM, Microsoft and Oracle. He is the founder of SOA Systems Inc., a company specializing in SOA training, certification and strategic consulting services with a vendor-agnostic focus.