High availability
Server virtualization is a cost-effect method of providing high availability and business continuance through redundant system components. Learn more about it in this excerpt from "Advanced Server Virtualization."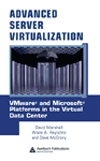 Although disaster recovery strategies address business continuance in the event of a catastrophic disaster, they do not address the needs of fault tolerance and system robustness. High-availability strategies provide business continuance through the use of fault-tolerant systems, usually by implementing redundant system components such as RAID storage systems or clustered servers. Most highly available systems must be available more than 99 percent of the time, meaning that the systems must be able to recover from a number of different component failures. One of the most common methods of providing a highly available system is through the use of clustered servers. In a server cluster, there are at least two servers that have the same applications and configuration and share access to the same data. When the active server in the cluster experiences a fault (such as a failed network adapter or hard drive failure), one of the other servers in the cluster take over and become the active server in order to provide nonstop services. One of the issues associated with server clusters is the additional cost of server hardware that is mostly unused while it is waiting for a failure to occur.
Server virtualization can provide an inexpensive method of implementing server clusters by using virtual machines in a cluster. Virtual machines can be clustered with other virtual machines or other physical servers. Using virtual machines in server clusters works well with server consolidation. While the primary server in the cluster is active, the secondary server, a virtual machine, will usually consume very few resources, allowing it to be placed on a host server along with other servers. If the primary server in a server cluster is also a virtual machine, it should be placed on a separate physical host server in order to maximize the cluster's uptime.
Use the following table of contents to navigate to chapter excerpts, or click here to view Business cases for server virtualization in its entirety.

Advanced Server Virtualization
Home: Business cases for server virtualization: Introduction
1: Server Consolidation
2: Legacy server and application support
3: Disaster recovery
4: High availability
5: Adaptive computing
6: On-demand computing
7: Limitations of server virtualization

ABOUT THE BOOK:
Advanced Server Virtualization focuses on the core knowledge needed to evaluate, implement and maintain an environment that is using server virtualization. It emphasizes the design, implementation and management of server virtualization from both a technical and a consultative point of view. It provides practical guides and examples, demonstrating how to properly size and evaluate virtualization technologies. This volume is not based upon theory, but instead on real-world experience in the implementation and management of large-scale projects and environments. Currently, there are few experts in this relatively new field, making this book a valuable resource. Purchase the book from Amazon
ABOUT THE AUTHORS:
David Marshall is currently employed as a software engineer for Surgient Inc., a software company based in Austin, Texas, that provides software solutions that leverage x86 server virtualization technologies. He holds a B.S. in finance and an Information Technology Certification from the University of New Orleans. He has been working with virtualization software for the past six years. Dave McCrory works as chief scientist for Surgient Inc. He has filed several patents around server virtualization and management of virtual machines and has worked with virtualization technology for more than five years. Wade A. Reynolds is employed as a senior consultant by Surgient Inc. He has been designing and implementing enterprise solutions based on virtualization technology on a daily basis for more than three years, including VMware ESX Server and Mircosoft Virtual Server from its pre-beta release.
Dig Deeper on Container and virtualization technology services