ra2 studio - Fotolia
Manage
Learn to apply best practices and optimize your operations.
Healthcare cloud adoption may be turning another corner
Healthcare cloud adoption has grown at a relatively slow pace, but experts say the tempo is poised to speed up. Learn how channel partners can support hybrid cloud environments.
For years, many healthcare providers kept hybrid cloud at arm's length. Not anymore.
Healthcare cloud adoption could amount to using only specific SaaS applications offered by a longstanding on-premises electronic health record (EHR) provider. Or it could be a more expansive relationship with a cloud services provider, enabling a mix of cloud data storage services and continued use of on-site legacy systems.
Either way, industry watchers reported that healthcare providers and their CIOs are now less reluctant to tap the cloud, as they recognize advanced approaches to medicine require more than on-premises IT and a smattering of SaaS. It's just a matter of how fast they'll make a broader shift.
"[Healthcare providers] want to roll out cloud-based services faster than before," said Marty Momdjian, a healthcare solutions advisor for Sirius Computer Solutions Inc., a San Antonio-based systems integrator.
"But healthcare is still very complex," he added. "There are so many moving parts to interoperability. It all depends on a hospital's turnkey model. Some shy away from cloud, saying they're good at managing it all on premises -- and they will always continue to do so on premises. Many others understand the complexities of IT very well, and they recognize the advantages of cloud and are successful integrating operations into it."
Diminishing healthcare cloud resistance
As cloud computing went mainstream, healthcare providers cited industry-specific considerations, such as regulatory requirements for HIPAA and HITECH and data security, as a reason for limiting their cloud investments. But over the past few years, they've recognized the major cloud service providers can, in fact, meet compliance and security expectations, according to Jeff Becker, a senior analyst at Forrester Research.
Cloud providers have made significant investments in regulatory compliance and security controls to meet the needs of healthcare organizations, he said.
"That reluctance has diminished enough that, interestingly, what has led providers to cloud are cybersecurity concerns and ransomware attacks," Becker said. "If a healthcare system is shut down by an attack and all the data is in a data warehouse in a basement, suddenly, the security features of Google, Microsoft and other cloud providers are looking good."
More on this topic
Healthcare organizations' IT environments are increasingly complex. Channel partners can step in to ensure successful and secure technology deployments. Learn about emerging partner opportunities in the healthcare industry.
Healthcare IoT's next steps come into focus
But it's not just security that has healthcare organizations taking a serious look at cloud offerings. The perceived cloud cost savings are also a factor. A 2019 Vanson Bourne/Nutanix study predicted hybrid cloud deployments in the healthcare industry to increase from 19% to 37% by 2021. Drivers behind the growth, the study found, included a need for control over IT spending. Healthcare companies using public cloud will spend about 26% of their annual IT budgets on public cloud and expect that percentage to increase by about 10% over the next two years, the study noted.
Still, it's difficult to get a true measure of just how many healthcare providers have already adopted hybrid cloud. Field surveys on healthcare cloud adoption are uncommon, and those that are conducted by cloud providers tend to frame questioning around potential deployments rather than actual deployments. But interviews with industry analysts and managed cloud service providers show that even if adoption is slow-going, healthcare organizations seem to recognize they can make technological gains -- including those driven by AI and IoT -- by being more open to hybrid cloud.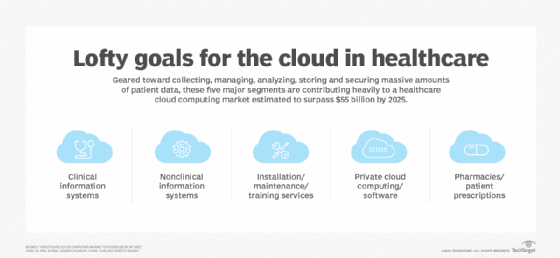 "The general perception in the technology world has been [healthcare providers] are lagging" in cloud adoption, according to Gregg Pessin, senior director research at Gartner. When the market research firm prepared a market guide for cloud service providers, he said, many healthcare organizations claimed to follow a hybrid cloud strategy. However, when pressed, it was evident they are using only a SaaS offering for financial management or HR and were not truly meeting standard criteria for hybrid cloud adoption.
Limitations of on-premises systems
Pessin and others predict an increased migration to hybrid cloud as healthcare providers grapple with the inability of on-premises and SaaS technologies to quickly process large data volumes that pass between doctors and EHR systems. Caring for patients with COVID-19 may trigger a hybrid cloud rush.
Industry watchers expect doctors on the frontlines of the pandemic will press CIOs, who will, in turn, convince boards of directors to invest in hybrid cloud so they can not only access data faster, but also take advantage of many other digital technologies available to the medical industry.
EHR is the tail that wags the dog.

John CurinVice president of the healthcare division, Burwood Group
Echoing Pessin, John Curin, vice president of the healthcare division of Burwood Group Inc., a Chicago-based IT consultancy and managed services provider, said healthcare providers believed for years that using a SaaS offering of a legacy EHR provider qualified as hybrid cloud. But it was clear healthcare providers have not embraced the cloud as other industries have, because they are not relying on a hypervisor or running a container through a cloud services provider, he said.
Yet, for Curin, trepidation of the cloud has less to do with compliance and security, and more to do with being tied down with legacy EHR systems.
"EHR is the tail that wags the dog," Curin said.
EHR vendors have only recently made larger gestures toward cloud. Many have made healthcare providers wait for the opportunity to be free of contracts with on-premises vendors before they can finally explore cloud offerings on their own, he said. After spending on EHR and on-premises technologies like diagnostic and biomedical equipment, there is little room on the balance sheet for cloud investments, he added.
"As these CIOs get more comfortable in wanting to deliver a better patient experience … instead of buying everything [on premises] for five years and having to build up around it, they'll want to move to cloud," Curin said. "Aside from proving to the government you're using electronic systems responsibly, you have all this healthcare information technology that has throughput throughout the organization: applications and systems for patient access, patient engagement, getting a 360-degree view of patient health, telehealth for long-distance care. And you have to process patient-generated data. You can strap a Fitbit to a patient and get all of this information."
Instead of employing a team of certified IT specialists to manage the on-premises technologies that will meet those data demands, hybrid cloud replaces "huge chunks" of infrastructure and "now you're just feeding through data," Curin said. "Now, you don't have to patch for security on systems and you don't have to worry about servers."
The lure of cloud offerings
The underlying financial benefit driving healthcare cloud adoption is cost savings. "The economic benefits are very real," said Christian Alvarez, vice president, Americas channel, of cloud vendor Nutanix. "You'll see it in the consolidation of legacy technologies and workloads. Hospitals are under pressure to reduce scale and costs."
Colin Dawes, chief solutions architect at Syntax, a managed cloud service provider based in Montreal, said he envisions health care providers approaching cloud in the same manner that other industries have. The first step will mostly center on moving critical workloads to a public or private cloud, he said.
Eventually, healthcare providers will be in a position to take advantage of cloud-native technologies such as containers and will write software programs in public cloud, Dawes said. Additionally, cloud-based applications that are supported by machine-learning will help coalesce and make sense of a multitude of archived and active patient records.
Partners' roles in healthcare cloud shift
The healthcare industry's shift to hybrid cloud environments also presents opportunities for channel partners. For one, Gartner's Pessin sees channel partners aptly filling the roles of IT professionals whose knowledge of AWS and other cloud providers is in such demand that they ultimately leave their hospital jobs and work for the providers themselves.
"It's easier to bring in a company that serves as a proxy for all of this heavy lifting," Pessin said. "Let them manage all of the specific Amazon services, which are part of the package."
Sirius Computing Services, which partners with Nutanix, has a managed services team specifically for healthcare, according to Momdjian. "We use technologies based off what the major cloud providers have," he said. "We understand [a healthcare provider's] costs and manage things based on what [customers'] needs are. … It's an IT piece and not just a cloud piece."
Those interviewed for this article said they expect hospital revenue to pour into COVID-19 clinical care and, thus, reduce IT expenditures. However, they said the demands for real-time data, and healthcare cloud offerings to support it, has never been greater.
According to Forrester's Becker, "the epidemiologists doing the broader study of the disease … need to stay on top of the peaks and surges of the virus, so they need close-in-the-weeds data from healthcare providers. Only then can you start teasing out capacity demands and understand excess and needed supplies. You'll have huge amounts of data coming out of all parts of the country. Hospitals need to maintain their data in real time. That's a perfect use case for public cloud."
Dig Deeper on Managed hybrid cloud computing providers