Having conversations about prospective networking channel partners
Once you've developed a list of criteria for networking partners, it's best to further refine the list through discussions with colleagues.
By James D. McCabe
Choosing networking vendors, tools and service providers for your projects is not an easy task, which is why the second step in the evaluation process is getting a little help from your peers.
Having developed a short list (seed) of candidates, we want to use that list to generate a more complete list of candidates, as well as begin to develop a set of criteria that we can use for evaluation.
Whereas one or a few persons can develop the seed list, the complete list should involve a much larger group of participants, including the project team, select potential users of the network, technical staff, management, and/or stakeholders. Your evaluation team should represent the scale and scope of your project.
Using the seed as a starting point, discussions are held, often involving a whiteboard or Web equivalent, to expand this list. At this point in the process it is better to include all candidates, including obviously inferior ones, and reject them during the prioritization and selection, rather than rejecting them outright. Even if the list becomes unwieldy, it can be quickly pared down once your criteria and ratings have been developed. In this way you will be able to show that you considered a sizable number of options, along with reasons for rejecting them. This can be useful later if someone contests your selection with one that happens to be on your list of rejections. Additionally, you may find that one of your not-so-obvious choices turns out to be one of the better ones.
Along with the complete set of candidates you will need to develop your set of evaluation criteria. Common examples of evaluation criteria are shown in Figure 10.7. Your set will also likely contain evaluation criteria specific to your project, your network, and your organization.
At this point in the process you should not use these criteria to evaluate your candidates. We still need to refine the criteria, as well as develop weights for the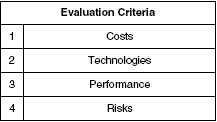 FIGURE 10.7 An example set of initial evaluation criteria

criteria, before applying them. But even before that we need to perform some research and data gathering to support the evaluation.

Evaluating vendors and service providers for networking projects

How to choose vendors, tools and service providers
Seeding the evaluation process
Having conversations about prospective networking partners
Gathering data on prospective networking partners
Refining your criteria for prospective networking partners
Developing ratings for prospective networking partners
Modifying the list of prospective networking partners
Determining the order of evaluations for networking partners

Reproduced from Chapter ten of the book Network Analysis, Architecture, and Design by James D. McCabe. Copyright 2007, Morgan Kaufman Publishers, an imprint of Elsevier Science. Reproduced by permission of Elsevier, 30 Corporate Drive, Burlington, MA. Written permission from Elsevier is required for all other uses.
Dig Deeper on Running an MSP business