Rawpixel - Fotolia
Get started
Bring yourself up to speed with our introductory content.
HTG Peer Groups: What to expect
Arlin Sorensen has remained steady in his vision for HTG Peer Groups since its founding in 2001, and it might not be for everyone. Learn about HTG's holistic approach to peer groups.
HTG Peer Groups doesn't pretend it's for everyone. Some prospective peer group members might be dissuaded from joining, for example, by the obligation to disclose private business and personal information to their group. Receiving honest feedback about your progress on executing goals, or lack of progress, might repel some prospective members, as well. HTG, however, asserts that those who are willing and able to commit to its philosophy and practices will benefit in both business and in life.

Download this free guide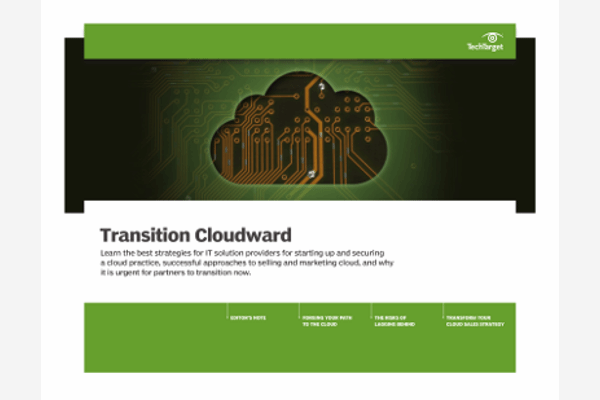 Could Securing Your Channel Business Be Easier? We Can Help.
Download our latest guide to the top strategies solution providers can leverage for starting up and securing a cloud practice, successful approaches to selling and marketing cloud, and why it is urgent for partners to transition now.
According to Arlin Sorensen, founder and CEO of HTG Peer Groups, if you are managing an IT channel company and struggling with the responsibility, HTG Group may be a salvation of sorts. "The reality for most owners is that being an owner is a very lonely spot to be sitting. If you are running a company in a vacuum, you don't even know what 'good' looks like. You think you're doing good until you have the opportunity to actually compare yourself with others that are doing the same thing in different markets. Peer groups provide a level of perspective that you won't get anywhere else. The beauty of the peer group is that once you understand what's possible, you have a group of people that can help encourage you and push you to actually execute [it]."
Sorensen said he started HTG in 2001 for his own IT channel company's benefit. He formed the first peer group with three other channel companies in Iowa. "We were coming out of Y2K and struggling a little bit, and we decided it would be good to talk to some other companies around Iowa and just see what their experience was." In 2006, the group received enough interest from other channel companies seeking feedback and support to form additional peer groups.
"Certainly, I didn't have any grand plan of creating an organization like we have today, but over time, we've just continued to try to meet the needs of resellers and MSPs [managed services providers] and put together a program that would help them grow," he said.
Today, HTG has 29 peer groups and 275 members, and it continues to grow. Of the 29 peer groups, 18 of them are core groups in the U.S., four are growth/large company groups, three are Australian/New Zealand groups, two are European groups and two are vendor peer groups. The organization also created HTG Online, which has 11 online peer groups and 90 members.
From its inception, HTG has focused on holding its members accountable to execute their plans, and throughout the history of the organization's growth, Sorensen said HTG hasn't strayed from its mission. "Our tagline is really to drive execution in business and life through accountability, and that's what we're all about, is helping people be accountable to do the things that they say they want to do," he said.
The HTG Group's holistic approach
HTG asks its channel company members to create four different plans: a business plan to address their company's business goals; a leadership plan to address how they intend to grow as a leader and build their teams; a legacy plan, which entails what will happen to their business and personal legacy over time; and a life plan to address life outside of the workplace.
"We made a decision very early on that we were going to be holistic in how we approached peer groups, and so we're definitely somewhat unique in our focus there," Sorensen said. "It's messy. I certainly can't blame other organizations that just try to draw a line in the sand and say, 'We're going to address business and the other stuff is not going to muddy the waters here.'"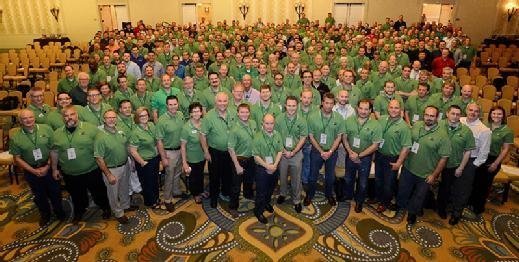 The life plan is important because Sorensen believes "the tension between work and life" needs to be managed. "Most small business entrepreneurs are workaholics, and they need somebody that challenges the way they use their time and the priorities they set and [is] willing to call them out on how they're living life," Sorensen said. "They don't get that in the workplace, obviously, so one of the roles that we play in HTG is to really cause them to put on paper what it is they want to accomplish with their life and what their priorities are. … Our view is that if we make your successful in business but your life's a disaster, then we failed. And there's a lot of that going on in the business world today where people appear to be doing well in business, but they're going through divorces or family blowups or all kinds of other issues that certainly take the fulfillment and joy out of being successful in the workplace."
For Skip Carruth, president of McLane Intelligent Solutions (MIS), a managed services provider working in central Texas, HTG's holistic approach sets it apart from other peer group organizations. "Arlin has really pushed hard to drive home the fact that we are complete people [and] we're not just operators," he said.
Transparency
HTG Peer Group members are expected to disclose a wealth of sensitive information to their peers. Although the disclosure might be daunting to some, Skip Carruth embraced it, saying it led his company, MIS, to make a critical decision about its future.
MIS was established in 1999 as a small organization, which included Carruth and two others. In 2004, their company was acquired by American entrepreneur Drayton McLane, Jr., chairman of the McLane Group. Six years later, the company joined HTG. "We had met the folks in the HTG peer group and met Arlin through the user community of the software ConnectWise. That's kind of where a lot of people get connected in to begin with," he said. "We were really struggling with managing the business, because, at that time, we were still part of another company. And we really felt like [HTG] would be a great entrée to other people who had been managing these kinds of businesses and learning the ropes of how to do that well."
There's not an area that doesn't get touched within the group. It's total transparency, and people press on not only business things but life and leadership and legacy [issues], too.

Arlin Sorensenfounder and CEO of HTG Peer Groups
When Carruth joined HTG, he said his company was faced with a challenge. "We could not put together our financials. We were kind of mixed in with the financials of [the McLane Group]. They were bigger than us. We didn't have much pull in it [when] trying to get answers, trying to separate the charges and all those things out, expenses, and generate a [profit-and-loss statement] or separate a balance sheet. It was just impossible. So after we joined we realized that we either need to pull out of HTG because we just can't participate and drive what we need to be a part of the organization, or we need to separate [from the McLane Group]."
Carruth said the company chose to separate from the McLane Group, becoming McLane Intelligent Solutions. "Really, that would not have happened had it not been for HTG. And it was the best thing that ever happened to us, because now we had something that we could measure. We weren't doing as well as we thought we were when we first started, [and] it took about two quarters and a lot of hand-holding and rear-end kicking to move us to accelerate the business. And it was remarkable," he said.
The meetings
The different HTG peer groups generally meet in person each quarter. The structure of the meetings may vary, but usually each member will give a presentation to their group, take questions and then receive feedback, Carruth said. The meetings may also schedule educational sessions, which may include a vendor coming in to talk about its products and services or a guest sales expert to discuss sales strategy.
According to Carruth, the feedback sections of the meetings are "the most painful part."
"When you get feedback, you're not allowed to rebut, answer, add questions -- anything. You just take it. And [feedback comments] can be very humbling, but it is the most powerful part of the presentation," he said. "You learn very quickly that excuses just don't hold water with this group. … It's like, 'OK, well, what are you going to do about it, and when are you going to do it? And can you go ahead and do that this afternoon, or do you need tomorrow morning?'"
Sorensen believes the feedback from peers is a powerful motivational factor for driving its members to execute on their individual goals. "The peer group is able to hold people accountable and to press on them to do the things that they need to do so they can really succeed. It's no different than it was on the playground in kindergarten: Peer pressure works. Nobody wants to get in front of the group and tell them they didn't do what they said they were going to do," he said.
"These guys know," Carruth said of his peers. "They live in the numbers. They live in the business. They know b.s. when they hear it. And you can't pull the wool over their eyes."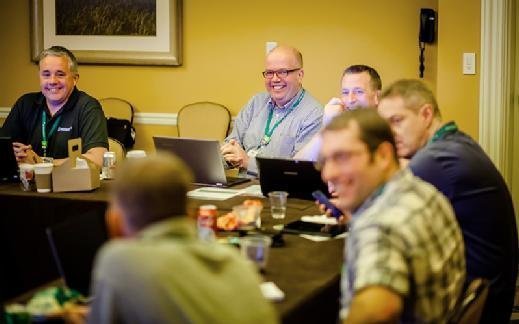 The issues that members bring to meetings are "all over the board," such as partnership- and ownership-level issues, sales and marketing concerns, and HR, Sorensen said. "There's not an area that doesn't get touched within the group. It's total transparency, and people press on not only business things but life and leadership and legacy [issues], too," he said. "People are just as likely to have a conversation about what's going on in their marriage or life as they are with how many dollars of stuff they sold last month."
"The peer group meetings have a lot of similarities across the different peer groups, but they all develop their own personality," Carruth said, adding that, in terms of business issues, his group tends to deal more with management, leadership and span-of-control issues, as well as sales and marketing challenges, strategic directions and staffing.
How to benefit from HTG peer groups
Sorensen said HTG Peer Groups has been important to the channel since its inception and continues to play an important role as channel businesses navigate changes in the industry and market today.
"There's a lot of change going on today. There's no doubt about that. And probably this cloud transformation is the biggest one that I've experienced since managed services hit back a decade ago. But I would say that it's certainly as important as it's ever been, and probably there's more disruption going on today than we've seen in at least 10 years in the channel," he said. "So it certainly plays a very important role today and we're finding more and more ways to add value to members to help them walk through these changes."
However, both Sorensen and Carruth stressed the point that for a prospective HTG member to truly benefit from all the organization offers, he or she must make a considerable commitment to obligations and principles of the peer groups. Some people who join HTG soon realize they are over their heads and decide to pull out.
"It's a big commitment. It's a lot of work and certainly takes a lot of time for folks," Sorensen said.
Dig Deeper on Running an MSP business