Sergey Nivens - Fotolia
Financial technology partners find compliance work
Channel partners in the financial services sector find opportunities in regulatory compliance, cybersecurity, managed services and cloud computing.
As counterintuitive as it may seem, financial technology partners can make money helping banks keep better track of how they invest theirs.
In the United States, the financial services industry, a key vertical market for the channel, has been facing a more stringent regulatory environment since the 2008 banking crisis. Dodd-Frank Wall Street Reform and Consumer Protection Act of 2010 and other laws and regulations promulgated in the financial meltdown's aftermath place new requirements on financial institutions. Some of those requirements have only come into focus in the past few months; a few of the key government rules implementing Dodd-Frank were finalized and published in 2014, for example. The web of regulations includes new reporting requirements for over-the-counter derivatives transactions and asset-backed securities.
"In terms of regulatory compliance, a year ago banks were still struggling to understand what was required of them. The regulations were constantly evolving, and it simply wasn't clear what was expected," said David England, director at Alsbridge Inc., a global consulting and advisory services company based in Dallas.
England said the industry has made progress in understanding the regulatory requirements, but noted that banks are under pressure to ensure their compliance processes are effective.
Indeed, financial technology partners report a rising trend of activity around compliance: helping financial customers tweak systems and build compliance infrastructure to facilitate data collection and reporting. But the growth of the compliance field, while important, is just one development in financial services. Managed services, cybersecurity, big data technology and cloud computing also see demand in this space.
Overall, the scope of channel opportunities ranges from global capital markets firms grappling with manual systems to niche markets such as asset recovery and collection. That breadth helped make financial services the top vertical market for the North American partners surveyed in TechTarget's 2014 Channel Directions report: 58.5% of 208 survey respondents said they conducted business in the financial/banking vertical.
Compliance opportunity
The need to meet compliance obligations represents a significant portion of a financial services company's IT spend at the moment -- and a solid market for solution providers.
Jerry Silva, research director for IDC Financial Insights, said the banking and capital markets industry CIOs he studied are dedicating 40% to 45% of their budgets and staff to deal with the technology around regulatory compliance.
"That is a huge sink right now," he said.
Silva said banks are spending on compliance infrastructure, with a particular emphasis on data collection. Financial organizations, he said, are working through issues such as whether they are collecting the right information and where they should store it.
Banks may call on external IT consultants for advice on those details. Another opportunity for financial technology partners: retooling bank systems so they can respond to the new reporting demands.
"With all the regulatory scrutiny and new rules introduced, the amount of system transformation … that has to occur is a wave of work in and of itself," said Jim Newfrock, a vice president with Booz Allen Hamilton who leads the company's analytics/data sciences and IT transformation business in financial services.
In the coming years, we anticipate that many firms will be investing in substantial change to streamline and simplify.

Aviral RaiPricewaterhouseCoopers US
The work for financial technology partners often involves modifying or modernizing a bank's systems to deal with complex regulatory compliance requirements. Even seemingly simple modifications can prove challenging.
"Just adding an extra field for a reporting requirement to a system that is rigid creates a large set of changes," Newfrock said, noting that the application and its associated relational database may have to be modified.
In some cases, banks hurriedly cobbled together manual systems to meet their compliance duties. Now, the financial organizations have circled back to automate those stop-gap fixes.
Aviral Rai, head of capital markets management consulting practice at PricewaterhouseCoopers US, said many financial services firms instituted "labor-intense and ad hoc solutions" in the post-2008 environment to meet compliance deadlines.
"Banks are only now looking to automate and streamline these activities and practices," he said.
Capital markets automation
Compliance-related activities, however, aren't the only processes lacking automation in the capital markets sector, which includes global banking conglomerates, investment banks and private equity firms. Rai said the capital markets firms, despite ranking among the biggest beneficiaries of technological booms over the years, continue to harbor areas in which manual intervention and processes are the norm.
"For example, while equities are largely traded and processed electronically, a large portion of fixed income instruments continue to be traded via voice," he said.
In addition, capital markets companies have deployed technology within isolated product silos, while inheriting legacy platforms through mergers and acquisitions. As a result, "diverse systems are often not compatible with current business needs, creating platforms that typically require significant upkeep and manual intervention," Rai explained.
Against that backdrop, PwC asked 261 C-suite and senior-level capital market executives how their organizations will have used technology and big data capabilities by 2020. The top technology use case, according to the survey, is reducing "all manual tasks and redundancies," with 60.5% of respondents citing that objective. The research was part of April 2015 PwC's report, "Capital Markets 2020: Will it Change for Good?"
"In the coming years, we anticipate that many firms will be investing in substantial change to streamline and simplify," Rai said.
He said investment in big data, for instance, will let capital markets firms think about automating activities such as analytics and decision science.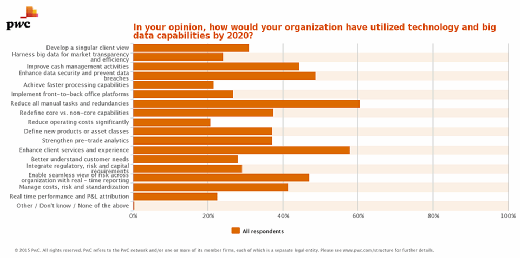 While a bit more than half the capital markets firms in the PwC study cited total asset value in excess of $50 billion, channel opportunities exist across financial institutions of various sizes.
Larry Sanderson, senior vice president of CSI Managed Services, a business unit of Computer Services Inc. (CSI), which provides technology solutions to financial institutions, said he has seen high demand for managed services among banks ranging from $100 million to $1 billion in assets. The Paducah, Ky., company's customers include commercial banks and credit unions.
"Financial institutions want to do what they do best," Sanderson said. "They really don't want to handle the dirty work of a technical nature."
Reducing banks' risk
CSI Managed Services provides server and endpoint management as well as security services such as firewall administration, content filtering, intrusion prevention and event correlation. Sanderson said banking customers have difficulty finding cybersecurity resources and expertise, which compels them to look for outside help.
"They try to find organizations that are good at it, and that is driving a lot of customers to us," he said.
Newfrock also noted the financial services firms' interest in shoring up their data security and privacy protections to ward off data breaches and unauthorized access. This security field, he said, "is just exploding in terms of new techniques and new technologies to reduce the risk."
Banks also seek to reduce business partner risk. Financial organizations provide their services with support from a range of service providers. This delivery chain includes financial transaction processing firms and clearinghouses, IT infrastructure providers, contact center contractors, networking vendors, and other providers involved with application maintenance or loan processing functions, according to England. A bank's compliance duties extend to its service provider network.
"Any provider that touches critical processes falls under the client's responsibility to provide oversight," England said. "Ultimately, client organizations -- the banks -- are on the hook, and they are liable for any compliance violations."
Alsbridge has found a consulting opportunity in developing governance mechanisms for its banking clients. Such governance projects aim to bring together teams of service providers "to ensure collaboration, communication and oversight across the delivery chain," England said.
Cloud services
Financial technology partners also report demand for cloud-based services.
Scott Shafer, CEO of Absolute Performance Inc., a managed services provider based in Niwot, Colo., said his clients, which include asset recovery and debt collection agencies, view the cloud as an attractive option. A number of agencies now run on Absolute's hosted private clouds. The company has two private clouds dedicated to agency clients, one for core processing and the other, located more than 500 miles away, for disaster recovery.
The cloud approach can cut costs for customers, Shafer noted. He said agencies may be looking at expensive hardware upgrades if their equipment has reached end-of-life status or can't keep up the capacity demand of a growing company.
"We eliminate Capex, and Opex is less than what they have today in most cases," Shafer said.
Absolute, Shafer said, creates "a variable cost model of monthly expense based on usage that scales up or down depending on need." Cost savings can range from 10% to more than 50%, depending on the client, he added.
Sanderson also noted customer interest in the cloud. He said some banks are interested in single-application cloud services such as email or mobile device management. On the other end of the spectrum, customers may purchase a cloud offering that spans all of their IT requirements.
For the most part, financial institutions "don't want to outsource every single thing right out of the gate," Sanderson explained. "They want to dabble in it and get comfortable."
Next Steps
Watch a video on IT governance processes
Gain insight in how to make cybersecurity policy a top priority
Read about Barclays' take on mobile banking