sommai - Fotolia
Evaluate
Weigh the pros and cons of technologies, products and projects you are considering.
Facebook collaboration tool leans on channel partners
Facebook Workplace, a collaboration platform targeting the enterprise, is tapping channel partners for help in deploying the system and integrating it with other applications.
Facebook has long been synonymous with consumer applications, but that designation may soon change.
The firm is trying to wedge its way into the enterprise space with Facebook Workplace, a collaboration platform, and resellers will play a key role in the solution's success or failure. The Facebook collaboration tool, which was launched in October 2016, features social networking and conversational tools designed to enhance employee communication.

Download this free guide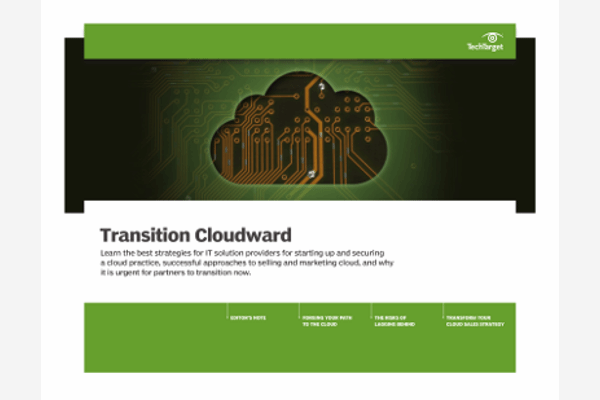 Could Securing Your Channel Business Be Easier? We Can Help.
Download our latest guide to the top strategies solution providers can leverage for starting up and securing a cloud practice, successful approaches to selling and marketing cloud, and why it is urgent for partners to transition now.
A change in design
The system, which has been deployed at more than 14,000 organizations, is one of many emerging next-generation collaboration tools. Rather than being geared to PC users with traditional applications, the product focuses on mobile employees and features social network capabilities.
While the collaboration platform includes a Live Video function, perhaps its most significant attributes are the company name and brand perception. Facebook has earned a reputation for building complex, scalable systems, so it should be able to support large global conglomerates. Ease of use and familiarity are other noteworthy traits with its offerings. More than one billion people are already familiar with the Facebook interface, according to Alan Lepofsky, vice president and principal analyst at Constellation Research Inc., a technology research and advisory firm based in San Francisco. Lepofsky's primary focus is with Constellation's Future of Work business research area.
In light of Facebook's wide usage, "asking people to use Workplace does not require a technical/usability hurdle for most," said Bill Cushard, director of marketing at ServiceRocket, a Workplace partner that specializes in enterprise software adoption.
Finally, the supplier priced its service aggressively. Facebook charges $3 per user per month for the first 1,000 users; $2 for numbers 1,001 to 10,000; and $1 for organizations with more than 10,000 customers.
Out of their comfort zone
However, selling enterprise systems is outside the vendor's comfort zone. The supplier will need to build up expertise and a channel to push its products into the business sector. Which areas in the organization will emerge as Facebook supporters seems unclear at the moment.
Many of the new collaboration systems have courted white-collar knowledge workers and skirted the IT department. "For us, Facebook Workplace has been a business unit opportunity, for instance, used by the corporate communications department," noted Jason Cutler, director of digital transformation sales at SADA Systems, a privately held cloud computing solutions and strategic IT services provider in Los Angeles.
Not everyone sees that fit. "Unlike some competitors, such as Slack, that tend to grow organically from department to department, Workplace is more of a top-down, company-wide solution," Lepofsky stated.
An early stage of development
Another challenge: The Facebook collaboration tool is an embryonic piece of software, a work in progress with many missing pieces. Facebook Workplace may not fit with real-time interactions since it lacks status messages. Also, its chat functions are immature and evolving.
Facebook needs to build a larger partner ecosystem to help make Workplace an essential part of core business processes.

Alan Lepofskyvice president and principal analyst, Constellation Research
IT managers desire strong management functionality, and Facebook Workplace is lax in that area. The platform lacks community management features, and its analytics and life cycle management functions are relatively unsophisticated.
Channel partners are working with Facebook to strengthen its collaboration product. Talk Social to Me, a social platforms consultancy and Workplace Service Partner, for example, has been pressing Facebook for better analytics. But Facebook is adding more enterprise features such as group analytics, according to the consulting firm.
"We share client feedback [and] make the case for improvements that we think are necessary," said Carrie Basham Young, CEO at Talk Social to Me.
That advisory role is part of the partner's investment in its relationship with Facebook. Young said her company plans to bet big on Workplace. She said Talk Social to Me is continuing to hire dedicated Workplace community managers with experience in effective employee communication and collaboration tools. The company is also investing in a "highly repeatable, scalable Workplace launch and coaching program," which lets the company bring new clients on board in less than a week.
Filling the void
In addition, collaboration tools require links to other systems. Partners can help fill these voids in the Facebook collaboration tool as well.
"Facebook needs to build a larger partner ecosystem to help make Workplace an essential part of core business processes," Lepofsky said.
The year-old Workplace Partner Program includes more than 40 service partners that assist customers deploying Workplace. Participants include public relations firms, digital consultants, IT services companies and professional services firms.
Such partners have various revenue opportunities. They can focus on integration and API connections, helping businesses connect the new platform to their existing systems. In addition, companies can automate set routines and help organizations streamline business processes. In many cases, the staff will need to be trained to use the new solutions.
Finally, partners can take the Facebook collaboration tool, tweak it, and develop niche solutions.
"Facebook Workplace is a good fit for help desk support tickets to back-end ticketing solutions," Cutler of SADA Systems said.
Workplace add-ons, meanwhile, are becoming available through partners. ServiceRocket in March 2017 released Org Chart for Workplace, a Workplace add-on that the company said provides a "searchable, interactive and visual display of how people are connected in organizations."
In addition, the Palo Alto, Calif., company has launched Safetyofficer.io, an employee check-in/safety app, Cushard said.
"Delta used it after Hurricane Harvey to check on the safety of employees," Cushard said, noting ServiceRocket has developed other custom apps that may become productized at some point.
Additional reporting by John Moore.
Dig Deeper on Channel partner program news