Get started
Bring yourself up to speed with our introductory content.
FAQ: Upgrading to the Windows 7 operating system
This FAQ has tips for helping customers that are considering Windows 7 upgrades and explains two different installation methods and various licensing options.
With the upcoming release of Windows 7, solutions providers are looking for ways to help their customers decide whether upgrading to the new operating system will increase their efficiency and productivity. Windows 7 expert Ed Tittel outlines several key points that you should present to your customers. He also discusses available upgrade options for them, depending on their existing operating system (OS), and explains the four types of Windows 7 licensing options that you should be aware of when presenting Windows 7 to your customers.

Listen to Ed Tittel answer other frequently asked questions about Windows 7 hardware requirements and compatibility in this FAQ podcast or read a transcribed version.

Download this free guide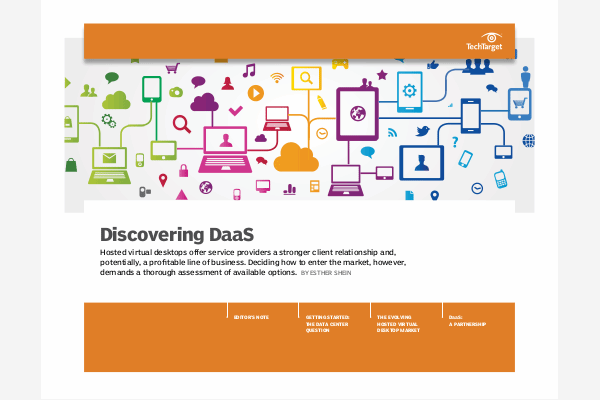 New Guide: How DaaS Benefits Managed Service Providers
This guide helps channel partners address the emerging desktop-as-a-service (DaaS) opportunity. Learn where MSPs should get started, explore the evolving hosted virtual desktop market, and find out what kind of customers could benefit from DaaS.

• What are the benefits of upgrading to Windows 7 from Windows Vista or Windows XP?
• Which Windows 7 upgrade options are available?
• Clean install, upgrade install -- what's the difference?
• What Windows 7 licensing options are available to my customers?
• More resources on upgrading to Windows 7
• About the expert

What are the benefits of upgrading to Windows 7 from Windows Vista or Windows XP?
The primary reason to upgrade to Windows 7 is for dramatically increased performance and reliability, especially compared to Windows Vista. With Windows 7, boot-up time is fast, the system is stable, creating or joining a wireless network is a snap, most hardware installations are easy and the Action Center brings many security settings into one interface. For current Windows XP users, moving to Windows 7 gives an equally stable OS without XP's occasional problems with video drivers, sleep mode and memory leaks.

Which Windows 7 upgrade options are available?
You can purchase Windows 7 upgrades for Windows XP and Windows Vista Home Premium, Business and Ultimate editions. However, you must perform a clean installation when migrating from Windows XP, or upgrade to Vista first and then Windows 7. You can also perform an in-place upgrade from Vista. Any upgrade purchase requires a Microsoft Certificate of Authenticity.
The Microsoft Windows 7 Upgrade Option program offers free upgrades to Windows 7 on qualifying computers purchased between June 26, 2009, and Jan. 31, 2010, that run Windows Vista Home Premium, Business or Ultimate editions. The program is designed to let vendors (including VARs that carry "name brand" PCs from Dell, HP, Acer, Asus and so forth -- all of which currently support this program) sell PCs with Vista installed without losing sales to those who might otherwise choose to wait until old stock gets cleared out and new stock with Windows 7 comes in. Not all PC manufacturers participate in this program -- check for details before you buy. If your PC qualifies, you have until Feb. 28, 2010, to request Windows 7.

Clean install, upgrade install -- what's the difference?
A clean install (called "custom" in the Windows 7 installer) places a new copy of Windows on a new drive partition or onto an existing partition that contains an earlier version of Windows. Your files, settings and programs won't be kept, so back up any existing files and data. An upgrade install (also called an "in-place upgrade") retains your files and data.

What Windows 7 licensing options are available to my customers?
Certain licenses qualify for discount pricing while others entail full retail costs. Windows 7 licensing options available to VARs include:
Volume Licensing Products -- includes Windows 7 Professional, where upgrades are available through the MS Volume Licensing program (in quantities of five or more), and Windows 7 Enterprise is available with Software Assurance for Windows. Other products of potential interest that should help VARs sell more Windows 7 include the Microsoft Desktop Optimization Pack (MDOP) and the Windows Virtual Enterprise Centralized Desktop (VECD) licensing option, which enables use of Windows 7 Professional and Enterprise in centralized and virtualized deployment scenarios. (See the Windows 7 Volume Licensing Quick Reference Guide for details).
Open Value Subscription software license -- includes a three-year subscription to Microsoft software licenses, with coverage from the Microsoft Software Assurance program, so that VARs and their customers get all patches, service packs and upgrades for that software while the subscription remains in effect.
Full licensing -- issued with retail copies of Windows and is intended for computers that did not originally contain Windows. Full licensing is available at a much higher price point than upgrade licensing.
Upgrade licensing -- a discounted retail version of Windows for systems that already have either an OEM or a full Windows license.

More resources on upgrading to Windows 7
Microsoft Windows 7 cheat sheet
Windows 7 troubleshooting tools and tips
User Account Control: Windows 7 vs. Windows Vista
Windows 7 performance monitoring tools
Windows 7 news
Windows 7 Center
Windows 7 blog

About the expert
Ed Tittel is a full-time freelancer who's written and contributed to more than 100 computing books, including Microsoft Windows 7 In Depth (Que, 2009), and he writes and blogs regularly for numerous websites. Tittel's most recent projects have focused on Windows 7 as the OS nears its general availability release date.
Dig Deeper on Desktop management, sales and installation