Evaluate
Weigh the pros and cons of technologies, products and projects you are considering.
FAQ: Installing Windows 7 hardware devices and drivers
Solutions providers need to be aware of potential roadblocks during a Windows 7 hardware installation, including being unable to find a Windows 7 driver for an older device.
Installing Windows 7 hardware for customers is generally considered a straightforward process, especially because of the capabilities of Plug and Play. You may, however, hit a few snags on the way. In this FAQ, Windows 7 expert Ed Tittel offers solutions to some issues that may come up when installing devices and drivers.

Download this free guide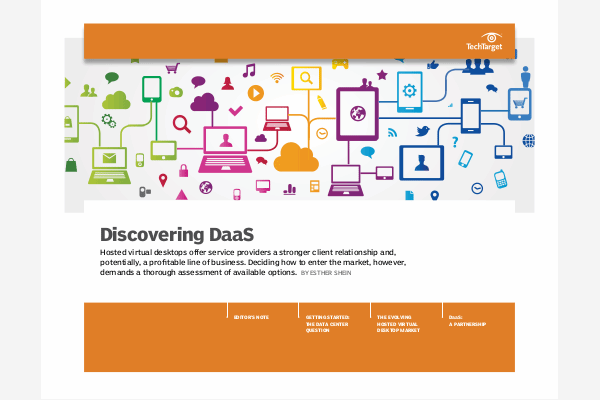 New Guide: How DaaS Benefits Managed Service Providers
This guide helps channel partners address the emerging desktop-as-a-service (DaaS) opportunity. Learn where MSPs should get started, explore the evolving hosted virtual desktop market, and find out what kind of customers could benefit from DaaS.
By submitting your personal information, you agree that TechTarget and its partners may contact you regarding relevant content, products and special offers.
You also agree that your personal information may be transferred and processed in the United States, and that you have read and agree to the Terms of Use and the Privacy Policy.
Solutions providers have a few approaches to choose from if they aren't able to find a Windows 7 driver for an older device. And there are ways to identify a device if Device Manager identifies one or more items as unknown devices.
Listen to a podcast of this FAQ or read a transcribed version.
Transcription: Table of contents


•What is Plug and Play?
• What happens when I plug a device into a Windows 7 computer?
• Why do device vendors provide installation software?
• What happens if I can't find a Windows 7 driver for an older device?
• What should I do if Device Manager includes one or more items as Unknown Devices?
• More on Windows 7 hardware
• About the expert

A: It's a capability developed by Microsoft that enables a PC to recognize hardware when it's plugged into the machine and to automatically install a working device driver for that hardware. In fact, when Windows boots up, it goes through a process called hardware discovery to identify all the devices plugged into a PC and to check their drivers and status. Since 1999, Plug and Play falls under the Universal Plug and Play (UPnP) Forum, an industry group whose members work together to promote seamless interconnection or use of devices and to simplify home and corporate networking.
Q: What happens when I plug a device into a Windows 7 computer?
A: For the vast majority of devices, especially new ones, Windows 7 will recognize the device and supply a working device driver, so that the device obtains all the drivers it needs to work properly. For example, when I plugged a Logitech USB headset into a Windows 7 PC for the first time, a Driver Software Installation window popped up. It told me it installed drivers for a USB composite device (one with multiple functions), a USB input device, and a driver for the particular Logitech headset I was using.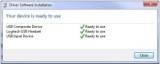 (Click thumbnail for larger image.)
Figure 1: This Driver Software Installation window will appear when you a device into your USB port.
Q: Why do device vendors provide installation software?
A: Given that UPnP can deal with most devices, you might wonder why hardware vendors provide installation software (often on CD or DVD) for some devices. That's because installing some devices can involve more substantial changes to the Windows runtime environment than simply installing one or more basic device drivers. In some cases, you may need multiple drivers to support a device (as with the Logitech headset in the previous example). In other cases, you may need to incorporate various registry updates, Windows Explorer add-ons, management and diagnostic tools, and other elements into your Windows runtime environment for the device to work properly. An install program can handle all of these tasks, and more, and will also check its work when it's done to make sure your device is installed and working properly.
Q: What happens if I can't find a Windows 7 driver for an older device?
A: This can be a vexing problem when you've got an older but still functional hardware component, Certain printers fall into this category, as do all kinds of specialized Windows peripherals like those for point-of-sale systems, and it can be frustrating to learn that the vendor offers no driver for Windows 7 (and perhaps no plans to develop one, either). There are a few approaches you can take to address this problem. First, you might turn to a driver update site to see if some kind of up-to-date Windows 7 driver is available. I used DriverAgent.com, but other sites, such as RadarSync, DriverGuide and Driver Detective, offer the same service. You may have to pay to download a driver from one of these providers, or you can visit the device maker's website to see if a driver is available.
Second, you can try to install the vendor installation package for an earlier version of Windows in Windows 7. Simply right-click the .msi or .exe file for that program, click Properties, then click the Compatibilty tab in its Properties window, and select the appropriate operating system inside the Compatibility mode pane, as shown here (Windows Vista is selected in Figure 2):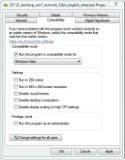 (Click thumbnail for larger image.)
Figure 2: The Compatibilty tab gives you the ability to change operating systems.
In some cases, this will do the trick. I was able to use it recently on an older HP notebook for which no Windows 7 driver was available for a fingerprint reader. This technique let me install and use the same Vista driver that worked on the machine before I upgraded it to Windows 7.
Q: What should I do if Device Manager includes one or more items as Unknown Devices?
A: When Device Manager shows any entry or entries labeled Unknown Device (see Figure 3), that means hardware discovery failed to identify the device in question and cannot find a driver for it either. In that case, right-click the unknown device, then select Properties from the resulting pull-down menu, then click the Details tab. Select the item named "Hardware Ids" in the property pane, then write down the values that appear in the Value pane (the first one will be something like ACPI/PNP0700 or ACPI/ENE0100). You can usually identify the device involved and find a working driver by searching on that string in conjunction with the notebook or desktop PC in which the device is installed. For example, HP Pavilion HDX9203 KW ACPI/ENE0100 did the trick to find a driver for that notebook's IR remote control when hardware discovery failed to identify the device after a recent Windows 7 clean install recently. Some digging around may be needed, and if that turns up nothing, look for online forums where other users of your desktop or notebook machine are active. Chances are good that somebody else has had this same problem, and a fix may be known and readily available.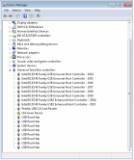 (Click thumbnail for larger image.)
Figure 3: There are ways to get around a situation where Device Manager doesn't recognize items.
FAQ: Windows 7 hardware requirements and compatibility
Manage Windows 7 hardware with Device Manager
Windows 7 hardware requirements and tools: Study guide
How Windows 7 hardware upgrades affect licensing
Adding and removing Windows 7 hardware
About the expert
Ed Tittel is a frequent contributor to numerous TechTarget websites and also writes regularly for InformIT.com and ITExpertVoice.com. He's also contributed to well over 100 computer books, including Windows 7 in Depth (Que, 2009, ISBN: 0789741997) and Guide to TCP/IP 3e (Course Technology, 2006, ISBN: 1418837555).
Dig Deeper on Desktop operating system and mobile device management