Evaluate
Weigh the pros and cons of technologies, products and projects you are considering.
Experts: Enterprise mobility strategy consulting a missed opportunity for channel
Strategic consulting is the channel's most lucrative mobility-oriented opportunity, but experts say the channel is missing the opportunity.
Two things can be definitively said of mobility: The technology is ever-changing, and it touches nearly every part of IT. As a result, enterprises face a number of challenges as they implement mobility programs. These challenges translate to several opportunities for IT channel companies -- at least for those value-added resellers (VARs), systems integrators and service providers that can overcome the challenges themselves.

Download this free guide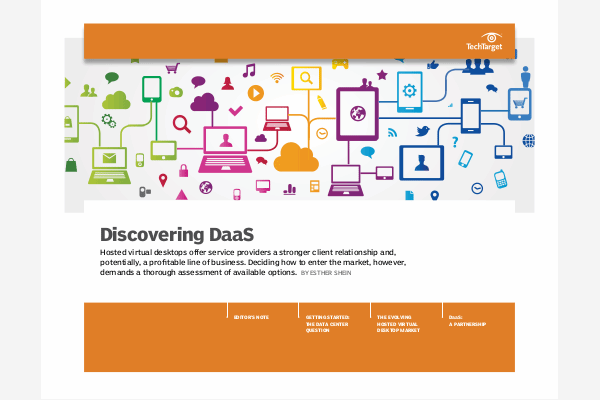 New Guide: How DaaS Benefits Managed Service Providers
This guide helps channel partners address the emerging desktop-as-a-service (DaaS) opportunity. Learn where MSPs should get started, explore the evolving hosted virtual desktop market, and find out what kind of customers could benefit from DaaS.
By submitting your personal information, you agree that TechTarget and its partners may contact you regarding relevant content, products and special offers.
You also agree that your personal information may be transferred and processed in the United States, and that you have read and agree to the Terms of Use and the Privacy Policy.
"When you think of mobility you think of devices and carriers and rate plans, but the reality is mobility is a very broad category," said Joe Quaglia, senior vice president, U.S. marketing and president at TDMobility, Tech Data's mobility-focused services unit. "It ranges all the way from the device and includes the carrier service and the rate plan and the activations, but as you go up the stream, mobility carries itself all the way through development and into the data center."
The top enterprise problem with mobility is just creating a mobile strategy. Not every channel partner has the staff to do that, but that clearly is the number one problem.

Paul DeBeasi,
research vice president, enterprise mobility, Gartner
IT channel companies can help their enterprise customers with challenges that arise across this spectrum: from procuring and setting up devices to managing contracts and rate plans to mobilizing enterprise applications and securing access. However, experts agree that the biggest opportunities exist in enterprise mobility strategy consulting.
"The value of the VAR and solution provider is going to be at the business level, and most of these [channel companies] are not speaking to their customers about their business -- how to make it more effective, how to save money, how to make money," said Alex Zaltsman, former co-founder of a technology services company and current CEO of Piscataway, N.J.-based InnoviMobile, a mobile application development firm.
Both channel companies and their enterprise customers tend to think of mobility in terms of the technology first, and that's a mistake, according to Paul DeBeasi, research vice president, enterprise mobility at Gartner. "Mobility is more of a business problem than a technology problem," DeBeasi said.
The mobile strategy opportunity
Alex Bratton, CEO and Chief Geek of Lextech Global Services, a Lisle, Ill.-based mobile application development firm, sees missed opportunities. "The mistake we're still seeing people in the channel make today is [pushing] widgets. They have the opportunity to live up to the idea of a value-added reseller. That value is in helping someone wrestle with what and why they should be doing [mobile]. Not how many tablets, but what are they trying to accomplish," he said.
And that's exactly what enterprises need from their channel partners. Bratton said channel companies should have a higher business-level discussion in which they help their customers define a business case for mobility.
"The top enterprise problem with mobility is just creating a mobile strategy. Not every channel partner has the staff to do that, but that clearly is the number one problem. Most resellers I've worked with in the past have a deep vertical knowledge and have a lot of clients in that vertical, so they're well positioned to help an enterprise figure out what their strategy should be," DeBeasi said.
But all this focus on enterprise mobility strategy doesn't mean channel companies can take the technology part of the equation for granted. "Solution providers shouldn't assume they have a high level of familiarity [with mobile technologies]," said Seth Robinson, director for technology analysis at CompTIA, a vendor-neutral IT training and certification provider. "They should make sure they really understand the market, the environment, the differences between devices and mobile operating systems and their ins and outs so that as customers are trying to move in a certain direction, they're well equipped to suggest the right pieces."
Part and parcel of enterprise mobility strategy consulting is helping customers address people and organizational issues, which, according to DeBeasi, can pose a greater challenge than the technology. "Customers are oftentimes hampered by the fact that they are siloed organizations, and the silos don't talk to each other. Security doesn't talk to applications, and neither one talks to the business," explained DeBeasi. "Mobility is a cross-cutting issue that requires business and IT and various departments in IT to come together and collaborate to have an effective solution. To the extent that channel partners realize that and can guide their customers, they will be much better off," he said.
The application opportunity
Feedback from various stakeholders should be considered when determining what applications to build for internal users, how to provide mobile access to legacy applications, etc. "If we roll back five years, if someone wanted to buy a bunch of laptops or computers, we didn't care what they were using them for. But that's completely changed today in regards to mobility," Bratton said.
"We have to ask [the customer] what they're using [the device] for, and there's an opportunity to help them with what it is that runs on the device. Whether off the shelf or custom, there's a big lack of the solutions for people, which makes [the application discussion] a requirement with these types of solutions. I have to talk about the apps," Bratton said.
TDMobility's Quaglia agreed. "Mobile application development is a key part of a mobility strategy. … It's the applications that are so engaging and alluring and valuable in many cases." As evidence, he added, "Applications are replacing devices. I don't use my GPS anymore. I use my smartphone and tablet."
Building customer-facing applications is an obvious opportunity for channel companies that have in-house development skills. But there is more to it than that. "[Channel companies] can have a business discussion with customers about how mobile can help them grow their business or save money in their business, and the way to do that is through applications," said Zaltsman.
For example, Bratton said VARs can dramatically improve the user interface for the older systems they've sold and the ability for people to use it in workflows by bringing an application interface to it. "Fundamentally breathing new life into an old system using apps is a huge opportunity," he said. "It's a big cost savings for the customer and if done correctly can bring process improvements as well -- simplify workflows, but keeping old systems."
The mobile device management opportunity
If we roll back five years, if someone wanted to buy a bunch of laptops or computers, we didn't care what they were using them for. But that's completely changed.

Alex Bratton,
CEO and Chief Geek, Lextech Global Services
The enterprise mobile strategy discussion should also evolve to address mobile device management (MDM), and this provides yet another opportunity for channel companies. Bratton said the need for mobile applications is largely driven by the business, but they don't know to ask about device management. "If we can strike up the business discussion with the director of sales, the pain point turns into applications to do sales force automation, but it also needs to include the platform, the device, how to manage the device, what happens when someone loses the device," he said.
DeBeasi agreed that channel companies that can help enterprises define a mobility policy and recommend and deploy an MDM product to support that policy offer a much-needed service. "Most enterprises are in that stage right now, trying to define a policy and select a vendor. The challenge is usually the reseller is selling a particular vendor, so they're not vendor-neutral, but a lot of customers rely upon their reseller to make a recommendation. The reseller has to stand by whatever they're selling," DeBeasi said.
Reselling MDM solutions is not a lucrative line of business in and of itself, but the technology is a necessary piece of an enterprise mobility program, and it can provide channel companies a way to begin the business discussion with their clients. Capgemini, for example, offers a cloud-based solution to its customers. "We have taken mobile device management and mobile application management and commoditized it, providing it as a Platform as a Service using Amazon, and selling it at $1.11 per device in the United States," explained Fernando Alvarez, leader of Capgemini's Mobile Solutions practice.
"We provide the licensing of the software, the SLAs and 99.5 percent uptime, upgrade maintenance, infrastructure, capacity, management and operations on a global basis. We do all this. It's a way to commoditize the offering, make it simple for our customers to manage, and understand the concept. And it serves as a lever to talk about strategy," he said.
Some final words of advice
While there are plenty of business opportunities within enterprise mobility, channel companies that venture into the space are embarking on new territory. "It is a burgeoning space, so I think we're exploring some of the areas ourselves and figuring out where the biggest opportunities lie," Robinson said. "It is a large opportunity, and it's something that's very disruptive, so it can be hard to say exactly what the best practice might be."
According to DeBeasi, IT channel companies that offer consulting services are in a good position to seize the business opportunities mobile offers. "The problem is that [mobility] is so new, everyone's struggling with it. But those that have a consultative approach to selling -- not just pushing hardware and software -- but taking the time to understand the customer problem, will help the customer because they don't know what they don't know," he said. "If all you're trying to do is sell hardware or software, you're probably not going to be very successful. If you're fully engaging with the customer even when they don't know what they want, you're in a good position to offer services this way."
Zaltsman offered similar advice: "Get out of the reselling-of-technology business and into the help-my-customer's-business business," he said. "[VARs] have to become almost like business consultants. Customers will rely on them less for the on-premise infrastructure stuff. There's very little need for innovation in those places. Maybe there will be updates, but those aren't opportunities anymore."
Dig Deeper on Desktop operating system and mobile device management