Get started
Bring yourself up to speed with our introductory content.
Exchange Server 2010 requirements, features guide: VAR considerations
VARs would be smart to check out all of the pertinent Exchange Server 2010 requirements and features to determine if they can perform and make money off of Exchange Server 2010 upgrades for customers.
Persuading customers to upgrade to Exchange Server 2010 requires solution providers to know Exchange Server 2010 requirements inside and out and how they compare with customers' existing environments. Check out the key considerations in an upgrade and the minimum prerequisites for processor, memory and disk space.

Download this free guide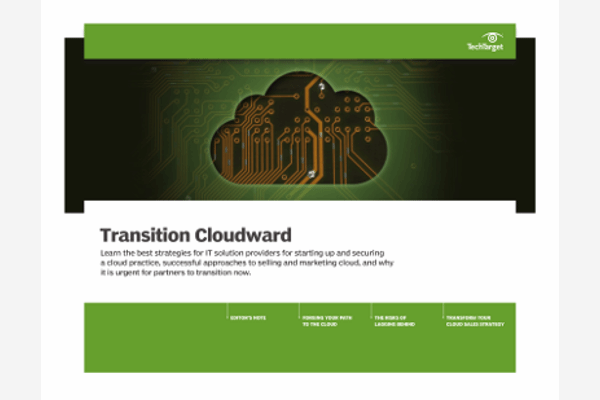 Could Securing Your Channel Business Be Easier? We Can Help.
Download our latest guide to the top strategies solution providers can leverage for starting up and securing a cloud practice, successful approaches to selling and marketing cloud, and why it is urgent for partners to transition now.
VARs should also have a strong grasp on the new Exchange Server 2010 features, such as database availability groups (DAGs) that enhance performance and help make a strong case to customers for an upgrade.
Solution providers can also get all the information they need to manage a customer's post-upgrade environment, including how to monitor and track Exchange Server 2010 performance and the best approaches to virtualize Exchange 2010.
Exchange Server 2010 requirements for upgrades
Solution providers will have opportunities to make money from Exchange Server 2010 migrations, but it's critical that they know all the Exchange Server 2010 requirements and preparation techniques that can help avoid bumps in the road during a customer migration.
Upgrading to Exchange 2010
To take advantage of the business opportunities of customer Exchange upgrades, you need to understand the upgrade and installation processes as well as the ins and outs of migration from Exchange 2007. Before trying to install Exchange 2010, examine your customer's environment and identify whether it meets the minimum requirements, including a Windows Server 2008 computer, Microsoft .NET Framework 3.5, WinRM 2.0 Customer Technology Preview (CTP) 3 and Windows PowerShell V2 CTP3.
Exchange Server 2010 requirements: Hardware, Active Directory
Solutions providers would also be smart to prepare for an Exchange 2010 installation by reviewing all Exchange Server 2010 requirements, including those for hardware and Active Directory (AD). A thorough review of the minimum processor, memory and disk space requirements indicates whether Exchange 2010 is a good fit for customers.
Migrating to Exchange Server 2010
Because upgrading to Exchange 2010 is a unique process, solution providers need to know the tricks and limitations to an Exchange 2010 migration for their customers. For example, in-place upgrades aren't possible and some APIs have been removed and replaced by Exchange Web Server.
Exchange 2010 Deployment Assistant takes the stress out of upgrades
After answering a few questions about how their customer's Exchange 2010 environment will be set up, VARs can simplify the upgrade by using the Exchange Deployment Assistant tool to create a custom checklist.
Using an Exchange Server 2010 design document for upgrades
VARs should generate a design document for an Exchange Server 2010 upgrade. This can serve as a checklist throughout the upgrade process and may include customer goals, background, and the Exchange server design and a budget estimate. A planning document puts you and your customer on the same page by detailing each step up front and is useful for reference during implementation.
Exchange Server 2010 upgrade: Defining scope and goals
Helping a customer with an Exchange Server 2010 upgrade requires solutions providers to get a clear view of a customer's scope and goals. Once you know the objectives, you can organize these objectives and create a statement of work. The upgrade process becomes simpler when you have defined a company's goals based on the environment.
Exchange Server 2010 server roles, prerequisites, high availability
Exchange Server 2010 server roles are beneficial because of their functions and because they can reside on a single server for small environments or on multiple servers for large organizations. Edge Transport server roles may be important in a customer's environment because they establish perimeter security for Edge Transport servers, which can be used as the SMTP gateway for sending mail.
Exchange Server 2010 features
Although there are plenty of Exchange Server 2010 features that will make solutions providers' jobs easier, they need to know how they can help increase sales. Find out in this section why these new features may make an upgrade more desirable for customers.
What's new on Exchange Server 2010
Exchange Server 2010 high-availability features such as the database availability group (DAG) will help save VARs from the previous clustering nuisances while offering similar reliability. Check out the other new management features and administrative functions in this tutorial.
New features in Microsoft Exchange Server 2010
Exchange Server 2010 features can simplify tasks for solution providers and augment performance in their customers' environments. Because DAGs include a framework to improve high availability and disaster recovery, an Exchange 2010 upgrade could mean greater cost-efficiency for customers. Other management-related enhancements include Exchange 2010, along with Outlook 2010, now support mailboxes larger than 2 GB.
New high-availability features in Exchange 2010
HA isn't a brand-new Exchange Server feature; on the contrary, Exchange 2007 included HA as well. But deploying Exchange 2010 high availability is easier for solutions providers than deploying the previous iteration because they no longer need to configure failover clustering at the operating system level.
No single-instance storage in Exchange 2010: What's a VAR to do?
Because Exchange 2010 doesn't offer single-instance storage, mailbox data may take up more space in Exchange 2010 than it did in Exchange 2007. So providers need to identify new ways to capacity-plan. If you haven't yet migrated mailbox data, learn how to calculate the volume of data to be migrated by using the volume of inbound and outbound messages and the mailbox quota size.
Using Exchange 2010 high availability to boost hardware sales
Exchange 2010 high availability has improved, but solutions providers should know how to take advantage of the HA feature to increase profit margins. Because a single database can now reside on up to 16 different servers within a DAG, you can emphasize this scalability with customers to increase hardware sales. Providers can also use DAGs to customize Exchange 2010 workload distribution and arrange mailbox databases; and the benefits accrue to providers and customers.
Exchange Server 2010 role-based access control
Solutions providers cannot install Exchange 2010 competently without grasping role-based access control (RBAC). RBAC enables solutions providers to easily and flexibly control what administrators and users can access. The role (and the permissions associated with it) allows certain tasks to be accomplished, while the role scope determines which resources can be administered. Other built-in management roles in Exchange Server 2010 include organization and recipient management.
Monitoring Exchange Server 2010 performance
After you've upgraded your customer to Exchange 2010, you need to ensure that it's running smoothly. Using the Exchange performance monitoring tools listed in this section can help save time and money.
Exchange Management Shell, Queue Viewer: Message tracking tools
Solution providers can use the Exchange Management Shell and Queue Viewer, which monitors Exchange Server 2010 system health by tracking messages and ensuring efficient mail flow.
Monitoring Exchange Server 2010: Using event logs, ExBPA
Using the Exchange Best Practices Analyzer (ExBPA) for an Exchange health check and monitoring event logs will help keep your customer's Exchange Server 2010 running at peak performance.
Tracking performance counters to monitor Exchange Server 2010
The Exchange Server 2010 Performance Monitoring tool can serve as a valuable device for VARs to track performance counters and the Performance Troubleshooter will help solve problems as they occur in your customer's environment.
Testing Exchange Server 2010
Testing customer's Exchange Server lets you explore exactly how well their configuration will hold up under real-world conditions. VARs can use cmdlets such as Test-ServiceHealth and Test-SystemHealth as well as tools such as the Exchange Load Generator to make sure the Exchange server is fully-functional.
Virtualizing Exchange Server 2010
Have your customers asked about virtualizing their Exchange 2010 server? Here's what you need to know about the process and how to decide between hypervisors.
Do this before virtualizing Exchange Server 2010
Virtualizing Exchange Server 2010 isn't difficult as it may seem at first glance for VARs. Take a look at the steps that you need to take before creating a virtual machine, such as selecting a hypervisor and storage provisioning.
Hyper-V versus VMware for Exchange Server virtualization
Deciding between VMware vSphere and Microsoft Hyper-V to virtualize Exchange isn't easy but you need to base your conclusion on your customer's needs. Read how each stacks up in terms of cost, features and support.
Dig Deeper on Server management, sales and installation