lassedesignen - Fotolia
Digital transformation consulting emerges as partner niche
Digital transformation consulting firms are growing in stature as they partner with traditional channel firms and IT vendors to help customers deal with digital disruption.
With digital transformation on the minds of many business leaders, it was only a matter of time before channel partners emerged to target the opportunity.
That time appears to be now, as a subgroup of channel companies is now coalescing around such labels as digital solutions integrators, digital consulting firms, and digital transformation consulting companies. Partners in this category don't fit the typical model. Some are aiming to combine the creative drive of digital agencies with the engineering skills of old-school systems integrators. Some eschew the channel resale approach, playing a strictly advisory role for their clientele and venturing into virtual CIO services. And many aren't large IT enterprises with widely known brands.
These partners have one thing in common: an interest in helping customers navigate digital transformation strategy initiatives or build the foundation for future transformative projects.
But to service such customers, channel partners may need to do their own transformation to emerge as digital consultants and integrators. The task goes far beyond adding a new digital shingle.
Will Clevenger, chief strategy officer at Quisitive, a digital transformation consulting firm with offices in Dallas and Denver, said IT services firms that want to go digital need to re-evaluate talent, adjust their compensation models, rethink sales and marketing strategies, and change how they deliver services to clients.
"All of those elements really have to transform," Clevenger said.
In Quisitive's case, the company dropped its previous mainstay business of building portals for customers and redirected its technical talent to focus on creating customer experience platforms using technology such as Sitecore.
"We retooled ... to deliver in that area," Clevenger said.
Clevenger also cited the need for commitment as service providers embark on their transformations, noting that the process is sometimes painful.
"A lot of IT services firms realize they have to reposition themselves," he said. "They are repositioning from a marketing perspective, changing the vernacular they use to describe themselves, changing the description of services, but they haven't reorganized or let go of legacy services. They are just putting a new veneer on ... what they were already doing."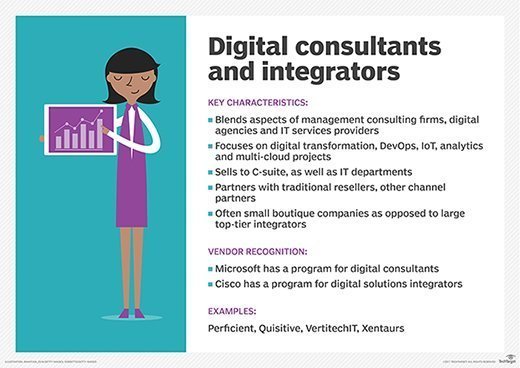 Digital consulting firms: What are they?
Becoming a bona fide digital consulting firm, in Clevenger's view, requires a combination of creative thinking and user-experience design, deep engineering expertise, business process knowledge, and change management skills. Companies in this space must be part digital agency, part IT services provider and part management consulting firm.
Those components, however, need to coexist under one roof as opposed to functioning as a collection of loosely coupled profit-and-loss entities. Clevenger said Quisitive is organized around customer teams that bring those skills and services together.
A lot of IT services firms realize they have to reposition themselves.

Will Clevengerchief strategy officer, Quisitive
The current push to recast IT services companies as digital consultants harkens back to the early 2000s and the dot-com era, which saw a few attempts to bring together internet consulting firms, interactive marketing agencies and IT services companies. However, the mashups weren't always successful (see sidebar). More recently, big-name consultancies such as Accenture, Deloitte and PwC have been busy purchasing digital agencies.
However, the latest crop of smaller boutique digital consultancies is attracting the attention of some of the IT industry's largest vendors.
Microsoft, for example, has assembled a group of digital consulting firms to serve as the company's sounding board for digital transformation initiatives. The first meeting of the software giant's Microsoft Customer Engagement Alliance took place in July at the Microsoft Inspire partner conference. Members of the alliance include Infusion, Perficient, Quisitive, Rightpoint and SapientRazorfish.
A spokeswoman for Microsoft outlined four characteristics of digital consulting companies:
an understanding of a customer's business strategy and how that strategy can be executed to drive a digital agenda;
the ability to drive both people- and process-centric change management initiatives as part of a digital transformation program;
the ability to quickly demonstrate the benefits of digital solutions for business-focused goals and problems with respect to rapid digital designing and prototyping and
the ability to accurately assess the value a digital transformation program offers -- before and after the engagement.
Cisco, meanwhile, is also cultivating relationships with digital consulting firms. The company piloted a Digital Solutions Integrator program during its 2017 fiscal year, which ended in July. Rick Snyder, senior vice president of the Americas Partner Organization at Cisco, said his team "saw a need in the market for this type of boutique consultant to really complement" the vendor's traditional channel partners.
Specifically, Cisco is aiming to match up to its traditional resale partners, service providers and systems integrators with digital solutions integrators with expertise in such areas as DevOps, cloud computing, big data analytics and the internet of things. Snyder pointed to the example of Xentaurs, a digital consulting firm based in Santa Ana, Calif., and a member of Cisco's Digital Solutions Integrator program. The company, he said, works with Cisco resale partners, shoring up gaps in such areas as DevOps and analytics.
"They really help them win that first big deal ... and, along the way, they help that partner set up and start building a DevOps or analytics practice," Snyder said.
Snyder said Cisco is now globally expanding its Digital Solutions Integrator program, which was piloted in the vendor's Americas region. The program currently includes 20 partners in the U.S. with two more pending, one partner pending in Latin America, and five partners expected to join during the second half of FY 2018 in the Asia Pacific and Japan region, according to Cisco.
Digital history
The current boutique digital consulting firm trend is somewhat reminiscent of the combination of interactive marketing agencies and IT services companies nearly 20 years ago.
Back then, that new breed of IT services companies experienced quite a roller coaster ride, with soaring revenue and rising expectations eventually meeting with disappointment. MarchFirst, for example, was created through a combination of the web consultancy and agency USWeb/CKS and systems integrator Whittman-Hart. That company dissolved in 2001 amid the dot-com bust.
Razorfish survived the dot-com era and now operates as SapientRazorfish, a digital transformation agency that operates under the Publicis Groupe.
Common themes among those companies, he said, include an emphasis on consulting services and the ability to address both the IT department and front-office executives.
"In many cases, they are talking to IT -- they've got domain capabilities there -- but they are also talking to the C-suite," he said.
Like Microsoft and Cisco, IBM is also looking to develop partnerships with digital consultants.
"Digital consultants and digital system integrators are key to our ultimate goal of helping our partners build more cloud and cognitive/AI solutions for our customers," said Josep Casellas, worldwide systems integrators sales manager at IBM Software Group, in an email.
Casellas said that while the customer demand for digital consultants and integrators is high, there aren't many companies active in the market today. As a result, IBM is trying to train and help partners obtain the necessary skill set through its channel program.
"We look for partners with a presence in the market, proven expertise in building and deploying complex projects, and deep knowledge in [vertical markets] like healthcare, banking, manufacturing or education," he said. "Then we help them build core competencies in cutting-edge areas like analytics, cloud, cognitive computing and security through our PartnerWorld program."
Casellas cited two IBM partners that are working with customers on digital transformation projects: Augusta HiTech and ClearObject Corp. Augusta Hitech, an ISV with expertise in the healthcare space, is helping SaaS provider PARx Solutions migrate from its co-location data center servers to the IBM Cloud.
Meanwhile, IT services company ClearObject is working with the city of Fishers, Ind., to develop the Indiana IoT Lab, an internet of things technology incubator.
"Through the incubator, ClearObject plans to help Indiana agricultural companies, transportation companies and manufacturers digitally transform with IBM Cloud and IoT technology," Casellas said.
Digital consultants pursue vertical orientation
Expertise in an industry vertical is another characteristic of digital consultants, Snyder said.
That's indeed the case for one of Cisco's digital consulting allies, VertitechIT Inc., an IT advisory firm based on Holyoke, Mass., that focuses on the healthcare vertical. The company launched a dozen years ago in the telecom carrier field, pursuing networking and call center opportunities. VertitechIT's telecom carrier connections led to an introduction to its first healthcare customer, according to Michael Feld, VertitechIT's CEO. That was seven years ago. Today, the healthcare vertical is contributing to nearly 80% of the company's business.
As the VertitechIT sharpened its vertical focus, it also acquired deeper consulting skills, hiring "business generalists with a strong technical bent," Feld said.
VertitechIT executives said the company's approach is a departure from conventional IT consultants in that it considers a client's systems and processes to create a strategic solution rather than fixing a technical problem. As a strategic advisor -- VertitechIT offers virtual CIO services. The company doesn't act as a reseller. Instead, it teams up with reseller partners such as ePlus.
VertitechIT's financial consulting business is another departure from the typical channel partner and one that fits with customers' digital transformation aspirations. Among the top barriers to transformation, funding projects ranks high up: A recent Logicalis survey reported that only 33% of the CIOs it polled plan to increase their digital transformation budgets.
Against that backdrop, VertitechIT is looking for monetization opportunities to free up dollars for its healthcare clients. In one example, the company is working with a hospital in New England to establish a joint venture that will provide IT and call management services to physician practices, Feld said. VertitechIT will split the profit with the hospital. Feld said he expects the venture, slated to launch in the second quarter of 2018, to generate $2 million in annual revenue with margins in the 10% to 20% range.
However, Jonathan Butz, executive project officer at VertitechIT, said such monetization efforts won't happen unless the healthcare client's underlying infrastructure is in order, noting that VertitechIT advises customers on hyper-converged infrastructure and cloud computing options. It's a matter of getting down to basics.
"We talk about the end state where [customers] want to go, [but] 90% of the work is blocking and tackling," Feld added. "Digital transformation is the logical end to the blocking and tackling we do with the institution."
Digital transformation projects can touch all aspects of an organization and involve everything from a business strategy down to operations. But consultants work with customers at different stages of their digital journeys.
"We see the whole spectrum of digital transformation" among customers, said Sheryl Clusiault, senior manager of marketing at Online Business Systems (OBS), a business and IT consulting firm. "I think many of [our] customers are probably at the earlier stages than they might even realize. We are working with some customers today that are reviewing their entire business model ... [and] moving the traditional business model to a pure digital model."
OBS, based in Winnipeg, Man., provides a range of offerings, including digital experience services, and it works in the financial services, healthcare, energy and agribusiness markets.
Where traditional channel firms fit in
Advanced Technology Services Inc. (ATS), a managed service provider (MSP) based in Peoria, Ill., also works with customers on the fundamentals of digital transformation. ATS lends an outsider's perspective on a client's transformation challenges and provides IT support services that free clients' resources to pursue transformation initiatives, according to David Corey, vice president of IT Services at ATS.
Corey said internal IT staffers can get pulled in different directions and lose sight of digital transformation goals. For a new customer, ATS conducts an initial assessment, identifying pain points and business objectives, and recommends a path forward. A monthly or quarterly business review helps keep customers on a strategic track.
Other MSPs are also following the path to digital transformation. In general, the ability to plug into a customer's business strategy is an important consideration for both traditional channel partners and digital consulting firms.
"We work with our customer to understand their business goals," Corey said. "Digital transformation starts with developing a relationship with our customers where we have a seat at the table."
Seth Robinson, senior director of technology analysis at CompTIA, highlighted the value of understanding customers' business strategies for traditional partners, as well as the strategic rather than tactical use of technology. The emergence of digital transformation consulting firms could pose a challenge to traditional partners -- for example, if a digital consultant is capable of doing both the strategic and tactical work for a customer.
But, at the same time, partnering with digital consultants opens up an opportunity, Robinson noted. A traditional channel firm and digital consultant could join forces to provide customers with a wide scope of strategic and tactical work.
"I think there is some degree of opportunity for more traditional channel partners to examine partnerships and to figure out where they fit into the puzzle," he said.