sommai - Fotolia
Evaluate
Weigh the pros and cons of technologies, products and projects you are considering.
Delivering managed mobility services: The challenges and opportunities
Despite all the enthusiasm surrounding managed mobility, solution providers are struggling to deliver these services. Learn what the challenges are and how to differentiate your offerings.
IT solution providers looking to increase their recurring revenue via managed services have plenty of options. From managed cloud to security to backup to help desk, the list of potential services that IT channel companies can manage on behalf of their clients is a long one. And yet the opportunity that SearchITChannel.com readers are pursuing more than any other in 2015 is also the one they find most challenging to deliver: managed mobility services (MMS). With so many other options -- many of which have established best practices -- one has to wonder, 'Why managed mobility services? And how can the challenges be overcome?'

Download this free guide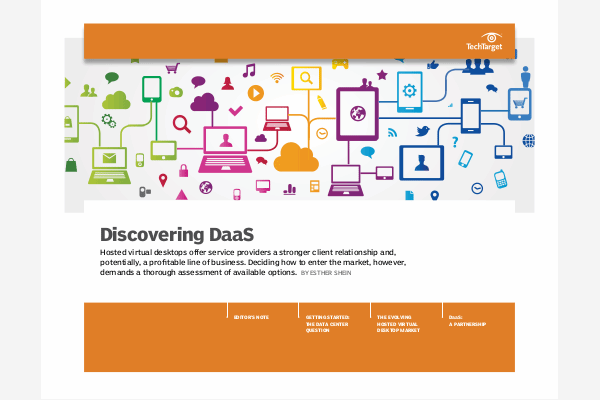 New Guide: How DaaS Benefits Managed Service Providers
This guide helps channel partners address the emerging desktop-as-a-service (DaaS) opportunity. Learn where MSPs should get started, explore the evolving hosted virtual desktop market, and find out what kind of customers could benefit from DaaS.
Among 233 respondents to SearchITChannel.com's 2014 Channel Directions survey that offer managed services, 29% planned to add managed mobility services in 2015, ahead of all other managed services types, compared with the next closest managed services type, managed communications, cited by 21% of respondents.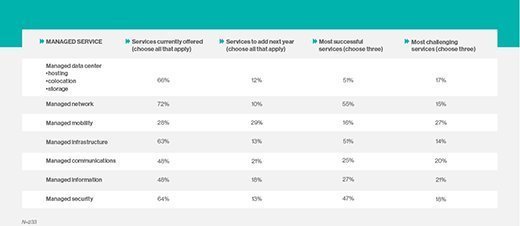 The need for managed mobility services
"I think there's a huge need for [managed mobility services]," said Kathryn Weldon, research director at Current Analysis. She explained that companies either attempt to manage mobile devices internally or outsource it to an IT service provider. "Some enterprises start doing a lot of the stuff themselves, but the problem is there are a lot of different platforms and things you need to do to manage mobile devices. Often the companies that try to do it themselves change their minds because doing it all yourself -- telecom expense management, mobile device management, and add-ons to mobile device management such as content management and application management -- is difficult."
This is evidenced by Gigaom Research's 2014 IT Buyers Survey. The research firm asked IT managers whether they were willing to outsource mobility management to a managed mobility services provider (MMSP). Nearly 40% of respondents hadn't considered a move -- but they were open to the possibility. Another 31.5% of respondents were in the process of evaluating MMSPs, and 17.2% were currently working with an MMSP. Only 13.6% of respondents said they would never outsource mobility.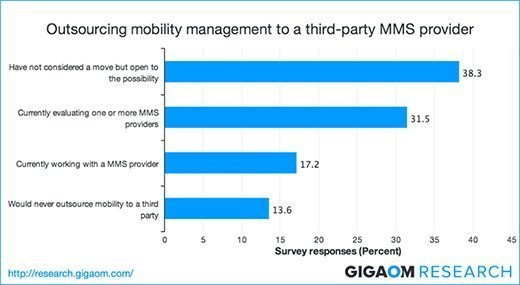 Mitch Black, president of Indianapolis-based managed mobility service provider MOBI, said his company has seen an increasing demand for managed mobility services. "IT pros are recognizing the need for this type of solution. Two years ago, our sales team was spending much of their time defining exactly what we do [for] customers, and that has changed a lot. A lot of people moving to iOS or Android as a primary platform have really helped escalate demand for a [managed] solution in the marketplace," he said.
Given the difficulties companies have managing mobility, perhaps it's not a surprise that IT channel companies also find it challenging. In fact, 2014 Channel Directions survey respondents, who offer managed services, report managed mobility services as being the most challenging type of managed services to deliver, at 28%.
Managed mobility services are not simple
"The technology is becoming a lot more complex," said John Atkinson, chief sales and marketing officer for WidePoint, an MMSP based in McLean, Va. "Android is being changed and upgraded on a regular basis. Apple is moving to a new iOS every few months, it seems. Microsoft is upgrading to Windows 10. The difficulty is keeping up with all of those changes, and it's only going to increase in magnitude during the next six to 12 months," Atkinson said, noting Samsung's partnership with BlackBerry and Samsung's desire to have its own mobile operating system.
In addition to the mobile technologies themselves changing, the many components that comprise a complete managed mobility offering present another layer of complexity.
Weldon said the core elements of a managed mobility service typically include mobile device management (MDM), mobile application management (MAM), secure containers, mobile content management and an app store. Some providers also offer full-fledged telecom expense management (TEM). "Providers of managed mobility services say, 'You can outsource to us or out-task certain elements so you have some control, but we can do as little or as much as you need us to do," she said.
Throw in TEM and the complexity only grows because another department is involved. "Typically, EMM [enterprise mobility management] is managed through IT, whereas telecom expense is managed through the finance department," explained Tony Rizzo, entrepreneur in residence, mobile, IoT wearable enterprise research for Boston-based Blue Hill Research.
Partnering extensively
In order to offer a complete managed offering, service providers often have an extensive network of technology partners. "WidePoint understands that we can't deliver everything by ourselves, so we work with industry leaders and partners that bring the solutions our customers want," Atkinson said. He explained that WidePoint's core service is around telecom lifecycle management (TLM), which includes allocating mobile devices to users and managing the billing system, the apps and the end of life of those devices. For MDM functionality, however, WidePoint works with MDM vendors like AirWatch and MobileIron to provide hooks into the TLM offering.
"[Managed mobility services providers] are making pretty much every partnership that exists so that they have an arsenal of offerings based on what customers want or already have," Weldon said. "But the margins are just not great, particularly on the core MDM elements."
[MMSPs] are making pretty much every partnership that exists so that they have an arsenal of offerings based on what customers want or already have.

Kathryn Weldonresearch director, Current Analysis
According to Weldon, this is why Channel Directions survey respondents ranked managed mobility as the lowest among the types of managed services that they are successful around. "It's frustrating, I know, because everyone is saying enterprise mobility is hugely growing. There's a growing realization among enterprises that they need something, particularly on security but also on the application side. Managed mobility is a hugely important category, but it is difficult to make a lot of money in it, and there are different kinds of competitors," Weldon said.
Some of those competitors may be partners. "It's almost like 'coop-etition,'" Atkinson said. "You're cooperating and competing with each other in different areas. In one case, the company might be partnering with you, and in another case, the company might be competing with you. It really is about building trust with those partners and showing value for clients."
Differentiating your managed mobility services
Low margins also make it difficult to be successful as an MMSP. "A lot of the problems … stem from the fact that prices are so low, and a lot of the elements have become commoditized. … It's very hard to differentiate. All of the EMM vendors -- MobileIron, AirWatch, SAP -- to a certain extent have the same core elements, and they're falling all over each other to make sure they all keep up," Weldon said.
This has varying implications based on the size of the IT solution provider. "For large IT solution providers, it doesn't matter that [MDM] is commoditized, because it's just one of many, many things in large outsourced, billion-dollar deals, and they can make up the money elsewhere," Weldon said.
Smaller IT solution providers will need to find ways to differentiate their services. "One would expect that the additional value-added services, including the ability to help companies figure out their mobility strategy and determine what capabilities employees want to use, provides differentiation," Weldon said.
MOBI supplements its mobile management software platform with managed help desk services. "Our software in the front end is a differentiator, and what we think is what makes us different in the market place today, but when we land a client, their satisfaction is driven by our ability to support them," MOBI's Black said.
MOBI also offers a variety of professional services to help companies create mobile policies, implement the EMM environment or carry out a large-scale migration. Black said MOBI has helped companies retire 5,000 legacy devices and move onto a new platform with new devices. "We manage all the logistics and support as they go through that process until it reaches a steady-state environment," he said.
Weldon also suggests that MMSPs look at offering "incremental stuff beyond the EMM platforms. There's some new stuff going on in application performance monitoring, things that hadn't initially been offered by EMM vendors," she said.
The bottom line: MMSPs must understand what their clients need and build the appropriate partnerships to deliver on those needs. "What we have done is focus on our core capabilities and apply them to what we understand the market needs. We work with Gartner to understand the questions they are getting from corporations and government, and we apply our capabilities and knowledge with those of our partners to address those specific needs," Atkinson said.
Dig Deeper on Managing mobile devices in the enterprise