Cloud training options: How providers can develop a talent base
The cloud talent shortage is motivating cloud providers, enterprises and vendors to launch their own training and certification programs.
Cloud computing will generate nearly 14 million new jobs worldwide between 2011 and 2015, as an IDC study funded by Microsoft revealed last year. Another big revelation: There isn't nearly enough cloud talent to go around. A recent SearchCloudProvider.com survey confirms this finding, with 43% of respondents saying they're struggling to hire engineers and developers with cloud experience.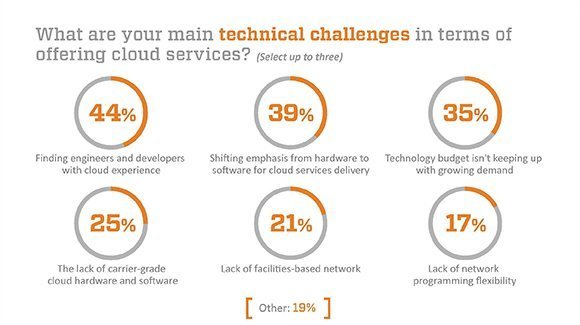 Source: SearchCloudProvider 2013 purchasing intentions survey
So what's a cloud provider or vendor to do? Amazon Web Services (AWS) and Rackspace are stepping up their cloud training offerings and certification programs. And vendors like Cisco and EMC are teaming up to promote cloud skills.
Cloud training and certifications are available from many other sources, including CompTIA, the Linux Foundation and Red Hat.
Rackspace
Rackspace has expanded its cloud training beyond Cloud U by launching an Open Cloud Academy boot camp in San Antonio to teach cloud skills that are in high demand: Linux, virtualization, hypervisors, APIs, continuous integration and security in the cloud.
Cisco and EMC
In early 2012, Cisco and EMC announced an educational partnership to promote cloud, virtualization, storage, data center networking and data science. They've since launched an extensive portfolio of training and certifications to provide a solid foundation in data center infrastructure, as well as high-value areas of cloud and virtualization.
As the industry evolves to keep pace with complex multivendor architectures and skill sets, new job roles are emerging, so Cisco and EMC plan to continue adding corresponding certifications.
CompTIA
CompTIA, a nonprofit IT trade association, offers Cloud Essentials certification, to demonstrate you know what cloud computing means from business and technical perspectives, as well as what's involved in moving to and governing the cloud. Among the areas covered on its exam: characteristics of cloud services from a business perspective; business value of cloud computing; technical perspective and cloud types; steps to successful adoption; impact and changes to IT service management; and risks and consequences.
Later this year, CompTIA plans to unveil Cloud+ certification, designed for IT professionals working in environments that increasingly rely on cloud-based solutions and virtualization in data centers and network operations centers.
Linux Foundation
The Linux Foundation offers a way to learn Linux from the experts, and they just added a new open source cloud platform course to their training lineup.
Red Hat
Red Hat Certified System Administrator certification shows you really know the core system administration skills required in Red Hat Enterprise Linux environments. Training and certification are available from Red Hat.
Dig Deeper on Employee Training and Development for MSPs