Sergey Nivens - Fotolia
Cloud services offerings expand via acquisition activity
The growing need for multi-cloud deployment has inspired cloud solution providers to expand their service portfolios through acquisitions and partnerships.
Recent cloud services acquisitions reveal an industry preparing to take on multi-cloud deployment and more complex customer requirements.
Earlier this month, Rackspace, a $2 billion cloud services company based in San Antonio, agreed to acquire Datapipe, a cloud and managed services provider in Jersey City, N.J., for an undisclosed sum, a transaction influenced by the rising demand for multi-cloud management. The deal, expected to close by year's end, would let the combined entity provide an array of cloud services offerings: public cloud services spanning Alibaba Cloud, Amazon Web Services, Google Cloud Platform and Microsoft Azure, as well as private clouds based on Microsoft, VMware and OpenStack technology.
"Customers have been asking Rackspace to rapidly expand its abilities in managing multiple clouds at scale, and with the acquisition of Datapipe, Rackspace will be able to meet this growing demand," a Rackspace blog post noted.
The Rackspace-Datapipe deal is part of a broader acquisition trend, which appears set to continue among cloud specialists, IT services companies and managed service providers (MSPs).
"There has already been some consolidation in the market, with larger services companies picking up pure-plays that specialize in implementing and managing certain clouds," said Cassandra Mooshian, senior analyst with Technology Business Research Inc.'s cloud practice. "We've seen IBM, Accenture, HPE, DXC, and Wipro all make acquisitions over the past year or two of specialty firms with the certified cloud talent that is in such high demand."
HPE, for example, this month purchased Cloud Technology Partners, a Boston company that will now lead the cloud practice of HPE's IT services operation, contributing its skills as an AWS Premier, Google Premier and Azure Silver partner. And in July, DXC Technology purchased Tribridge, a Microsoft Dynamics 365 integrator, and Tribridge's Concerto Cloud Services affiliate company. Concerto cites multi-cloud management as one of its core cloud services offerings and also provides direct connections between the company's virtual private cloud, AWS and Azure.
Expanding cloud services offerings
There has already been some consolidation in the market, with larger services companies picking up pure-plays that specialize in implementing and managing certain clouds.

Cassandra Mooshiansenior analyst, Technology Business Research Inc.
Mooshian said she expects this acquisition pattern to persist since it benefits the smaller acquired firms and their larger acquirers. The smaller companies gain access to scale and resources they previously lacked, while the buyers gain specialist talent, as well as automated and people-driven service delivery, she added.
Ensono, a Downers Grove, Ill., company that offers managed cloud and hybrid infrastructure services, was looking for Azure talent when it acquired Inframon, a cloud service provider based in the U.K., in June 2017. Inframon focuses on Azure cloud services.
Brian Klingbeil, COO at Ensono, said Inframon's Microsoft specialization was the driving force behind the acquisition. The addition of Inframon, an Azure service provider, extends Ensono's lineup of cloud services offerings.
"That [deal] rounded out our portfolio. It gives us everything clients want at this point," he said. Ensono now offers managed Azure and managed AWS services along with its private cloud offering and IBM iSeries mainframe management services.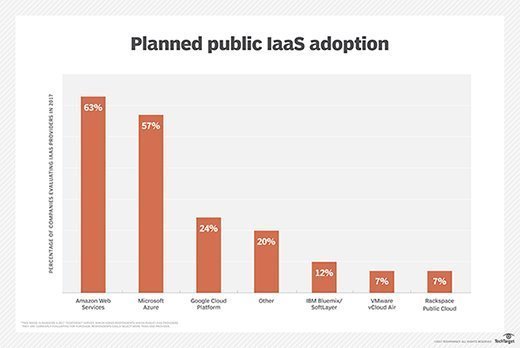 Partnering option
Acquisitions aren't the only way to improve a service provider's footing in multi-cloud deployment. Partnering with companies that fill in the gaps is another response.
Justin Crotty, senior vice president and general manager of channel sales and marketing at NetEnrich, said aggregation in the cloud services space "makes it more critical for MSPs and cloud providers to look for best-of-breed solutions." NetEnrich, based in San Jose, Calif., is a master MSP that offers cloud services that channel partners can white label and resell. The company is among several vendors targeting channel partners with cloud-enablement offerings.
A service provider interested in offering a private cloud service, for example, may find it difficult to do so without a specialized partner, Crotty said. He noted that some MSPs may find it financially or strategically untenable to build and maintain the infrastructure required to deliver private clouds.
"Why not look for partners in that space?" he asked.
Crotty said the most successful MSPs are agile entities that rely on their own intellectual property in areas where they excel. Meanwhile, they also surround themselves with best-in-class partners in areas where they have decided to forgo in-house investments.
"I don't think the really successful ones came out of the gate with the mentality that they need to build it all and own it all," he said.
Next Steps
Find out how cloud migration can fit into your portfolio of cloud services offerings
Read about an emerging category of tools for addressing multi-cloud management
Learn about the integration challenges of multi-cloud deployment and management