Cloud services: Market opportunity bypasses many channel companies
While the cloud reaches critical mass among customers of all sizes, many partners don't offer cloud services or have yet to make cloud services a major revenue contributor.
Cloud computing, a technology businesses of all sizes have heavily adopted, beckons as a market opportunity for channel partners, but many have yet to answer the call of the cloud services market.
That's one finding of TechTarget's annual Channel Directions survey, which polled 565 channel partners worldwide. The online survey, administered in July, discovered that more than half of the respondents (54.7%) don't offer any cloud services. About 40% answered in the affirmative.
Most of the companies that offer cloud generate a relatively small slice of their overall sales from such services. About 62% of the survey takers said cloud services accounted for 1% to 25% of their revenue. Cloud services represent 11.5% of the typical channel partner's business mix -- trailing other revenue contributors such as product sales, consulting, IT project work and managed services, according to the TechTarget poll.
The results are consistent with earlier surveys from Service Leadership Inc. and Autotask. Service Leadership in 2015 found that the cloud accounted for 8.5% of the average solution provider's revenue, while Autotask, also reporting survey results in 2015, noted that 62% of managed service providers (MSPs) generated 30% or less of their revenue from the cloud services market.
The TechTarget survey, meanwhile, found wider adoption of managed services:
56.2% of respondents said they offered such services. Yet few channel partners report that managed services fuel the bulk of their business, even though managed services are much older than the cloud as a channel offering. About 28% of channel companies said managed services contributed more than half of their revenue. The typical channel partner generates 22.6% of its revenue from managed services.
Cloud: Lag or leap?
Companies are trying to … have a foot on both shores and not getting in the boat and going across the river.

Greg Piercechief cloud officer, Concerto Cloud Services
The cloud-revenue lag runs counter to the arrival of cloud computing as a mature IT option for a range of businesses and organizations.
In early 2016 IDC reported 70% of small businesses and 90% of the midmarket enterprises -- both critical markets for channel partners -- now engage with the cloud. As for the overall market, IDC predicts that the greater cloud market will exceed $500 billion by 2020. The market researcher defined the greater cloud market as including software as a service, platform as a service, infrastructure as a service (IaaS) and related services. In addition, a recent Insight Enterprises survey noted that more than 80% of organizations plan to invest in cloud services this year.
So why the lukewarm acceptance of cloud services among channel partners?
Greg Pierce, chief cloud officer at Concerto Cloud Services, a managed cloud provider based in Tampa, Fla., suggested an unwillingness to commit fully to the cloud could be the culprit.
"Companies are trying to … have a foot on both shores and not getting in the boat and going across the river," he said. "What they are trying to do, I think, is provide a small subset of services in the cloud, enough to give it lip service. What they really need to do is go all-in to see growth."
Concerto, which spun out of Tribridge, a value-added reseller and MSP, made the leap to cloud in 2011. "At the time, people were debating whether it was going to become a prevalent deployment model in the future or whether it was a fad," Pierce recalled.
The company, however, moved 100% into the cloud services market, offering a mix of services including cloud consulting, managed private clouds and hybrid cloud integration. The company's traditional business had been growing in the high teens, but the company has been expanding at a compound annual growth rate of around 80% since its cloud transition.
BlueLine Services, an MSP based in the Dallas-Fort Worth area, has also made a definitive shift to the cloud. The company had been periodically making large investments in chunks of storage capacity for its own data center, said Chris Martin, solutions architect at BlueLine. But recouping the cost proved challenging since the company couldn't "bill a ton of money for the infrastructure," he noted. That reality made the initial customers for any upgraded offering very expensive to service.
The company faced a dilemma: Pay for the extra capacity and performance upfront and go out and find enough customers to justify the investment, or bring in the customers and upgrade the infrastructure once the company could afford the capital outlay. The latter strategy was easier on the budget but could result in a performance lag.
Martin said Blueline began looking for an alternative approach and decided to move to cloud-based IaaS. Specifically, the MSP tapped ProfitBricks, a cloud infrastructure services provider. ProfitBricks lets BlueLine Services add storage, compute and memory resources on an as-needed basis to keep up with customer demand.
Martin said the company has vacated its data center space and instead spins up a virtual data center via ProfitBricks. BlueLine Services, he said, is no longer in the position of continuously attempting to recoup its investment.
"We invest as we have a customer who starts paying for our service," he added.
"The cloud services model has become the preferred model for the company."
Obstacles to recurring revenue growth
While some channel partners pursue recurring revenue via cloud or managed services in a big way, others grapple with barriers that hinder a full commitment.
A channel firm, for example, may be reluctant to leave customers behind amid a sweeping business model change. While the cloud has matured in the last decade, some customers may still be unwilling to make the change. Pierce noted that about 15% of Concerto Cloud Services' customers weren't ready to embrace cloud at the time of the company's cloud move.
Research from Clutch, a B2B market research firm in Washington, D.C., demonstrates that many customers prefer older models of doing businesses. A Clutch survey of 279 small businesses found 59% of the respondents had monthly service contracts with their IT service providers, but 41% continued to pay for IT on a project-by-project basis.
"My understanding of the marketplace is that technology providers struggle to balance recurring versus nonrecurring revenue types, which seems to be reflected in the proportion of channel partners generating less than half their revenue from managed service offerings," observed Joshua Margolin, principal analyst at Clutch.
Margolin, citing recent conversations with channel partners SWC Technology Partners and Framework Communications, said the availability of capital for IT service providers is one issue.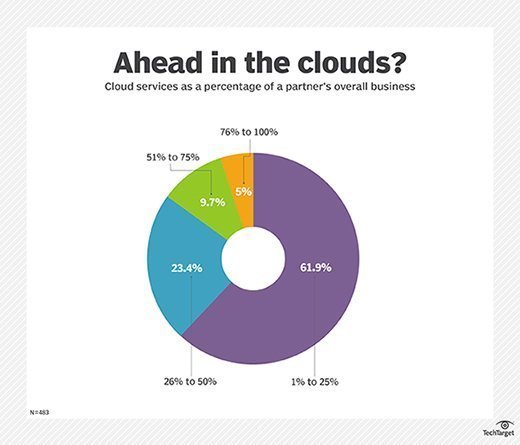 "Discrete projects typically generate more revenue than their managed service counterparts in the short-term, but limit the supplier's ability to allocate resources to clients in need of ongoing managed services," Margolin said.
But as channel partners grow recurring revenue streams, their dependence on one-off project revenue may decline.
Margolin noted about 40% of Framework Communications' revenue over the last 12 months was generated through the company's subscription-based managed service offering. That slice of subscription-based revenue was sufficient to grant the company the luxury of declining discrete projects on a more regular basis than some of its competitors that rely heavily on larger, shorter-term revenue boosts, according to Margolin.
NSI TotalCare, an MSP based in Naugatuck, Conn., has made it a point to avoid project work, unless it contributes to its core managed services business. The company has pursued a full-fledged transition to the managed services model since recognizing the bleak future for hardware sales during the recession. The company's primary focus today is on growing its "all-inclusive, all-you-can-eat" managed services offering and client base. "We can't grow fast enough. That's the only thing," said Tom McDonald, NSI's president.
The MSP currently derives a little more than half of its total revenue from managed services. An additional 10% or so comes from hardware maintenance contracts, McDonald said, making about 60% of NSI's overall income recurring.
With its goal of becoming a pure-play MSP, NSI doesn't take on any other lines of business unless it aids its managed services growth. As for project work, the company won't take on such business unless it seems likely to lead to new managed services clients.
The company is currently looking at mergers and acquisitions as a means for further bolstering its managed services business, McDonald said.
An urgent transition?
While service providers attempt to juggle different business mixes, some industry executives suggested the transition to the cloud services market and higher-end managed services, in particular, is a matter of some urgency.
The cloud ship may already have sailed when it comes to basic services. Mark Weiner, chief marketing officer at Versa Networks, a networking and security startup targeting service providers, called the market for "pure compute and storage" a two-player game between Amazon Web Services and Microsoft Azure. Other companies such as Google and IBM are trying to penetrate the market, he added. But the typical channel partner interested in building its own foundational cloud service faces a greatly consolidated market, Weiner explained. He said channel companies may have some room to maneuver if they specialize in a vertical market.
The time is ripe, however, for partners willing to add cutting-edge managed services. The software-defined security, cloud-based security and SD-WAN fields, for example, are still young with respect to market cycles, Weiner said.
"Those are great areas they can look at and explore," he noted. "It's a great time to jump in."
Pierce at Concerto Cloud Services, meanwhile, cited the importance of differentiation in the cloud services market. He said creating intellectual property (IP) helps in that regard. For example, Pierce developed a Cloud Application Criticality Matrix, which shows how different levels of cloud availability translate into downtime. The matrix aims to help companies weighing their cloud options to gauge acceptable risk for a workload or application.
Developing IP takes time, Pierce said, and underscores the need for quick action.
"If you haven't started already, you are behind," he said. "If you don't start now, you may never catch up."
Additional reporting by Spencer Smith.
Dig Deeper on Moving to cloud provider services