peshkova - Fotolia
Cloud-based service revenue lags among MSPs
Cloud-based service lines generate a small portion of the typical MSP's overall revenue, with a lack of cloud expertise among the barriers to growth.
Managed services providers (MSPs) have been urged to embrace the cloud, but cloud-based service offerings still represent a relatively small portion of their overall business.
That's the analysis of recent market research studies assessing the status of cloud computing within service provider businesses. Service Leadership Inc. reports that the cloud, on average, accounted for 8.5% of solution provider revenue in 2014. In addition, Autotask which last month released the results of its annual MSP market study, found that 62% of its 1,800 survey respondents generated 30% or less of their revenue from cloud services and 42% said they generated less than 15 percent of their sales from the cloud.
"Cloud revenue," said Paul Dippell, CEO of Service Leadership, "doesn't comprise as much of the typical MSP's revenue as the buzz would have you believe."
Dippell's company in Plano, Texas, tracks different types of solution provider businesses -- including MSPs -- through its Service Leadership Index, a financial and operational benchmark.
A lack of cloud expertise and knowledge on the part of MSPs and other solutions providers, rather than customer reluctance to engage with the cloud, may be the key factors inhibiting growth.
[Cloud services are] growing fast, but it's still a small overall piece of the action.

Paul DippellCEO, Service Leadership, Inc.
Techaisle, a market research firm focusing on small and medium-sized businesses and the channel, looked into the cloud sales challenges SMB partners face in its 2015 SMB Channel Partner Trends survey. That study discovered that four of the top five barriers referred to internal issues, as opposed to external obstacles. Survey respondents cited "lack of in-house expertise," "do not have financial resources," "lack of knowledge about cloud computing" and "do not know how to implement [cloud offerings]" as their main challenges.
The 2015 SMB Channel Partner Trends survey obtained responses from 648 senior executives at channel organizations including VARs, MSPs, solution providers, consultants and system integrators.
Anurag Agrawal, CEO and analyst at Techaisle, said some of the channel partners' concerns have intensified over the past couple of years.
Techaisle's SMB Channel Partner Trends survey, for example, found that the segment of respondents who identified lack of in-house cloud expertise as a problem has grown from 35% in its 2013 study to 40% in its most current research. The number citing lack of knowledge around the cloud has increased from 22% percent to 28%. Concern over lack of financial resources, meanwhile, abated somewhat, with 31% listing that factor as a concern compared with 33% in 2013.
Agrawal said channel partners' issues in cultivating a cloud-based service business range from finding the right people to hire to determining how to compensate sales and support personnel.
"There are many moving parts these MSPs have, which makes it very difficult for them to quickly transition," he noted.
On top of that, service providers may not be getting sufficient guidance on how to make the cloud transition from peers, the industry at large or their vendor partners, Agrawal added.
Craig Hurley, vice president of product management at Cosentry, an IT solutions provider based in Omaha, Neb., that offers colocation, managed services and cloud services, said the difficulty of the cloud transition depends on the baseline from which the service provider is starting. For instance, a traditional MSP that has focused primarily on managing customers' physical infrastructure will find the cloud a longer leap than a company that has some experience providing managed services on top of a virtualized platform, Hurley said.
"It depends on the company itself," he added.
Paths to the cloud
In Cosentry's case, the company has been able to expand its cloud revenue, having previously generated the bulk of its business in the colocation space. Today, cloud-related services represent 35% of the company's revenue, according to Hurley. He said hosted private cloud is now the biggest growth area within Cosentry. The company also offers a multi-tenant cloud and, in April, branched into the public cloud arena with a managed cloud service for Microsoft Azure. That service helps customers connect to Azure, with a particular focus on using Microsoft's cloud for SQL Server testing and development, SQL Server backup and SQL disaster recovery environments, according to Cosentry.
While the Azure service marks a new venture, the move leverages Cosentry's previous SQL Server experience. The company had already been managing SQL Server instances for private cloud customers, employing a team of SQL Server database administrators.
Hurley said the company's approach is to build upon the familiar as it expands into the cloud.
"As we look internally in terms of … our expertise, SQL is definitely one of those areas," he said. "It is a natural fit for us to work with Microsoft … to extend that expertise into Azure."
While starting with what you know provides a path to the cloud, it also helps to have sufficient scale.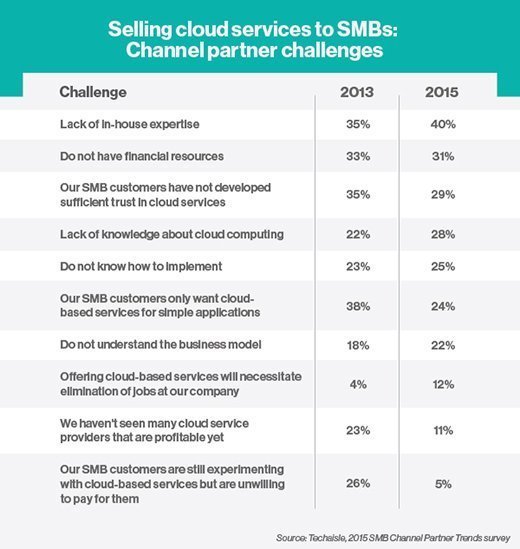 Synoptek Inc., an MSP and cloud services firm based in Irvine, Calif., took advantage of its size to facilitate its cloud expansion. The company, which has revenue in the $50 million range and employs 265 people, has more investment dollars and skilled labor available than smaller MSPs, noted Mike Bank, vice president of sales and marketing at Synoptek.
The company has built out its own cloud infrastructure, which Bank said gives the company more agility than it would have reselling "cookie cutter" public cloud services. The company's cloud approach is also better able to accommodate two of the fastest-growing enterprise needs: security and compliance. Synoptek provides private, public and hybrid cloud custom configurations, according to the company.
Bank said 35% of the company's business is cloud-related. The company's other major business lines include remote monitoring and management (35%), end-user and help desk services (15%) and professional services (15%).
Private cloud leads the way
MSPs selling cloud-based service lines appear to be enjoying the most success in the private cloud sector.
Service Leadership, which analyzed revenue mix across 10 business models, found that private cloud contributed 5.8% of solution provider revenue on average, while cloud resale accounted for 2.7%. The private cloud category covers companies that provide their own virtual private clouds or hosted private clouds, Dippell noted.
Service Leadership's assessment includes solutions providers whose main business is private cloud; those companies average about 65% cloud revenue. If solutions providers that focused on private cloud were left out of the calculation, the overall percentage of solution provider business in the cloud would drop from 8.5% to about 7.5%, Dippell noted.
Hurley said the public cloud generates a lot of press attention, with customers such as Netflix among the prominent adopters. But a significant portion of CIOs have a higher comfort level with hosted private cloud.
"For a great deal of the customers that we are talking to today, they are on a different stage of their adoption of the cloud," Hurley said. "A private cloud [solution] … is really what they are looking for at this stage."
Customer interest in cloud is cause for optimism among MSPs. Agrawal said 72% of the MSPs Techaisle queried in its SMB Channel Partner Trends survey expected their cloud revenue to increase in 2015 compared with 2014 levels.
"It seems like the pace of change has quickened," Hurley said. "We do see the mix shifting."
Service Leadership's research, meanwhile, shows that cloud revenue is growing at an average clip of nearly 70% year over year among the companies it has studied. That growth, however, stems from a diminutive business base.
"It's growing fast," Dippell said of cloud services, "but it's still a small overall piece of the action."
Next Steps
Determine whether hosted private cloud is right for your MSP business
Learn about cloud support business models
Explore database services as a cloud opportunity
Dig Deeper on MSP business model transformation