Cisco strategy bets on software to deal with cloud shift
Cisco has embarked on a technology transition as it deals with the effects of cloud computing and the virtualization of networking functions via software.
Cloud computing is shaking up the established order among IT vendors, and networking giant Cisco stands front and center among the manufacturers dealing with the sweeping technology shift.
Indeed, the company is reworking the Cisco strategy as it contends with softness in its traditional switch and router business. As Cisco's mainstay enterprise customers push more of their IT infrastructure to the cloud, Cisco has seen hardware sales drop. In addition, the rise of software-defined networking (SDN) and software-defined data centers is also influencing Cisco's product directions.
Software now plays a central role in Cisco's ongoing transformation. Cisco pursues initiatives such as Cisco ONE Software, a bundle of networking software features that span wide-area networking, switching, wireless infrastructure, data center networking and security.
Software now plays a central role in Cisco's ongoing transformation.
While software sales could help Cisco offset its hardware challenges, it also contributes to the company's overarching business model shift. The Cisco strategy in this regard calls for a move to recurring revenue and subscription-based consumption -- and higher software sales will fit those particular aims. Software also contributes to Cisco's goal of simplifying network infrastructure complexity.
The software push also affects Cisco's product distribution strategy, which relies heavily on channel partners. Cisco encourages partners to build software offerings on Cisco's product platforms, cultivates ties with independent software vendors and enlists resellers to get behind products such as Cisco ONE Software. As of late 2016, 2,700 partners were selling that offering.
In addition to the expanding software focus, other elements of the Cisco strategy, which intertwine with the vendor's software gambit, include intent-based networking, cybersecurity and the internet of things (IoT). The IoT effort involves a sales and marketing transformation, in that most of the business is likely to flow through line-of-business and operational technology buyers, rather than IT departments.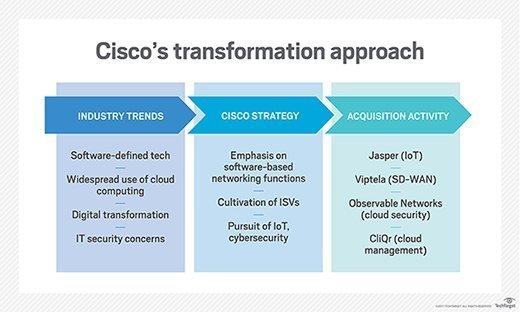 Cisco's software moves and industry impact
The Cisco forecast calls for increasing software. This SearchNetworking article discussed that development, which included IoT and security dimensions, and how Cisco's software activities may affect traditional data center hardware customers. Cisco's position in the service provider market was also considered.
Buying into software-defined
The Cisco strategy has long involved technology acquisition and this is holding true as it deepens its involvement in the software-defined space. This news analysis piece from SearchNetworking covered the vendor's $610 million purchase of Viptela, a software-defined WAN supplier. That deal, which closed in August 2017, will likely reshape Cisco's product lineup, particularly when it comes to its IWAN offering and vEdge appliance.
The IoT angle
Industry analyst Zeus Kerravala outlined Cisco's IoT approach in this opinion piece from IoT Agenda. Kerravala discusses Cisco's reworking of its Jasper IoT platform, which he said intends to "bridge the gap from proof of concept to reality" as it offers customers improved control to connect, secure and manage IoT devices and monetize deployments. Cisco completed its $1.4 billion purchase of Jasper in March 2016.
Network renewal
Cisco updated its technology portfolio for campus networks, emphasizing software-defined technology, centralized management security in a revised networking blueprint. This SearchITChannel article provided an overview of Cisco's intent-based networking platform and what it means for Cisco's channel partners. Some partner firms view the vendor's platform as a good fit for IoT applications and a bid to unify the management of Cisco products.
Challenges ahead
Cisco's plans to transform network management via software face both technical and business challenges, SearchNetworking reported. The vendor's Digital Network Architecture (DNA) Center, a component of its intent-based networking system, provides a software console for managing campus switches. But to realize the goal of becoming a central console for everything enterprise WAN, Cisco will need to incorporate a number of products, including its Tetration network analytics engine and CloudCenter cloud management platform. Business challenges include the task of migrating customers to new networking equipment that supports DNA Center.
Next Steps
Learn about a Cisco initiative in IoT security
Gain insight into intent-based networking
Read about software's growing influence in the data center
Dig Deeper on SD-WAN and SDN technology services