Choose greener data center networking gear
Choosing energy-efficient or green networking and IT gear can vitally affect your data center's environmental impact and cost of operation. Learn about environmental and cost savings benefits of choosing energy-efficient networking and IT hardware.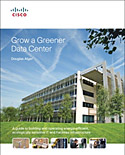 This chapter offers strategies for making a data center greener through IT hardware choices, outlines server energy efficiency standards and metrics, and discusses both hardware utilization and how to reduce hardware power consumption.
Environmental Impact of IT Hardware
In and among greening the facilities-related technologies of your data center -- power, cooling, and fire suppression -- don't overlook opportunities to green the systems that drive your data center power consumption in the first place -- your IT hardware. Because servers, networking devices, and storage units are the final destination of your data center's power and cooling delivery chains, anything you do to reduce their power consumption and heat generation has a cumulative benefit.
Every watt of power conserved at the server level actually saves nearly three. Although energy consumption is the most obvious green factor of data Ccenter hardware, other elements such as what materials are consumed to manufacture a device and their footprint -- smaller systems use fewer materials than larger ones -- are also valid to consider.
Aside from the environmental benefits of choosing energy-efficient hardware are the cost savings. Exactly how much money is saved depends upon the cost of power where your Data Center is located, but in the mid-2000s, several data center industry groups began predicting that energy costs over a server's lifetime would soon exceed the initial price tag of the device.
Continue reading the chapter in this PDF on choosing green data center networking gear.
Excerpted from Grow a Greener Data Center by Douglas Alger (ISBN: 1-58705-813-8).
About the book:
Conventional Data Centers can have a huge impact upon the environment, using massive amounts of energy and water, emitting pollutants, and discarding huge quantities of machine waste. Their insatiable demand for energy and often inefficient designs make data centers expensive to operate and prime targets for future environmental regulation.
Fortunately, it's now possible to design a Data Center that consumes fewer resources, costs less money to run, has a longer usable lifespan, and can even highlight a company's social responsibility. Grow a Greener Data Center shows how.
Douglas Alger makes the business case for greening data centers and presents technologies, design strategies, and operational approaches to help any company improve the energy efficiency and "eco-friendliness" of their IT hosting environments. He provides multiple strategies for "greening" each phase of a new data center project -- selecting a site, designing and building the facility, and choosing hardware -- as well as tips for retrofitting an existing server environment.
Copyright © 2008, Cisco Press. All rights reserved.