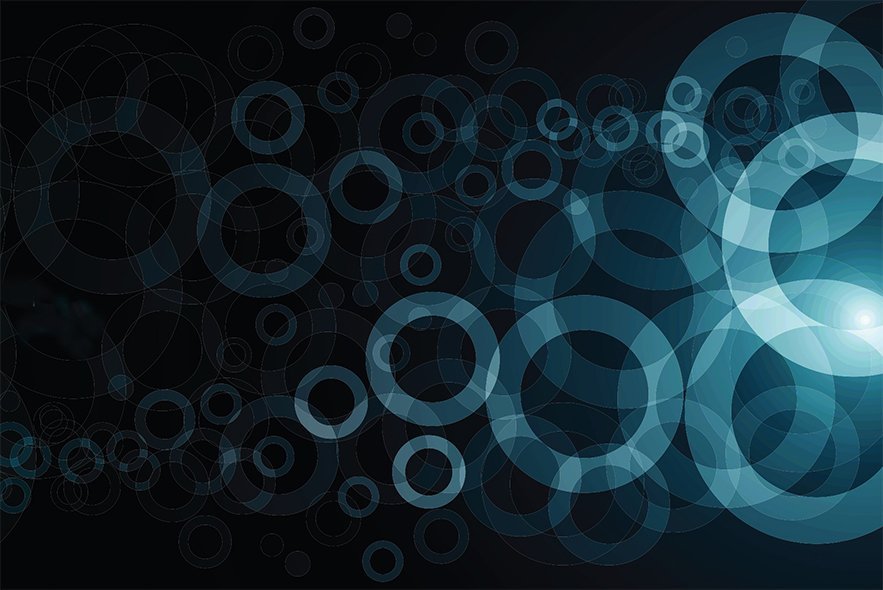 BACKGROUND IMAGE: iSTOCK/GETTY IMAGES
E-Handbook:
Hyper-converged technology evolves into compelling sales pitch
Article 2 of 4
Get started
Bring yourself up to speed with our introductory content.
Channel: Cost, speed among benefits of hyper-converged infrastructure
Channel partners active in hyper-converged infrastructure see an expanding set of use cases, although mission-critical applications may lag behind other HCI candidates.
Expect hyper-converged infrastructure to seal its place in tech lexicon this year as more and more companies are looking at this approach to tie their storage, networking, compute and virtualization resources into an integrated architecture.

Download this free guide
Hyper-converged technology evolves into compelling sales pitch
Hyper-converged technologies are developing into an attractive option for customers looking to keep IT resources at home in their data centers.
Ask industry observers what they view as the benefits of hyper-converged infrastructure (HCI) and what they rattle off sounds like infrastructure nirvana: high availability, scalability, agility, greater mobility in workloads and applications, significant cost savings and the ability to reduce storage and bandwidth.
Hyper-convergence 1.0, the industry's first take on converged technology, was the bundling of a set of servers, networking and storage on a traditional architecture but pre-engineering it with management components to make it much easier to use, explained Jeff Kato, a senior analyst and consultant at the Taneja Group. That way "you didn't need all these experts in the IT shop," he said. The approach "caught on like fire" after companies like Amazon, Google and Facebook began deploying the architecture, he noted.
"The compute power was so tremendous, that now, instead of just dedicating that compute power for server workloads, people were adding into that same server complex shared storage or virtualization on top of the software," Kato said.
Indeed, the market's evolution to HCI is built upon software-defined technology and appliances that incorporate compute, storage and virtualization in a single box -- as opposed to multiproduct bundling.
It's only more recently that software has played a role with more virtualization happening in the networking stack, added Jon Kim, director of nextgen networking at Force 3, an IT services provider for the federal government.
"We've definitely seen more and more conversations happening with our customers in the federal market about hyper-converged architecture," he said.
Force 3 also spends a fair amount of time educating customers on what they have today and the benefits of hyper-converged infrastructure and what it can provide going forward, he added.
Customers like the automated configuration piece and quickness of deployment.

Jon Kimdirector of nextgen networking, Force 3
Hyper-converged systems are gaining in popularity because everything is preconfigured: storage, compute and networking all tied together and ready to go out of the box, Kim said. "Customers like the automated configuration piece and quickness of deployment."
There has also been "a whole movement to look at software defined and orchestration, and hyper-converged is playing the role of making that more consumable," and moving the market from converged to hyper-converged, he observed.
Gartner estimated the market for HCI systems to grow 79% and reach almost $2 billion in 2016, and projected it will reach almost $5 billion by 2019. Major tech companies are paying attention. In January 2017, for example, Hewlett Packard Enterprise bought hyper-convergence systems provider SimpliVity for $650 million.
Key use cases
Virtual desktop infrastructure (VDI) emerged as an early use case for HCI. Overwhelmingly, industry observers say HCI will continue to be ideal for VDI environments. Some observers say customers will want to try hyper-converged technology on other types of applications -- anything that isn't mission-critical.
Like virtualization, HCI is going to be used for "pretty much anything ... but your customers are going to be very careful about putting mission-critical systems on there," Kato said. "That will be the last to go."
Other use cases include remote branch offices and web services. Customers want to simplify and push as many traditional workloads as they can into a hyper-converged architecture, he said.
"If they're running a [Microsoft] Hyper-V environment they want to move all those workloads over," as well, he added. "That's a typical three-tier architecture and moving into this hyper-converged architecture is a single tier. ... It's a linear scale-out model."
"Customers are not applying [hyper-convergence] to mission-critical applications," Kim agreed. "They want to prove it out for many years first. It's for things allowing them to have quicker scale, a quicker deployment cycle, more flexibility and [the ability] to address space and power limitations within their data center."
Kim also said HCI has played a critical role in the adoption of VDI, because it offers "better technology with solid-state drives in a pre-built platform, with all the automation there. Some of my customers view hyper-converged as their own private cloud."
Kent Christensen, practice director for data center and cloud strategy at Datalink, concurred that VDI implementations were the first HCI use case that gained a lot of traction in the data center. "Virtual desktops had problems scaling from prototype and pilot to production-level implementations," he noted. "It would be very common for a company to try out virtual desktops ... among 100 users and say 'Wow, it seems to work,' but then realizing they didn't architect the back end to support 1,000."
HCI enables IT to easily add another node for additional capacity and performance, Christensen said. Datalink jumped on the HCI bandwagon early.
"And we still believe today this is going to be a very impactful architecture, and we want to grow with it," he said. HCI comprised "north of 50% of the implementations we did in the early days," Christensen said. But like the others, Datalink has mostly avoided deploying mission-critical apps on a hyper-converged infrastructure.
Hyper-converged meets DevOps
DevOps aims to bring together application developers and IT operations personnel with the objective of churning out software more rapidly. Hyper-converged technology aims to provide easier scalability via "nodes" that can be quickly added to an IT environment to accommodate changing resource needs.
Can the two tech trends meet in the middle?
As it happens, some industry executives cite flexible DevOps support as one of the benefits of hyper-converged infrastructure (HCI). The main idea: Hyper-converged nodes, which encompass compute, storage and virtualization, can be commissioned on the fly, enabling IT organizations to accommodate the pace of software development. It would take much longer for IT shops to assemble server and storage components separately, frustrating developers who want to quickly iterate.
Vikram Belapurkar, senior manager of product and solutions marketing at Pivot3, a hyper-converged technology vendor, believes HCI can complement DevOps and also play a role in the broader context of agile software development, containers, microservices and private cloud technology.
"Large organizations are starting to look at DevOps as a use for HCI," Belapurkar said. "HCI has definitely a great potential for being the infrastructure for DevOps."
Yet, Solutions4ebiz, a reseller of Scale Computing hardware for small and medium-sized businesses, is running a healthcare customer's medical records-related application on a hyper-converged system in its colocation facility. Michael Sheward, CTO at Solutions4ebiz, said the hyper-converged system "only runs one app, and the app is very specific to electronic medical records."
In the past, he said he would have bought a single server to house the application rather than a hyper-converged system because it wouldn't have been cost effective. "It would have cost a couple hundred thousand dollars" to put together a highly available virtual server environment, and he would have had to purchase the components separately from different vendors and then put them together as one system, Sheward said. "Today I can do that for less than $30,000," while meeting or exceeding Health Insurance Portability and Accountability Act rules. "That's where for me, the hyper-converged piece has got a good story."
In addition, Solutions4ebiz partners with one vendor for its hyper-converged systems, which he believes is where the real value of the technology lies. "You're not only pulling it all into one hardware platform, you only have one vendor to talk to."
What you can expect from hyper-converged in 2017
This year, look for HCI to move beyond VDI and into virtual machine clustering and more production-side deployments, predicted Mark Campbell, vice president of research at IT solutions provider Trace3.
Channel partners can also expect to see more entrants in the HCI market this year, creating more choice. Another big change Datalink sees is the ability to add all-flash nodes, Christensen noted.
"Flash storage could go probably 10 times faster than a spinning disk, so I may take the app that needs really high performance" and move it over to an HCI system, he explained. "The world has changed in storage, in that flash used to be really expensive," he said. "Now, it's becoming one of the fastest growing areas of storage."
Besides VDI, Trace3 is starting to see some enterprise workloads like SQL starting to be explored on HCI because the platforms are evolving to include flash, said Kevin Martin, hyper-converged solution architect at Trace3. "I would say more and more, we're starting to see enterprise apps as these HCI platforms mature and evolve."
Trace3 has also seen a couple of instances where IT shops are using HCI for private cloud instances for standard department workloads such as back office billing, Campbell said.
Disaster recovery is another use case in which channel partner customers may see the benefits of hyper-converged infrastructure. Kim said HCI will see growth in this area. Now, HCI systems can ship snapshots to and from a backup disaster recovery site, which can be a single node, and reduce the equipment cost by about a third, while maintaining enough power and storage, he said.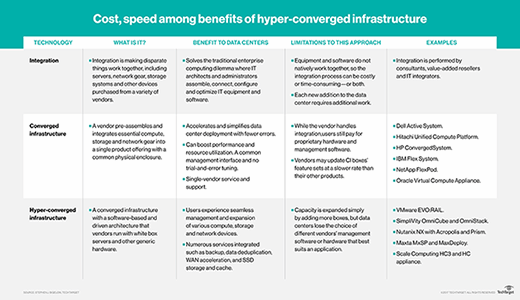 Applications that should stay on premises
In the past, the return on investment wasn't there to keep workloads in-house, and migrating to the cloud was often the approach taken, observers said. As the pressure grew for infrastructure vendors to simplify their offerings, now it is becoming cost neutral, and in some cases, more favorable to keep workloads on premises, Kato said. Companies and IT service providers are now starting to recognize that not all apps are meant to be on the cloud, and some that were viable candidates are being kept on internal infrastructure.
For example, apps with tremendous traffic and bandwidth, regularly moving data to and from their own data center to a public cloud, increase the cost of keeping them in the cloud, depending on the provider, Kim said. "But the main reason is ... compute, storage and hardware technologies have become reasonably priced so I can do it myself. Now, everything is preconfigured and automation is done, ready to go, out of a box the size of a mini bar refrigerator."
Another example would be data that needs to be kept local for compliance reasons, Kato said.
"With Amazon, you can put storage into the cloud for free, but if you take it out they charge quite a bit of money" he noted. "Basically, you can come, but never leave."
No one architecture is right for every kind of app, emphasized Christensen. He sees use cases for keeping some workloads on premises, some in the public cloud and some on HCI, especially because Datalink has large enterprise customers. An ERP system that runs all the time and has high performance requirements is ideal for a traditional architecture, he said. "If all you have is a DevOps environment, maybe you can do that in the cloud," or "if I spin something up that needs 1,000 servers, cloud is still going to be better because I can turn that on for a while and then turn it off. [But] it's not all cloud, it's not no cloud, it's 'and.'"
Benefits of hyper-converged infrastructure: Cost, flash tech
Right now, it's not known how much HCI can really scale, Christensen said. "Jury's still out. There's going to be some technological limit." Otherwise, the only other concern he sees about the infrastructure is that it's still relatively new to a lot of people.
"We've studied it, but your average client isn't as familiar with it" and there are a lot of startups and traditional vendors moving into this market, Christensen said. "We don't know three years from now who the leader will be," he noted.
That said, industry observers say HCI has been gaining favor due to the declining cost, the increased use of all-flash nodes and the ability of the architecture to scale better than in early releases. The ability to easily add capacity and the ease of deployment are additional pluses for the technology.
"Hyper-converged is growing and has an important place in what we call the data center of the future," Christensen said, "which is the intersection of what you run and what you outsource to cloud."
Additional reporting by John Moore.
Dig Deeper on Server management, sales and installation