Business cases for server virtualization: Introduction
Use server virtualization to solve business problems. This chapter from "Advanced Server Virtualization" describes how server virtualization can be implemented in key areas, such as Disaster Recovery (DR) and high availability, to help reduce costs and enhance application support.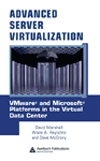 The first step in planning to deploy server virtualization technologies is to understand how it can be applied to business objectives. This chapter describes the key areas of information technology to which server virtualization can be effectively applied and how it relates to common business goals. It also shows how common short-term and long-term problems can be addressed using server virtualization technology and where it should not be used.
Solving Business Problems
Aside from the pure novelty of running more than one operating system on a single computer at the same time, server virtualization technology was designed to be used to help solve business problems. Virtualization can be used in a very straight-forward manner much like physical servers and when used in this way can help reduce physical server hardware costs by consolidating multiple servers onto a single server. This usage is commonly referred to as server consolidation.
Virtualization provides new features that are either unavailable or unobtainable on physical server hardware. One of the most profound benefits of virtualization is the abstraction between virtual machines and the physical hardware, thereby making virtual machines portable. In this way, virtualization simplifies and enhances legacy server and application support, while providing new opportunities in disaster recovery and high-availability scenarios. Because virtual machines are much easier to deploy than physical servers and because the software nature of virtualization technology lends itself well to automation of provisioning, on-demand and adaptive computing are more easily realized.
Use the following table of contents to navigate to chapter excerpts, or click here to view Business cases for server virtualization in its entirety.

Advanced Server Virtualization
Home: Business cases for server virtualization: Introduction
1: Server Consolidation
2: Legacy server and application support
3: Disaster recovery
4: High availability
5: Adaptive computing
6: On-demand computing
7: Limitations of server virtualization

ABOUT THE BOOK:
Advanced Server Virtualization focuses on the core knowledge needed to evaluate, implement and maintain an environment that is using server virtualization. It emphasizes the design, implementation and management of server virtualization from both a technical and a consultative point of view. It provides practical guides and examples, demonstrating how to properly size and evaluate virtualization technologies. This volume is not based upon theory, but instead on real-world experience in the implementation and management of large-scale projects and environments. Currently, there are few experts in this relatively new field, making this book a valuable resource. Purchase the book from Amazon
ABOUT THE AUTHORS:
David Marshall is currently employed as a software engineer for Surgient Inc., a software company based in Austin, Texas, that provides software solutions that leverage x86 server virtualization technologies. He holds a B.S. in finance and an Information Technology Certification from the University of New Orleans. He has been working with virtualization software for the past six years. Dave McCrory works as chief scientist for Surgient Inc. He has filed several patents around server virtualization and management of virtual machines and has worked with virtualization technology for more than five years. Wade A. Reynolds is employed as a senior consultant by Surgient Inc. He has been designing and implementing enterprise solutions based on virtualization technology on a daily basis for more than three years, including VMware ESX Server and Mircosoft Virtual Server from its pre-beta release.
Dig Deeper on Server virtualization technology and services