Javier Castro - Fotolia
Blockchain consulting work takes root in the IT channel
While blockchain remains a nascent market in the channel, some channel companies, including Project Radium, are finding blockchain consulting opportunities in enterprise projects.
Blockchain, the distributed ledger or database technology, is increasingly being used in applications; yet, it remains in the nascent stages, thus creating potential opportunities for channel firms, including blockchain consulting.
But first, partners -- and their customers -- need to understand what blockchain technology does. Across 12 emerging technologies surveyed in an upcoming CompTIA Inc. research study, blockchain had the lowest level of awareness among respondents. The study polled 700 U.S. businesses in October 2017. Only 21% of respondents said they had recently consumed some information on blockchain, according to Seth Robinson, senior director of technology analysis at CompTIA.
However, "among that group ... there is a belief that blockchain will be a game-changer," he added. "Forty-three percent of those familiar with blockchain said they are already seeing the technology have an impact at their company, and 30% believe they will see an impact in one to two years."
Part of the reason behind the lack of awareness around blockchain technology is that it's primarily a building block for other applications a company might use, Robinson noted. Across all the companies in CompTIA's survey, 22% said they are developing tools with blockchain as the underlying technology.
"For many firms, blockchain may simply appear in the applications and processes they use on a daily basis, whether those applications deal with digital identity, distributed storage or regulatory compliance," Robinson said.
It may be too soon to offer blockchain as a service in the IT channel, though.
"There is likely not a significant demand for blockchain at this stage beyond customers curious about the technology," Robinson said. "Channel firms can certainly become familiar with blockchain so they can explain the pros and cons to customers looking for education."
The best step for future offerings, he advised, is to begin exploring the vendors in the blockchain market to understand how your partners' tools measure up against tools already in your portfolio.
Blockchain consulting underway
Some firms are making a go of it already. Blockchain and token development firm Project Radium LLC is two years into consulting work for clients, said Tim Mesker, founder and manager of the company. The firm will soon rebrand itself into a publicly traded company focused on B2B services through outsourcing partners.
According to Mesker, Project Radium has taken on quite a few blockchain projects, focusing on token development, specifically in Ethereum and Graphene/BitShares.
Most of the projects Mesker has been involved with have been for private chains, but he said the firm is also doing some blockchain consulting for enterprise-oriented work, and he plans to outsource to partners that can manage the whole development lifecycle once Project Radium goes public.
Blockchain opportunities can be found in integration work because the technology builds on a compiled system, such as bitcoin, or a smart contract platform, like Ethereum or Hyperledger, Mesker said.
"You need things like web design, integration of hardware and operating systems, and then ... an API wrapper around these block integrations" -- basically anything involved in creating a blockchain platform, he said.
Whether a compiled or smart contract solution, [blockchain] is essentially a fancy database that makes everything transactional.

Tim Meskerfounder and manager at Project Radium
"Whether a compiled or smart contract solution, [blockchain] is essentially a fancy database that makes everything transactional," Mesker said.
Blockchain consulting is needed because "too often, people have a great idea for blockchain, but don't know how to handle the enterprise integration," he said.
Additionally, Mesker maintained, "the IT industry and startup industry don't understand it's about transactions, immutability and databases that fit a specific purpose."
There are several vertical industries that are interested in adopting blockchain technology, including banking, supply chain and gambling, he noted.
Project Radium has been advising clients that want to build tokens and do initial coin offerings (ICOs), and "you need a good blockchain consultant that will tell you how to integrate blockchain tokens into your product," while adhering to securities and commodities laws, he said. "ICOs and custom tokens are a massive business right now."
Many people think of blockchain and bitcoin as synonymous terms, but bitcoin is just one digital currency, Mesker stressed.
The promise of blockchain technology
Bitcoin has been in production for more than seven years, but most blockchains still have not had the benefit of production-level testing or the pressures that accompany a live environment, such as real transaction volumes, system penetration attempts and system interoperability, according to the 2016 Ernst & Young report, "Blockchain: the hype, the opportunity and what you should do."
But the report said this has started to change, as more organizations have announced blockchain implementations that will run live, although in parallel to existing systems.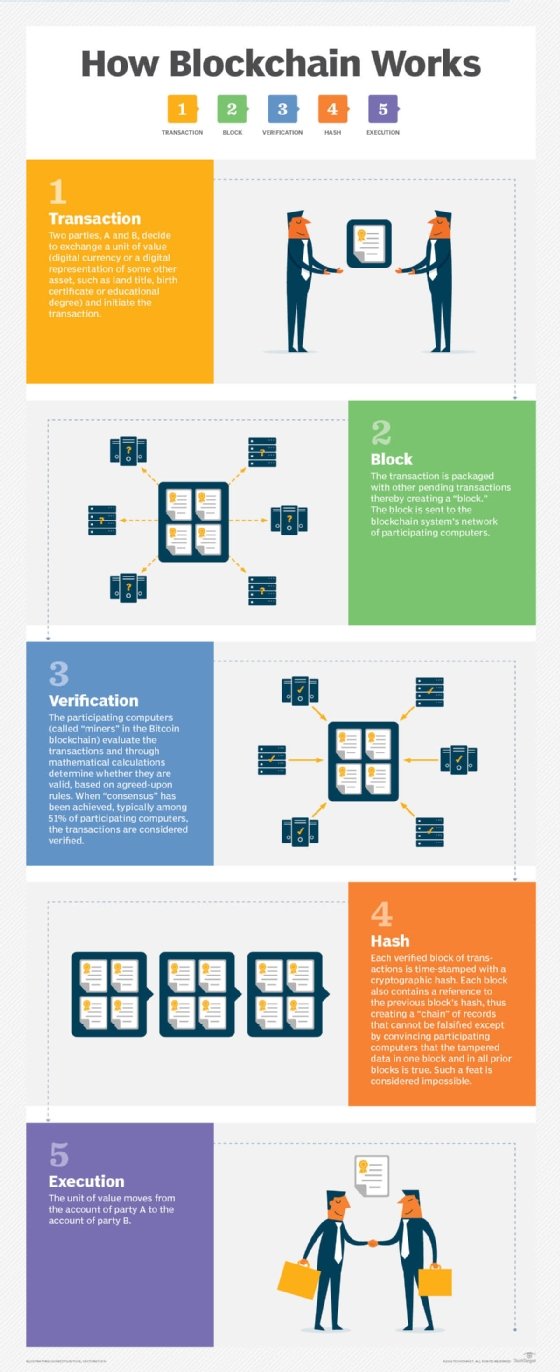 "As the focus continues to shift from proofs of concept and pilots to production implementations over the next five years, testing will be a key factor in the technology's success," the report stated.
Robinson concurred that the technology holds promise as enterprises become more comfortable with the new frameworks.
"There is no doubt that blockchain holds the potential to greatly disrupt ... processes by decentralizing control structures and creating distributed ledgers," he said. "But many companies may not realize those benefits until there is a sufficient network of blockchain-enabled infrastructure to replace the current models."