Benefits of using server consolidation for energy efficiency
This chapter excerpt shows how server consolidation can eliminate server sprawl, increase utilization and reduce operating costs.
Chances are you aren't going to shut down your datacenter for a weekend, wheel out the old servers, and install brand new, more powerful ones. It's more likely that you're going to bring in new equipment as your replacement plan dictates. However, when you do start replacing equipment, it's a smart idea to consolidate your servers.
By consolidating servers you can:
Increase utilization of existing hardware from 10 to 15 percent, up to 80 percent


Reduce servers at a 10-to-1 ratio


Reduce hardware and operating costs by as much as 50 percent
Traditionally, servers were approached with a "one workload, one box" philosophy. That is, if you needed an e-mail server, you bought a new server. If you needed a file server, you bought a new server. However, each server is not used often enough to truly justify its location on a single machine. As mentioned earlier, most servers only operate at about 10 to 15 percent of their total load capacity.
The result of having a server for each network application is server sprawl. In this section, we'll talk about the merits of consolidating your servers into fewer machines.
Utilization
Server sprawl can be eliminated by consolidating and virtualizing your physical machines into virtual machines. Applications such as VMware run independently from the underlying hardware and are supported on a range of physical servers.
And if you have different operating systems for your different applications, that's not a problem. A virtual machine represents a complete system—processors, memory, networking, storage, and BIOS. This allows you to run Windows, Linux, Solaris, and NetWare operating systems and applications on the same server. This is illustrated in Figure 11-5.
Normally, a server running a lone application experiences total utilization of 15 percent, tops. That means all that processing power you paid for is being wasted—and all the power you're paying the electric company for to run that machine is also being wasted.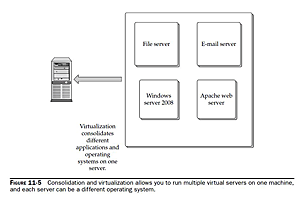 By running multiple virtual servers on one physical server, you're increasing your utilization of that machine from 15 percent up to 80 percent.
Hardware Reduction
Consolidation doesn't just mean that one server can do double-duty. It's more like a 10-to-1 ratio. For example, the VMware ESX Server can support more than 100 virtual machines.
You can also use the same strategy on storage and network consolidation, thus reducing more equipment from your server room.
Reducing Operating Costs
According to a study performed by Lawrence Berkeley National Laboratory, the servers in a datacenter account for about 55 percent of the electricity costs. The remaining power is spent to support that equipment—Lawrence Berkeley National Laboratory, 2007. So when you consolidate your equipment, you also need fewer pieces of equipment to play support roles, so there's more cost savings there.
Consolidating can save you about US$560 per year per server. So let's use the simple math example of consolidating 10 servers into 1. Consolidating 10 servers down to 1 results in a US$5040 savings per year. And that's at a smallish company. If you have thousands of servers, you'll recognize some big savings.
Consolidation also cuts down on the amount of heat generated in your datacenter. But, like power consumption, it isn't just the servers that generate the heat, it's also the equipment supporting the servers that add to the heat generation. Figure 11-6 shows this.
Repurposing Servers
As part of your green datacenter design process, you should also look at the equipment you have and evaluate its worth. You might have a systems life cycle that dictates

that the equipment needs to be phased out and replaced with new stuff. However, you might be able to save a few thousand dollars by simply repurposing the equipment.
For instance, if you have a server that has sufficient processing power and memory, why not keep it, but consolidate and virtualize the duties of other servers? If it is equipment you already own, by repurposing the server you don't need to buy a new one (thus saving you the expense of buying a new one and recycling the old one), plus you maximize the server's utilization.


Datacenter Design and Redesign

Designing data centers for energy efficiency

Upgrading to energy-efficient servers

Benefits of using server consolidation for energy efficiency
Printed with permission from The McGraw-Hill Companies. Copyright 2008. Green IT: Reduce Your Information System's Environmental Impact While Adding to the Bottom Line by Toby J. Velte, Anthony T. Velte and Robert Elsenpeter. For more information about this title and other similar books, please visit http://www.mhprofessional.com.
Dig Deeper on Server management, sales and installation