Barnyard processing logs for Snort
How Barnyard processes Snort IDS logs.
Even though Barnyard had six output plugins configured, only the alert plugins were active. Barnyard was processing a snort.alert.TIMESTAMP file, so the snort.log.TIMESTAMP file was ignored. Now we tell Barnyard to process that file.
Again we test Barnyard using the -R switch. I disabled all plugins but the two for processing log data.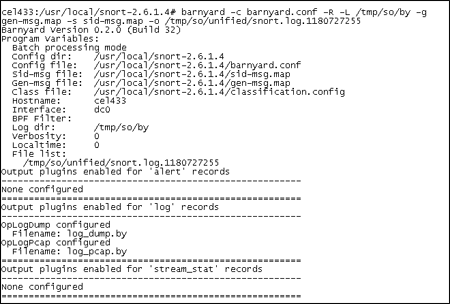 Barnyard is ready to process the file.
cel433:/usr/local/snort-2.6.1.4# barnyard -c barnyard.conf -v -L /tmp/so/by -g gen-msg.map -s sid-msg.map -o /tmp/so/unified/snort.log.1180727255 Barnyard Version 0.2.0 (Build 32) Processing: /tmp/so/unified/snort.log.1180727255 Number of records: 1 Exiting
Two log records are created.
cel433:/tmp/so/by# ls -al | grep log
-rw-r--r--   1 root  wheel  1598 Jun  1 16:31 log_dump.by
-rw-r--r--   1 root  wheel   380 Jun  1 16:31 
[email protected]

One is ASCII text and the other is Libpcap format.
cel433:/tmp/so/by# file log*
log_dump.by:                     ASCII text
[email protected]: tcpdump capture file 
(little-endian) - version 2.4 (Ethernet, capture length 1514)

Here are the contents of log_dump.by, editing to conserve space.

The other file is in Libpcap format. Here I just show the header to conserve space.

As you can see, Barnyard can replicate the features found in the native Snort output modes.

Working with unified output

Introduction
Examining unified output
Unified output readers
Barnyard processing alerts
Barnyard processing logs
Barnyard working with databases

About the author
Richard Bejtlich is founder of TaoSecurity, author of several books on network security monitoring, including Extrusion Detection: Security Monitoring for Internal Intrusions, and operator of the TaoSecurity blog.
Dig Deeper on Managed network services technology