carloscastilla - Fotolia
BMC channel strategy seeks tighter partnerships in multicloud world
Multicloud environments have given rise to a new set of customer challenges. As BMC looks to tackle these issues, the vendor said it wants partners to play a strategic role.
As BMC Software pursues opportunities arising from customers' multicloud environments, the vendor said it wants BMC channel partners close at its side.
At BMC Exchange, an event held last week at the TheTimesCenter in New York City, BMC Software showcased new multicloud management offerings aimed to help customers advance their digital transformation initiatives. The new releases included TrueSight Cloud Cost Control, a cost management product, and SecOps Policy Service, a compliance tool for helping developers. BMC also unveiled its latest investments in artificial intelligence (AI), machine learning and cognitive capabilities to bolster IT management in multicloud environments: TrueSight 11, a platform for AI in IT operations, which uses machine learning and analytics to enhance service quality and performance, and Cognitive Service Management, a solution that integrates IBM Watson's Conversation and Discovery capabilities with BMC's IT service management products. Topping off these announcements, the vendor revealed a partnership with Amazon Web Services (AWS) to expedite the migration of customers' enterprise workloads to AWS.
I think as we have moved into a multicloud world, we recognized how important [the BMC partner ecosystem is].

Dan Streetmansenior vice president of worldwide sales and marketing, BMC Software
These new offerings, combined with BMC's Discovery for Multi-Cloud tool launched last month, underpin the company's strategy of tackling multicloud challenges for customers.
Globally, BMC Software has over 1,000 partners in different categories, including resellers, systems integrators (SIs), technology partners and developers, according to Sanjay Gupta, vice president of global ecosystem sales at BMC. About 40% to 45% of BMC partners are in the North American market, 40% in EMEA market, and the remainder in Latin America and Asia-Pacific.
Dan Streetman, BMC senior vice president of worldwide sales and marketing, noted BMC channel partners and SIs are just as integral to the company's strategy as BMC's technology partners and developers. "Separating out the technology partners, which are a clear part of what we want to be driving as [we] think about a multicloud world and the integration with software partners who are enhancing our solutions, the SI and channel partners are a critical piece, as well, because they are building solutions on top of our applications," he said. He added that the vendor wants BMC channel partners to act as "innovation partners with us as we build extendible solutions."
"We launched our innovation suite platform, which is a development environment," Gupta added. "Many of these partners now are building out solutions on that platform."
Gupta said BMC's year-end objective is to have 15 net-new solutions from top-tier partners available in the marketplace.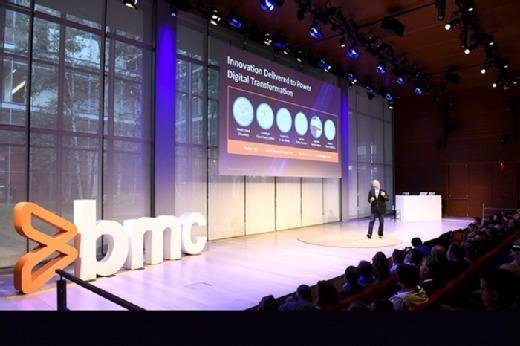 The BMC of today vs. a decade ago
While BMC today views channel partners as strategically important to its business, the software vendor wasn't known for being particularly channel-friendly in the past.
Jon Fraser, managing director of North American service management at Online Business Systems (OBS), a business and IT consulting firm headquartered in Winnipeg, Man., has worked with BMC since 2002 and paid close attention to the vendor's evolution. OBS focuses on everything from enterprise architecture, customer experience and digital experience to service management and security consulting.
"BMC back in the early [2000s] when I worked with them was a great company ... to work with. It was their heyday," he said, referring to a time before working at OBS. But later on, after Fraser had joined OBS, which partnered with BMC in 2009, the vendor became "very difficult to work with," he said.
"A lot of companies go through this. They wanted a high volume of partners. They didn't understand the value that the channel brings to them. The salesforce had a culture of wanting to do everything themselves. ... They had a very large professional services group back then and viewed [the BMC channel] as competition. So it was very adversarial for a few years," Fraser said. "Shortly before [BMC] went private ... we considered actually stopping our partnership with them.
But once BMC went private and reorganized its operations, the vendor reinvested in its product suites and partner network, leading to a dramatic change in the OBS-BMC relationship, he said. "They are probably the best technology company that I have ever partnered with -- in the last two years in particular. ... Their partner enablement programs, training [and] the support that they give us is just second to none."
"Every company goes through transitions," Streetman said. "I think as we have moved into a multicloud world, we recognized how important [the BMC partner ecosystem is]. ... We are clearly focused on making sure we don't make mistakes [and] we don't ever fail to value our partner network."
BMC channel strategy: Doubling down on enablement
BMC has made partner enablement a top priority in its channel strategy, which Fraser said has proven a boon to OBS.
"BMC helped us bootstrap the practice that I run today," he said, noting his OBS practice consists of about 36 consultants that work in most of the areas that BMC provides technology for.
"The biggest advantage to their partner program in the last couple years has been their approach to training partners," he said. "It used to be a very expensive exercise for us to keep up with our certifications and training. And oftentimes, we would have a lean year and have to forgo the training. BMC now rebates us for all of our training costs to keep our consultants current."
The BMC channel certification and training program launched about two years ago and covers the vendor's various technology areas. "A big part of what we have done this year is to start helping ... partners pivot their business to take advantage of all the great things that we are bringing to market," Gupta said.
The enablement program also looks to train partners on BMC's value-based selling approach. "It's a faster moving world, and our applications are dramatically and rapidly changing as well ... so we are spending a lot more time on education ... and still spending the same time on engaging the channel on how you sell and make customers successful," Streetman said.
BMC's efforts in partner enablement also center on demand generation through various tactics, such as providing market development funds, marketing kits and pipeline generation events.
OBS-BMC partnership continues to grow
OBS has ramped up its security practice over the last year and a half as the industry increasingly grapples with security issues, resulting in tighter alignment with BMC, according to Fraser.
"We started to see a common theme [among customers], and you see it in the news all the time: Companies are hacked, and the average company that's been hacked has been hacked through vulnerabilities that have been known and patches that have been available for over a year," he said. OBS aims to help fix that problem through a solution that includes assessments, a methodology for redesigning customer processes and an architecture that, "in the best case scenario," taps a lot of BMC's technology.
Fraser, who attended the BMC Exchange event, said BMC's latest announcements heralded even stronger ties between OBS and the vendor. He pointed to BMC's new integration of IT service management products with IBM Watson as being especially important to OBS' security and service management businesses. "We believe that AI is critically important to stay ahead of the changes in the workplace and in the security landscape, and having that partnership [with IBM] is big news."
OBS is currently working on a project to implement BMC Digital Workplace software for a large international insurance customer. The project involves rolling out "the cognitive service management portion of this," he said.