AWS and VMware alliance raises questions for channel partners
The partnership between Amazon Web Services and VMware could help partners in the enterprise cloud market, but also raises questions regarding pricing and support.
Since the first public cloud solutions emerged, businesses have struggled to integrate them into their existing private cloud data centers. In October 2016, VMware, the leading private cloud provider, and Amazon Web Services, the top public cloud vendor, announced an alliance that should help enterprises connect those solutions, but raises many questions for channel partners.
Numerous businesses now run AWS and VMware systems. "The agreement is good news for AWS and VMware customers," noted Kirill Bensonoff, founder of Unigma, a company that provides public cloud performance monitoring, automation and cost analytics services for enterprises.
Managing these systems has been challenging. The solutions have different APIs that need to be connected. In addition, one set of management tools runs on premises, and a second operates off-site. So, firms spend a lot of time putting the plumbing in place to pull the two together.
The two industry giants are now taking on some of that work. The suppliers are developing VMware Cloud on AWS, which is based on VMware Cloud Foundation, a platform consisting of VMware vSphere, VMware Virtual SAN, and NSX. The software runs on bare-metal AWS infrastructure, meaning private, hybrid and public. As a result, VMware cloud services now have a consistent interface.
Targeting the enterprise cloud
The VMware agreement is a bit of a surprise to me and seems to represent a change in direction for AWS.

Patrick McClorysenior vice president of Platform Engineering and Delivery Services, Datapipe
The partnership makes sense on some business levels for the two vendors. VMware's industry-leading server virtualization solution has become the foundation for many enterprises' private cloud solutions. By aligning itself with the industry's leading public cloud service, VMware's public cloud strategy, which had been murky, is instantly clarified. Synergy Research Group found that AWS (see infographic) accounted for 31% of public cloud deployments, close to three times higher than the next closest competitor, Microsoft.
AWS services have been very popular among businesses. As evidence, Trace3, a systems integrator with 320 employees and $500 million in revenue, has close to two dozen AWS architects on its payroll.
AWS' low prices and easy deployments have attracted small and medium-sized organizations. Cracking the enterprise market is typically a longer, more difficult sell, and at times some questioned AWS' interest in that space. "The VMware agreement is a bit of a surprise to me and seems to represent a change in direction for AWS," stated Patrick McClory, senior vice president of Platform Engineering and Delivery Services at Datapipe, and someone who has worked for AWS. Datapipe, a managed cloud services provider based in Jersey City, N.J., has 800 employees and 2,000 customers on four continents.
Now, the public cloud provider's services may become more appealing to corporate IT departments. One possible improvement would be clearer communication of system changes, according to Scott Mellegaard, director of cloud strategy for Trace3. AWS deploys software updates every 11.7 seconds. Enterprises sometimes have trouble ensuring that the updates help rather than hinder system performance.
AWS and VMware: Forging a new path
But the road from theoretical to tangible benefits must now be paved. The process will require that both vendors hone new skills. AWS will need to develop and productize bare-metal versions of VMware, something quite new for the company. VMware will need to extend its APIs and management features deeper into the cloud.
In addition, the October agreement was more about future plans than current capabilities. The new services will not be available until the middle of 2017, and questions from resellers are largely unanswered. The two vendors are working to integrate their solutions but how the new features will be packaged and sold is unclear. Pricing issues, such as who gets credit for the sale and how much goes to AWS, VMware and any partner, is also uncertain. How post sale support will be handled is one more outstanding question.
In addition, what value will partners deliver? In some cases, they were making money linking AWS and VMware systems, but such work may no longer be needed if the vendors succeed in integrating their technologies. Consequently, channel companies will need to work their way up the integration stack and find other ways to deliver value to organizations.
How will the AWS and VMware pact affect the industry?
AWS and VMware are now the industry's latest glamorous husband and wife team. With their agreement, AWS becomes VMware's top public cloud solution and VMware become AWS' primary private cloud offering. So, how will their bond impact other vendors?
Microsoft has been strong in the commercial sector and previously touted its ability to offer customers solutions with a clear, nondisruptive path from private to public services. The vendor now has a tougher sell. Microsoft can no longer point to AWS' lack of a presence in private cloud solutions to differentiate itself. Also, the vendor cannot point to VMware's lack of a robust, multi-geography public cloud alternative as a wedge to try and push customers from VMware to Azure and, in some cases, Microsoft's Hyper-V hypervisor.
In addition, VMware has worked with a few other public cloud providers. In January 2015, the vendor announced a partnership with Google where Google Cloud Platform services became available to VMware customers via VMware's vCloud Air, VMware's hybrid cloud platform. But despite a lot of talk, Google has only 4% market share, according to Synergy Research.
Perhaps, the most challenging relationship to decipher is VMware's partnership with IBM. In February 2016, the vendors announced that they had jointly designed a solution so enterprises can automatically provision preconfigured VMware Software-Defined Data Center environments, consisting of VMware vSphere, NSX and Virtual SAN, on the IBM Cloud. IBM has been aggressively marketing the offering and in August, the two vendors claimed that more than 500 customers linked their VMware networks to IBM's public cloud services. How much push IBM will continue to provide is unclear.
Finally, the alliance may be the first step in a dramatic reshaping of the cloud market. "I would expect to see more of these types of cross-vendor agreements involving would-be rivals," concluded Jay Lyman, principal analyst, cloud management and containers at 451 Research. The changes mean that resellers need to choose their technology partners wisely and monitor market changes, so they are not caught in the industry crossfire.
Looking down the road
Finally where will the agreement lead? Historically, partnerships between industry giants have sometimes been tenuous, and potential conflicts among these two industry giants are easy to see. As enterprises move their workloads to AWS, they may ask, "Why should we keep our VMware private cloud infrastructure, which can have high licensing costs?"
However, management capabilities are one VMware advantage. "VMware has been building up a strong management suite," McClory said. Enterprises may lose some of those features if they move off the platform.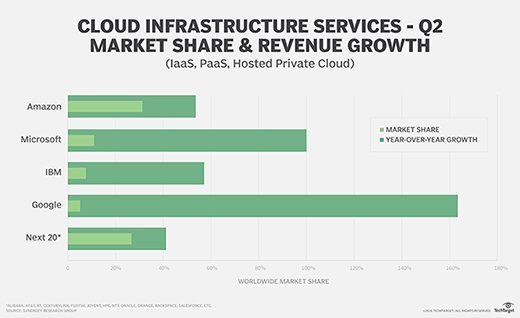 But rather than take sides as the vendors pair up, businesses may opt for the role of Switzerland.
In fact, many companies have more than one cloud provider, and need more than what AWS and VMware offer. In those cases, enterprises may decide to link their cloud systems via standard interfaces, like OpenStack, and resellers focused on that area may garner more business.
Dig Deeper on Cloud ecosystems