Definition
go-to-market strategy (GTM strategy)
A go-to-market strategy (GTM strategy) is an action plan that specifies how a company will reach customers and achieve competitive advantage. The purpose of a GTM strategy is to provide a blueprint for delivering a product or service to the end customer, taking into account such factors as pricing and distribution. A GTM strategy is somewhat similar to a business plan, although the latter is broader in scope and considers such factors as funding.

Download this free guide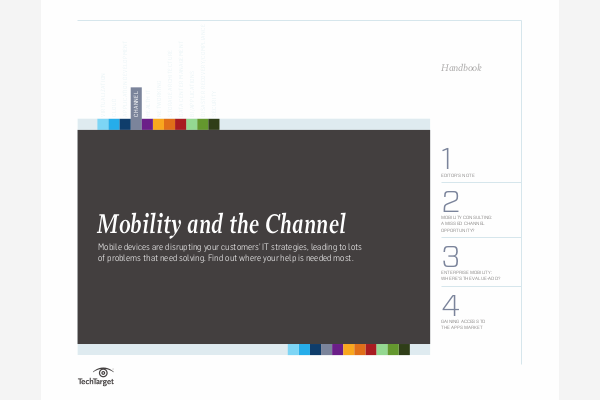 Mobility Consulting: A Missed Channel Opportunity?
Mobile devices are disrupting your customers' IT strategies, leading to lots of problems that need solving. Find out where the best opportunities lie and get advice from experts on how to approach the market, including what not to do.
By submitting your personal information, you agree that TechTarget and its partners may contact you regarding relevant content, products and special offers.
You also agree that your personal information may be transferred and processed in the United States, and that you have read and agree to the Terms of Use and the Privacy Policy.
GTM is often associated with product launches, but it can also be used to describe the specific steps a company needs to take in order to guide customer interactions for existing products. Service-oriented firms such as cloud services providers and managed services providers (MSPs) may also devise GTM strategies.
As an initial step, a GTM strategy must define the target market for a particular product or service. In the case of a new offering, the company will decide whether it has existing customers that might be sales prospects or whether it needs to seek an entirely new set of customers. In addition, the company developing a GTM strategy should also zero in on who will be the buyer: the IT manager, a line-of- business manager or a member of the C-suite, for instance.
Next, the GTM strategy should focus on the product or service to be offered and its particular business benefit for the intended customers. With the value proposition defined, the company can determine a pricing strategy. This can prove challenging, especially if a company is shifting from product to service sales and needs to adopt a new model such subscription-based pricing.
In addition, the GTM strategy should also address marketing and promotion. An effective GTM strategy typically sketches out what distribution and marketing channels will be used to reach the target market. Incidentally, a GTM strategy can also be used to build out future customer relationship management (CRM) initiatives.
Continue Reading About go-to-market strategy (GTM strategy)
PRO+
Content
Find more PRO+ content and other member only offers, here.