Definition
cloud provisioning
Cloud provisioning is the allocation of a cloud provider's resources and services to a customer.
Cloud provisioning is a key feature of the cloud computing model, relating to how a customer procures cloud services and resources from a cloud provider. The growing catalog of cloud services that customers can provision includes infrastructure as a service, software as a service and platform as a service, in public or private cloud environments.
Types of cloud provisioning
The cloud provisioning process can be conducted using one of three delivery models. Each delivery model differs depending on the kinds of resources or services an organization purchases, how and when the cloud provider delivers those resources or services, and how the customer pays for them. The three models are advanced provisioning, dynamic provisioning and user self-provisioning.
Content Continues Below

Download this free guide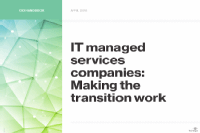 MSP Business Model Transformation: 5 Tips for Navigating Change
We designed this handbook to help you work through your business model transition. Learn 5 tips for navigating a MSP business model transformation, lessons learned from NSI's journey from VAR to IT managed service company, and how to revamp your managed services pricing for predictable revenue.
With advanced provisioning, the customer signs a formal contract of service with the cloud provider. The provider then prepares the agreed-upon resources or services for the customer and delivers them. The customer is charged a flat fee or is billed on a monthly basis.
With dynamic provisioning, cloud resources are deployed flexibly to match a customer's fluctuating demands. The deployments typically scale up to accommodate spikes in usage and scale down when demands decrease. The customer is billed on a pay-per-use basis. When dynamic provisioning is used to create a hybrid cloud environment, it is sometimes referred to as cloud bursting.
With user self-provisioning, also called cloud self-service, the customer buys resources from the cloud provider through a web interface or portal. This usually involves creating a user account and paying for resources with a credit card. Those resources are then quickly spun up and made available for use -- within hours, if not minutes. Examples of this type of cloud provisioning include an employee purchasing cloud-based productivity applications via the Microsoft Office 365 suite or Google Apps for Business.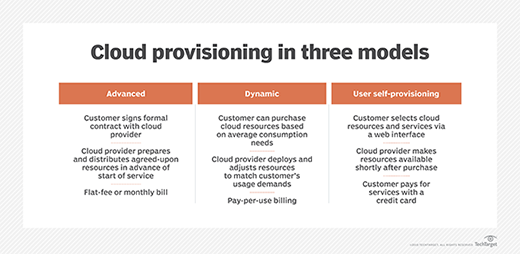 Why cloud provisioning matters
Cloud provisioning offers organizations numerous benefits that aren't available with traditional provisioning approaches.
A commonly cited benefit is scalability.
In the traditional IT provisioning model, an organization makes large investments in its on-premises infrastructure. This requires extensive preparation and forecasting of infrastructure needs, as the on-premises infrastructure is often set up to last for several years. In the cloud provisioning model, however, organizations can simply scale up and scale down their cloud resources based on short-term usage requirements.
Organizations can also benefit from cloud provisioning's speed. For example, an organization's developers can quickly spin up an array of workloads on demand, taking away the need for an IT administrator who provisions and manages compute resources.
Another benefit of cloud provisioning is the potential cost savings. While traditional on-premises technology can exact large upfront investments from an organization, many cloud providers allow customers to pay for only what they consume. However, the attractive economics presented by cloud services can present its own challenges, which organizations should address in a cloud management strategy.
This was last updated in
June 2018
Continue Reading About cloud provisioning
Dig Deeper on Cloud ecosystems