Definition
channel partner
A channel partner is a person or organization that provides services or sells products on behalf of a software, hardware, networking or cloud services vendor. Value-added resellers (VARs), systems integrators (SIs), consultants, managed service providers (MSPs), original equipment manufacturers (OEMs), distributors and independent software vendors (ISVs) may all be called channel partners. Many technology providers, including Amazon Web Services (AWS), Cisco, Dell EMC, IBM and Microsoft, have formed partnership programs to work more closely with channel partners.
Types of channel partners
Channel partner models have evolved over time. The VAR, or reseller, model has existed for decades. VARs emerged in the 1970s as minicomputer resellers but have since established themselves in networking and, more recently, cloud services. Companies within this class of channel partner may also describe themselves as solution providers.
The SI model came of age in the 1980s as channel companies began to integrate disparate IT systems to help customers boost efficiency and meet business objectives. The IT consulting model, meanwhile, differs from partner models in that companies in this category may recommend particular IT products based on customer requirements but not actually resell them. A subset of companies within the IT consulting category focuses on advising customers on cloud adoption and migration.
Some companies in the VAR category have evolved to embrace the MSP partner model. Companies in this category remotely monitor and manage customers' on-premises IT equipment. Channel companies often offer a portfolio of services representing multiple partner models. For example, a channel partner may provide a mix of managed services, consulting and product resale.
Partnering among partners
Channel partners often work together to access a broader range of technologies, expand geographic coverage and extend the range of services they provide. The relationship between a VAR and a distributor is one example of a channel sale partnership. VARs often source IT products through broadline distributors or specialized distribution companies. VARs may also partner among themselves.
In a VAR-to-VAR relationship, the companies cooperate to obtain professional services and solutions that would not have been accessible to them otherwise. In such relationships, each VAR partner must offer something to the other, such as complementary services or areas of expertise, or a presence in different geographical regions.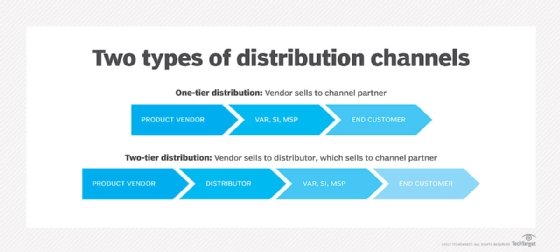 How to maintain partner relationships
Channel partner-vendor relationships provide an opportunity for IT vendors to promote certain products or services. To maintain such relationships, vendors typically offer channel partners product and marketing training, discounts, technical support, lead-generation tools, deal registration and early access to a vendor's technology. Vendors may also provide opportunities for joint marketing and cobranding activities with partners as a business incentive. In addition, vendors often launch channel partner programs to serve as the focal points for maintaining relationships with partners. Such programs may employ channel partner managers, sometimes called channel account managers, to recruit and cultivate relationships with partners. Vendors may also use a partner relationship management (PRM) system to facilitate communications between vendors and channel partners.
Why some enterprises have certification programs for channel partners
Some vendor enterprises offer partner certification programs in an effort to assure customers that channel partners are well-versed in their products and are qualified to sell and install their technology offerings. Partners, for their part, use vendor certifications as a way to differentiate their services. Channel partners, depending on their level of certification, may also qualify for additional partner program benefits from the vendor.
At Cisco, for example, higher levels of certification correspond to higher levels of support and business incentives. The AWS Partner Network Consulting Partners program provides market development funds (MDFs) and other benefits to partners who employ more employees with AWS certifications.
Continue Reading About channel partner
Dig Deeper on Channel partner program news