Definition
HP PartnerOne program (Hewlett-Packard PartnerOne program)
HP PartnerOne is a channel partner program that provides resources and benefits for value-added resellers (VARs), system integrators, service providers, hosting providers, independent software vendors (ISVs), distributors and other businesses that want to collaborate with Hewlett Packard (HP).

Download this free guide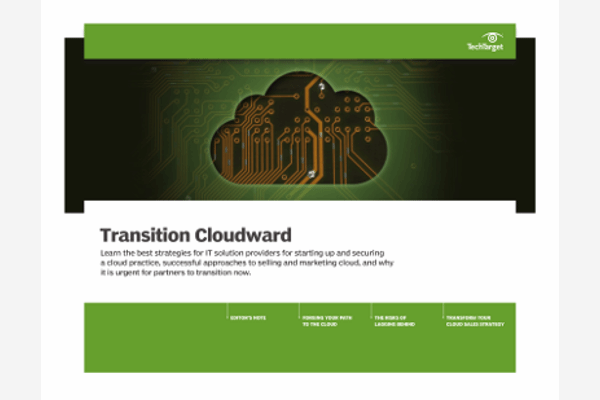 Could Securing Your Channel Business Be Easier? We Can Help.
Download our latest guide to the top strategies solution providers can leverage for starting up and securing a cloud practice, successful approaches to selling and marketing cloud, and why it is urgent for partners to transition now.
HP PartnerOne partner program members can access a range of benefits, certifications and financial incentives and discounts.The membership structure has four program levels: Business, Silver, Gold and Platinum. Each of these program levels has its own set of requirements, benefits and rewards.
Partners can advance membership levels by earning certifications and specializations and by increasing revenue from HP product sales. Partners who move up membership levels by increasing revenue and adding more certified sales people to their staff are called Volume Partners. Specialist Partners are partners who move up membership levels by exceeding revenue and competency goals within the Enterprise Group, HP Software, and Printing and Personal Systems product families. Revenue requirements for each membership level vary by country.
The following is an overview of member level requirements:
Business membership requires a signed HP Enterprise Group contract and training, in addition to the electronic acceptance of HP Printing and Personal Systems program terms.
Silver membership requires Specialist Partners to have two sales certifications and one entry level technical certification in HP Enterprise Group, HP Printing and Personal Systems, or HP Software products. The revenue threshold ranges from $25,000 to $250,000 in a particular product category. Volume Partners can attain Silver status if the partner has achieved midlevel revenue in HP Printing and Personal Systems Group products.
Gold membership requires Specialist Partners to have an additional two advanced sales certifications and another advanced technical certification in HP Enterprise Group, HP Software, or HP Printing and Personal Systems products. The revenue threshold requirements vary between $500,000 and $2 million in a particular product category. Gold membership can also be attained by Volume Partners if they have a high revenue from HP Printing and Personal Systems products.
Platinum partners need to achieve Gold status across multiple disciplines. For example, a Platinum Converged Infrastructure Specialist needs to have Gold statuses in servers, storage, networking and support services. Volume Partners can also attain Platinum status by achieving a very high revenue from HP Printing and Personal Systems products as well as an HP Printing and Personal Systems portfolio.
Integrated with the PartnerOne program is PartnerOne for Cloud, a program for three business models: Cloud Builders, partners that implement private cloud solutions on a customer's premises or third-party data center; Cloud Resellers, partners that sell cloud services from HP and HP's service provider partners; and Cloud Service Providers, partners that host their own cloud services built on HP infrastructure and cloud management software.
Benefits to PartnerOne members differ according to membership level (Business, Silver, Gold and Platinum) and include various pricing promotions; marketing services, including co-branded advertising and demand generation services; market development funds (MDF), which operates on a six-month cycle and may be also offered to an HP Marketing Service Agency (MSA) that will execute marketing activity on a partners' behalf; HP partner insignias to be used on requests for proposal (RFPs), collateral and event materials; hardware and software licenses for customer demonstration purposes; and sales performance incentive funds (SPIFs) for partners' employees.
HP PartnerOne members have a number of compensation scenarios:
Special Pricing can be an upfront discount, a rebate or a combination of the two as determined by HP.
Core Compensation is made up of Base Compensation and Accelerator Rebates. Base Compensation provides rebates to partners from the first sale, with no minimum volume requirements and no cap on rebates. Accelerator Rebates are tied to Base Compensation and provide partners with higher-level rewards when a partner exceeds a sales goal on selected HP products.
Specialist Compensation requires partners to meet Silver Specialist Partner or Gold Specialist Partner requirements and is aimed at sales in specific HP product areas.
New Business Opportunity rewards partners for net-new customers.
Target rewards are designed to increase sales to specific market segments or prospect lists.
Agent compensations are received when a business is referred directly to HP.
Business Group Bonus rewards partners for selling selected products within a strategic portfolio. Compensation amounts are based on member level and designation.
HP PartnerOne offers information, tools, resources and content through three online portals: HP Smart Portal for partners selling HP hardware and enterprise solutions, HP Software Partner Central for partners selling software and support, and HP Enterprise Security Partner Portal for partners reselling Enterprise Security products. In 2013, HP announced the Unison Partner Portal, a redesigned portal to be used by all HP partners, which has not yet gone live
HP PartnerOne has more than 20 specialization areas, including printing, storage, virtualization and cloud, that are distributed among the four membership levels. HP ExpertOne is the company's partner portal for technical, sales and marketing trainings and Specialist certification. ExpertOne members gain access to technology tools, such as white papers, social media events and videos. HP PartnerOne also offers support through the HP Channel Support Center.
For demand generation, HP provides two online portals for customers to find HP-authorized local partners that serve their local area. The HP Global Partner Locator connects customers to partners in the HP Enterprise Group and HP Printing and Personal Systems. The HP Software Partner Directory connects software-specific sales leads to HP Software Group partners.
Continue Reading About HP PartnerOne program (Hewlett-Packard PartnerOne program)
Dig Deeper on Channel partner program news
PRO+
Content
Find more PRO+ content and other member only offers, here.