News
Stay informed about the latest enterprise technology news and product updates.
Windows chief Kevin Johnson exits Microsoft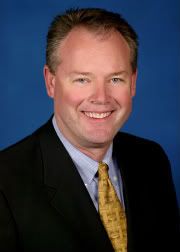 Wow.
Kevin Johnson, the Microsoft exec in charge of Windows and the company's huge online services push, is leaving to head Juniper Networks, The Wall Street Journal reports Wednesday night.
(Note: Microsoft just posted the official news.)
Johnson was much involved in Microsoft's thus-far-abortive attempt to buy Yahoo for its Web search and ad expertise. He was also the point man in Microsoft's big buy of aQuantive. Both acquisitions were aimed at Google's dominance.
Oh, and "KJ" was also at CEO Steve Ballmer's side on the Microsoft campus today for a company "town hall" meeting. No mention of his impending exit was made.
The news hit the day before Microsoft's annual financial analysts' meeting in Redmond, Wash. Johnson was on the agenda. It'll be interesting to see who fills that slot.
The paper reports that Johnson's group, which includes the company's past-and-present Windows warhorse as well as its nascent (and very expensive) online services push, will be split with Ballmer taking on Windows and associated Windows Live services with Steve Sinofsky, John Devaan, and Bill Veghte reporting to him. The other group will take on search, online advertising and MSN, the Journal reported, citing unnamed sources.
Microsoft earlier this year hired Stephen Elop to head its profitable business division out of Juniper Networks.