News
Stay informed about the latest enterprise technology news and product updates.
Will Microsoft send in the stormtroopers to Yahoo?
Yahoo has told Microsoft to take its $44.6 billion takeover bid and go home, and now everyone and their mother is sounding off on the future of the two companies.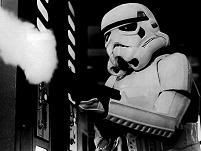 A particularly interesting discussion is taking place on Mini-Microsoft, an insider blog frequented by Microsoft employees — and now by Yahoo employees looking to see what their counterparts are saying. The latest post, "Microsoft's Yahoo! acquisition is bold. And dumb," has elicited dozens of mostly anonymous comments.
One Mini-Microsoft reader who identified himself as a Yahoo employee wrote that both companies are doomed regardless of how they resolve the situation. Here's that reader's take on the aftermath of a friendly takeover — which could happen if Microsoft responds with a higher offer:
"The choppers carrying the stormtroopers from Redmond will start arriving. Be careful, our neighbor, Lockheed-Martin, is well-armed. There won't be a parade waiting for you guys. Just long lines at the laser printers waiting for our resumes to print and wondering how long we need to stay with the boondoggle before our few above-water options vest."
Meanwhile, tech blogger Robert Scoble says Yahoo is "probably (crazy) and arrogant, too" for rejecting Microsoft's deal, and the only logical reason for saying no is to drive the price up. One of his readers, "David," also commented that the merger isn't good for either company:
"What does Yahoo bring to the party? Yet more distractions. … For nearly ten years Microsoft has been rearranging the chairs on the deck of the Titanic (and I hear another reorganization is in the offing)."
And over at the Seattle Post-Intelligencer, Microsoft reporter Todd Bishop goes over the company's options: making a higher offer, attempting a truly hostile takeover by targeting Yahoo shareholders, nominating Yahoo board members who will accept the buyout or giving up and walking away. His readers are questioning why Microsoft thinks spending $44.6 billion on Yahoo is the best way to compete with Google.
The fact that so many people are weighing in on the issue illustrates just how important it is. Whatever ends up happening in this ongoing saga, it will end up having dramatic consequences for Microsoft, Yahoo, the companies that work with them and the technology industry as a whole.