News
Stay informed about the latest enterprise technology news and product updates.
VMware: The Patriots of virtualization?
Is VMware in trouble? Consider:
Last week, the server virtualization market share leader's stock price closed at $51.45. The last time the stock was that low: Aug. 14, 2007, the day of VMware's IPO.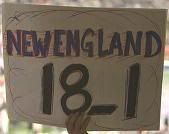 A Yankee Group analyst recently compared VMware to the New England Patriots, who got off to a perfect start but couldn't win the ultimate prize. Those comments appeared in a Network World story analyzing the threats to VMware's dominance. Judging by the length of that article (2,500 words plus), there are a whole lotta threats.
And, as I reported today, there's turmoil in VMware's partner program. Complaints about channel conflict, poor communication and shrinking margins are not what VMware needs right now. Facing its toughest challenge yet, Microsoft's Hyper-V, VMware will have to rely on partners to recruit new customers and keep existing ones happy. That won't happen if the partners themselves aren't happy.
VMware just announced its first true partner conference, Partner Xchange 2008, which will combine the pre-VMworld Partner Day and the annual TSX partner training into one three-day event. It will be interesting to see what VMware does between now and then to address partners' problems, or the company could have some explaining to do come May in San Diego.