News
Stay informed about the latest enterprise technology news and product updates.
Tom Brady knee injury inspires EMC campaign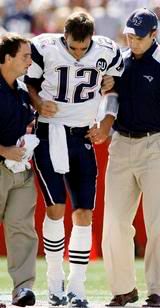 On Sunday, Sept. 7, Patriots quarterback and reigning NFL MVP Tom Brady suffered a season-ending knee injury — dashing the dreams of fans across New England, giving championship hopes to other AFC teams and … inspiring a new EMC marketing campaign?
Yup, it's true.
EMC today released the Iomaga eGo Patriots edition, a 250GB portable hard drive that's branded with the Patriots logo and carries the tag line, "You never know when you're going to need your backup."
Oh, I get it, like how the Patriots have needed their backup quarterback this year. Good one, EMC. The other football puns in the press release are equally cringe-inducing, like "score a touchdown with backup you can trust" and "an all-pro guard that protects your data on every play."
The Patriots are the only NFL team with their own EMC hard drive, because EMC signed a sponsorship deal with the team last year, and the company's headquarters in Hopkinton, Mass. are just down the road from Gillette Stadium.
Iomega is headquartered in San Diego, but the unit's president told the Boston Herald there aren't any plans for a Chargers hard drive because "we want to go with a winner." He neglected to point out that the Chargers embarrassed the Patriots 30-10 on national television earlier this season.
Let's just be thankful Iomega knows hard drives better than they know football.